Il Piccolo Blog
Agape bathroom furniture: how to transform the bathroom into your wellness room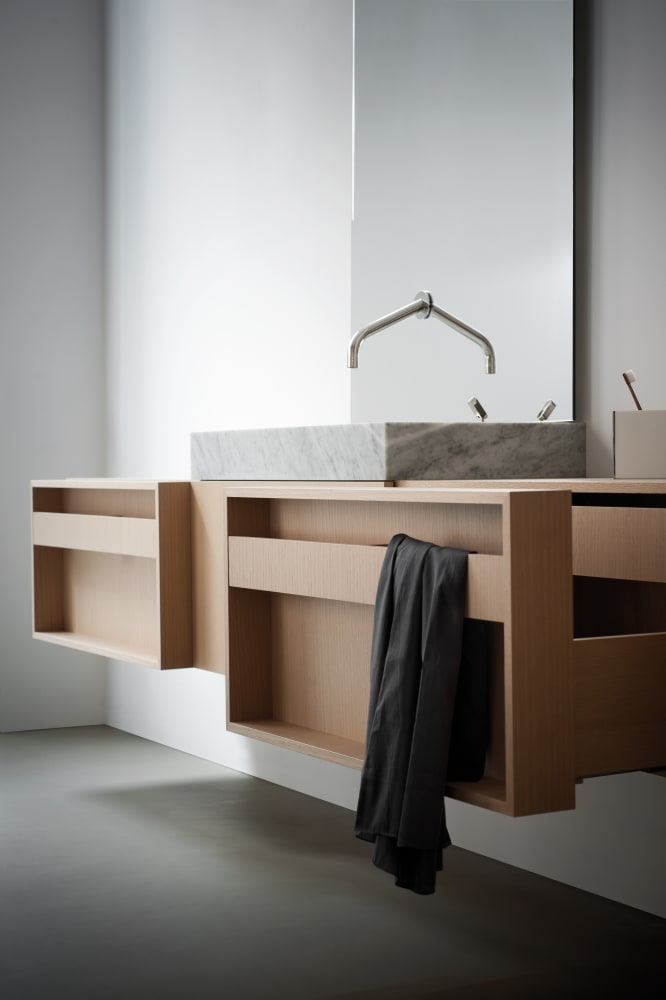 Completing the furnishings with an Agape bathroom cabinet means giving your bathroom a truly refined and designer touch.
The Agape company, in over 40 years of history, has become one of the symbols of Made in Italy. Its creations are particularly appreciated for the quality of their materials, their timeless style and their ability to adapt to contemporary contexts that make elegance their strong point.
Functional and design bathroom furniture
Agape bathroom furniture is one of the most distinctive proposals in the brand's collections. The lines of furniture, sanitary ware and accessories proposed by Agape are consistent with the company's vision, which aims to offer bathroom furnishings that transform the bathroom into a point of reference for the well-being of the entire family.
From being a room on the fringes of the home, where furniture must be essentially functional, in Agape's philosophy the bathroom becomes a key element in interior design choices. The bathroom furniture must therefore be practical and comfortable, but also aesthetically pleasing. And they must be made from top quality materials.
In the creation of its collections, Agape collaborates with prestigious designers, who work with the Benedini family to create contemporary furniture of great elegance. In designing its collections and bathroom furniture, Agape takes its cue from the past and reinterprets it in a modern key, creating modular and composable furniture that can be adapted to bathrooms of all shapes and sizes.
The solutions offered by Agape for bathroom furniture
Over the years, the role of bathroom furniture has changed considerably. Until a few decades ago, it was common to find pedestal washbasins topped by a mirror with a small storage space on either side. Gradually, the need for more space in which to store towels, detergents and cosmetic products has grown. So furnishing habits have changed and bathroom furniture has appeared which generally makes use of the space under the washbasin. Agape has responded to these needs.
In particular, modern bathroom furniture is offered in freestanding or suspended versions. On the front, we can find shelves, open compartments, spaces closed by doors or drawers. Among the proposals of Agape bathroom furniture, there are models with various configurations, so that everyone can easily find the structure that best suits their needs.
Within the range of Agape bathroom furniture, a distinction must be made between storage furniture and furniture which also acts as a countertop for the washbasin. In contemporary bathrooms, it is not uncommon to find countertop washbasins made from the most varied materials and shapes. If you opt for such a solution, you must ensure that the material of the bathroom furniture is resistant to water and humidity.
For its furniture, Agape selects high quality materials with excellent resistance, such as wood or innovative materials. Teak and oak, for example, are among the woods used by Agape. On the other hand, those who prefer a more contemporary choice can opt for furniture made of surfaces obtained from natural stone.
How to furnish with the unmistakable style of Agape bathroom furniture
Agape bathroom furniture is the ideal complement to sanitary ware and accessories in general. Capacious and durable, these bathroom furniture units combine undeniable elegance with practical functionality.
In addition to under washbasin furniture, the bathroom can also be furnished with pedestal furniture and furniture on wheels. While the former are a perfect space-saving solution, to be used especially in smaller bathrooms or when extra space is needed to store creams, make-up and toiletries, the latter enhance the practicality of Agape solutions. Thanks to their wheels, these storage units can be moved from one corner of the bathroom to another, so they literally follow family members as they take care of themselves.
With their contemporary lines, Agape bathroom furniture is the ideal solution for modern interior design projects. A piece of furniture made of dark wood such as teak, for example, can best furnish an industrial style bathroom, while a piece of furniture made of light oak can be the best solution for a Nordic style bathroom.
What else can be said to describe these highly valuable elements? In addition to the quality of the materials and the sophistication of the design, Agape also pays great attention to the issue of sustainability in its collections. Those who have chosen to furnish their homes in a green way, opting for furniture with a low environmental impact, can therefore decide to furnish with an Agape bathroom furniture. You are guaranteed to buy a functional, long-lasting and environmentally friendly product.
Devi realizzare un progetto di Interior Design?
Devi arredare casa o un singolo ambiente?

Scegli una falegnameria di alto livello.
Contattaci
Il Piccolo, a second-generation family-run joinery, opens its own showroom in Lugano. With over 50 years of experience, Il Piccolo brings with it a wealth of technical and design knowledge of the highest level, thanks to the numerous interiors designed and furnished throughout the world. In addition, Il Piccolo represents the most prestigious brands of furniture worldwide. Il Piccolo designs, produces and sells the best of the interior design made in Italy, following the customer from the design to the realization, delivery and installation of the work, integrating the process with a precise and professional assistance service. CONTACT US!