Il Piccolo Blog
Baxter double beds bring the elegance of leather into the bedroom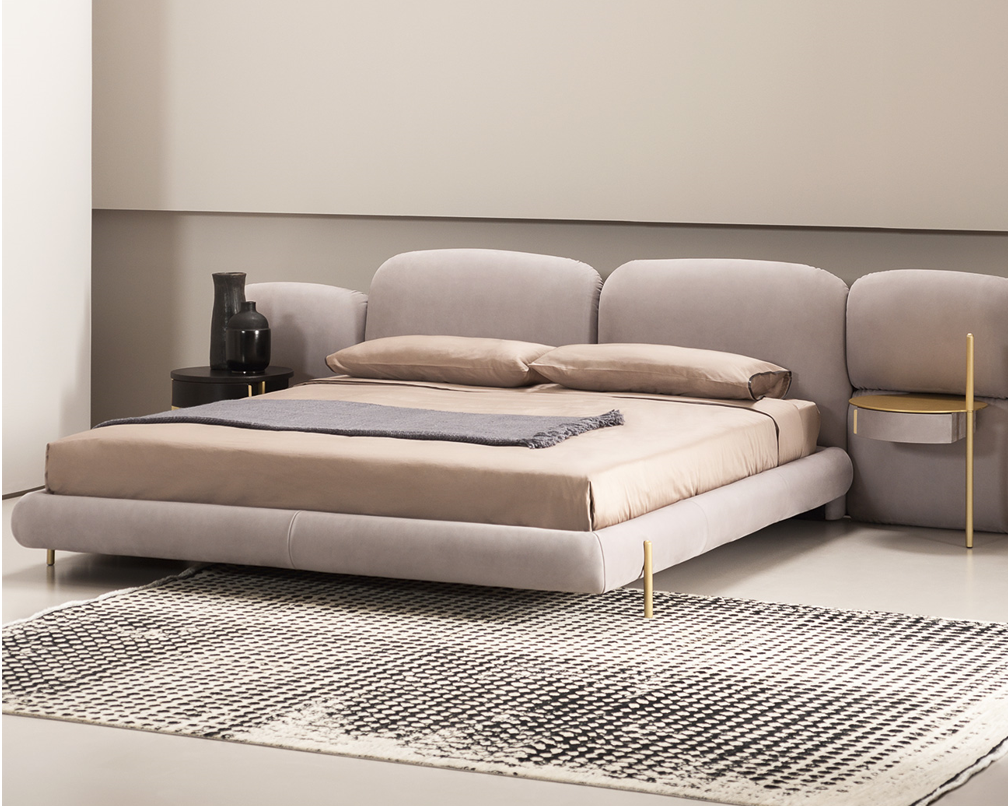 Baxter uses leather and hide, and doesn't give it up even for double beds
Baxter's wide range of products also includes beds, both double and non-double. Baxter is an Italian company, part of the large group that brings Made in Italy to the top of the design and furnishing field (think of Glas, for example, Porro, Zanotta and Gervasoni, to name but a few), with the particularity of working purely with leather. Even in double beds.
Bazter's double beds are created mainly with leather, which makes them unique and unmistakable, like his sofas. If the choice of leather may seem strange to some, it is obviously not the only material used by Baxter, although it is the main material around which everything revolves, including the double beds, you have to understand the company's philosophy: an elastic, breathable, resistant material that is pleasant to touch, with marks and imperfections that make each piece of furniture unique. It comes from the mountains of Northern Europe and the tanners who work at Baxter take care of dyeing it according to ancient traditions, with natural anilines, and then the leather itself is folded, stitched, pleated, polished, screen-printed, becoming different every time.
The modernity of Baxter's creations, including the double beds, is combined with the tradition and manual skill of the craftsmen who work on them. The hand stitching is characteristic, but the models are the most varied and created by excellent designers, such as Paola Navone.
Baxter double beds, full of comfort with a wide choice
For Baxter, double beds have to start with leather. The range of beds, as well as sofas, is wide and allows anyone to find the ideal one. Some are similar to futons.
The collections of large double beds at Baxter are numerous. Each model is available in many different shades of leather and hide, to suit every kind of bedroom. Baxter's beds usually follow one pattern, that of essentiality and comfort. Most of them give the feeling of sinking into them, to finally relax after a long day, cradled by Baxter's creations.
The double beds have great stylistic interest, are often upholstered and are generally not very high. In many cases the structure has no legs or feet to support it, resting directly on the floor with its base made of the leather characteristic of Baxter furnishings. The result is an absolutely comfortable and soft double bed. All the elements used by Baxter in its double beds are intended to give continuity to this idea.
Keyboards and colours, how Baxter imagines double beds
Keyboards are often found behind Baxter double beds. They can be the same width as the bed itself or wider, some are not too high and others are designed to be imposing. According to Baxter, the bed must be the protagonist of the bedroom, but it must use carefully matched colours. In fact, in its catalogues, double beds show pillows and quilts in the same colour as the base or in a different shade, without using excessive contrasts.
Baxter beds, like all leather double beds, give the idea of softness and create a warm ambience. Thanks to the linear design and the material, they are easy to combine with different pieces of furniture. If you choose a light colour, for example, a leather double bed will make the room airy and cosy, a padded keyboard, perhaps with rounded shapes, will make the room seem larger. The wide range of Baxter furniture complements allows you to furnish the whole room with coherence and style.
Leather double beds, like those by Baxter, are designed for bedrooms with a certain style. Those who buy them know they are making an important investment, which can last for a long time if maintained.
Need to furnish your home or a single room?
Choose a top-notch woodworking shop.

We have over 50 years of experience!
Contact Us
Il Piccolo, second generation family-run carpentry shop, opens its showroom in Lugano. With over 50 years of experience, Il Piccolo brings with it a wealth of technical and design knowledge of the highest level, thanks to the many interiors designed and furnished all over the world. In addition, Il Piccolo represents the most prestigious brands of furniture worldwide. Il Piccolo designs, manufactures and sells the best of interior design made in Italy, following the customer from design to implementation, delivery and installation of the work, integrating the process with a precise and professional service. CONTACT US!