Il Piccolo Blog
From shape to type of doors, a guide to designing your own bedroom closet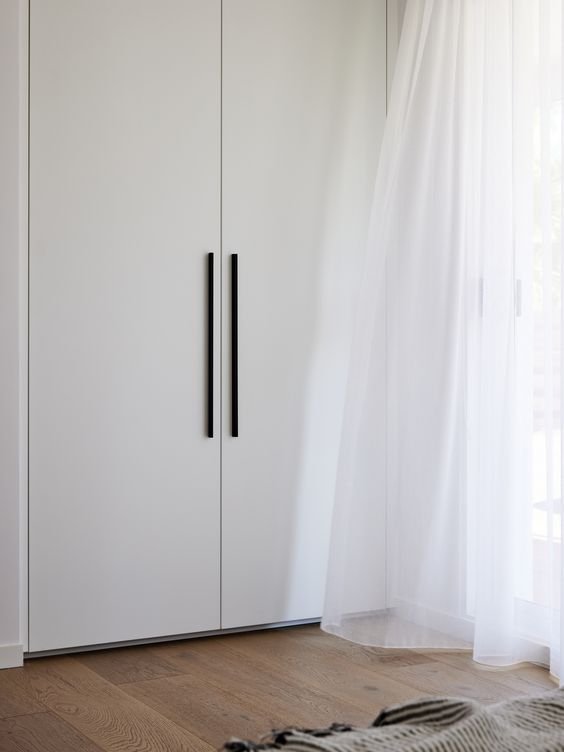 What is a wardrobe
The definition of a wardrobe is, literally, a room or large wardrobe for storing clothes, linens. The term, and this is a curiosity, is said to derive from Middle English, which in turn is said to derive from the Old French terms garder (to watch, to protect) and robe (clothes). Its purpose is just that: to store and protect clothes from dust, possibly with a convenient arrangement to have them all at hand. It goes without saying that the choice of one's bedroom closet is fundamental and must be made with great care, in order to have something functional and at the same time beautiful to look at, a prerogative that cannot be overlooked in today's world of design.
A bedroom closet must exploit space. But if that's not enough…
The bedroom is not the only room in the house where a capacious wardrobe can be provided, but it is certainly the one where one gets dressed in the morning, so it is necessary to have most of what one might need at hand. Spaces for jackets and shoes, for example, can also be placed in the entrance hall, indeed they are very convenient, in the corridors or in the hall, but in one's bedroom it cannot be missing. Usually the starting point for designing one's wardrobe is the need to create it as capacious as possible and able to make use of empty spaces that would perhaps have to be thrown away. This does not necessarily mean a made-to-measure cabinet, because there are countless options on the market and thanks to their modularity they can be adapted to different contexts, but it is certainly a possibility for particular sizes such as very large or very small rooms or attics. If you have several exploitable walls, you can design a corner cupboard or even a horseshoe cupboard, covering two walls in the first case and three in the second. Or it can have a dividing function, without resting on a wall, especially in very large spaces. If space is not enough for all the clothes, beds with storage are convenient.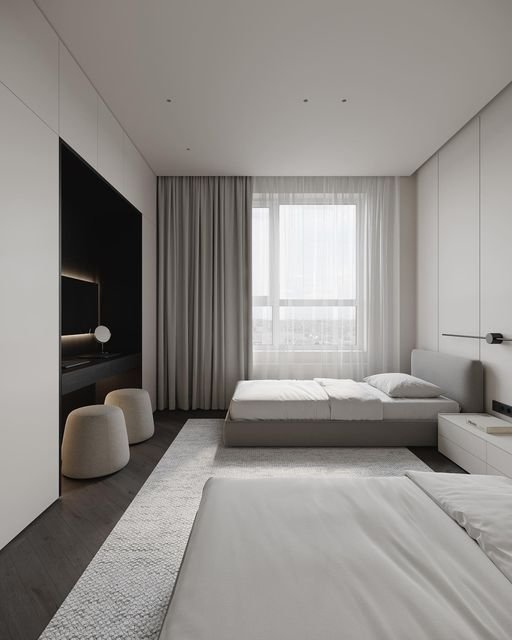 Pros and cons of hinged and sliding doors for your wardrobe
Do you want a classic wardrobe or do you prefer the more modern solution of the walk-in wardrobe, which is so popular nowadays? Do you want your clothes to be hidden and protected or do you want them to become designer objects themselves by highlighting them with open solutions or transparent doors? Speaking of doors, do you want hinged or sliding doors for your bedroom closet? Clearly the second option is convenient for saving space, but it is not the only criterion to take into account. In fact, wardrobes with hinged doors are the classic ones you immediately think of. They are well suited to precisely classical settings and offer the advantage, if opened all at once, of showing the entire contents at a glance, which is impossible with sliding doors, since they overlap one on top of the other). Sliding doors, on the other hand, give a more linear look to the whole. And once the type of door has been chosen, one has to think about the handles. In classic contexts, they are of significant size and shape, in modern contexts it is usually preferred that there are no handles.
Style and material of the bedroom closet
Obviously, the bedroom closet must fit the style of the room where it is located. Classic wardrobes are imposing and very often made of solid wood, perhaps in the natural raw colour, while modern ones use wood but also different materials, such as metal, and follow more essential and minimalist shapes.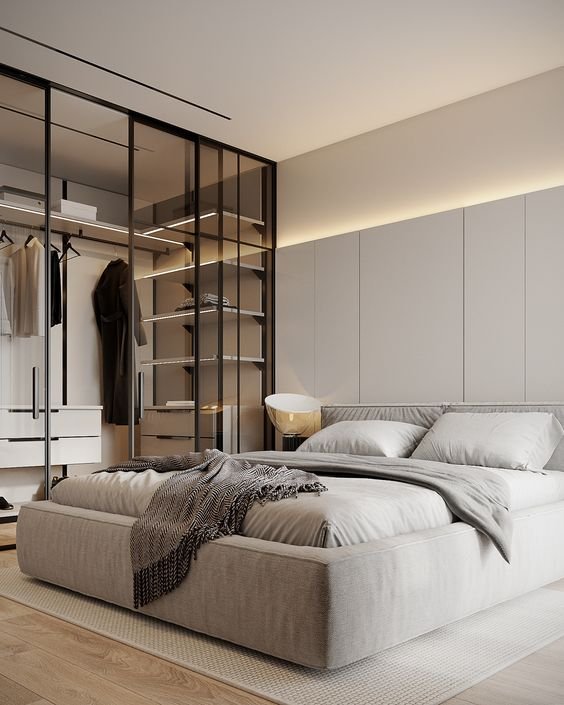 The interior should be organised starting with one's clothes
How should the interior be organised? It depends on which garments are to be placed in the bedroom closet. You can provide shelves for jumpers or t-shirts or hangers for jackets and skirts, for example. For garments that are not used every day, drawers are ideal, which protect against dust.
Need to furnish your home or a single room?
Choose a top-notch woodworking shop.

We have over 50 years of experience!
Contact us!
Il Piccolo, a second generation family business, opens its showroom in Lugano. With over 50 years of experience, Il Piccolo brings with it a wealth of technical and design knowledge of the highest level, thanks to the many interiors designed and furnished around the world. In addition, Il Piccolo represents many of the best international luxury furniture brands. We design, manufacture and sell the best in design. Also with regard to La Cornue kitchens, we follow the customer from the design to the realisation of the project, integrating the whole process with a precise and professional service.CONTACT US