Il Piccolo Blog
Bedroom with sofa, when relaxation is at night and during the day!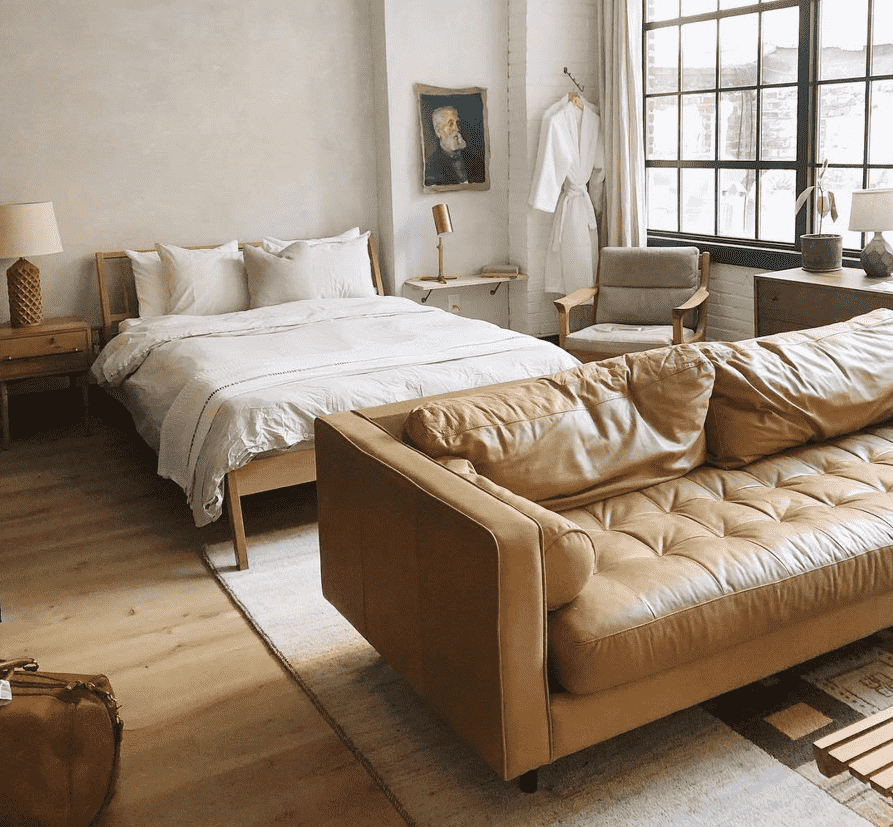 A bedroom with a sofa is part of the new trend of living the house at 360°.
A bedroom with sofa may seem extravagant furniture, with a furnishing accessory at first glance not suitable, but it is not. This is a trend that comes from faraway Arabia, where more and more people want a bedroom with a sofa and is spreading to our latitudes. A strange juxtaposition, a symbol of relaxation in the living area as the sofa in the bedroom that is the oasis of sleep? Actually not so much, if you want to make your room a room dedicated to rest and idleness, day and night, safeguarding your privacy and solitude.
On the other hand, in today's furnishing, sometimes bringing furnishing accessories in other realities is very pleasant, see the freestanding bathtub, to be placed not only in the bathroom but also in the living room and, indeed, in the bedroom. The conception of the home has changed, now every space must be lived at 360°, in a flexible way (think of furniture, for example bookcases, that change function during the various hours of the day) and convivial, but where you also want to carve out some privacy.
So, why not opt for a bedroom with sofa? If you have the possibility, it can be a comfortable seat to look out the window. If you also have a TV in the room, it's perfect for watching movies and documentaries before bed, without fighting over the remote control with the rest of the family. You can even use a couch instead of a chair at your desk.
No room for a sitting room? Opt for a bedroom with a sofa
Usually, recreating a sort of suite, you place the sofa, with the TV area, in a room adjacent to the bedroom, if you want to recreate it for personal use. But not always, of course, is possible and then you opt for a bedroom with sofa.
For a bedroom with a really relaxing sofa beware of the suffocating effect
How to choose what to place in your bedroom with sofa? We must start by saying that it is an option to be considered only if the room has a size that allows it, otherwise you would not materially have the space or you would create a crowded and suffocating environment, the opposite of the relaxing effect that you want to achieve. So, pay attention to the size. For the rest, you can really indulge yourself when you opt for a sofa in the bedroom.
In a bedroom, better if the sofa follows the style
The sofa must naturally integrate into what is the bedroom. If it is furnished in a classic way, you can decide for a sofa that follows the trend, maybe in leather or soft fabric, with harmonious lines. If, on the other hand, we are talking about a purely minimalist and modern room, more linear shapes are perfect. Continuity must always be the watchword, especially if the intention is to create a relaxing room: wanting a breaking style gives dynamism, which is something different.
Colors and pillows in a bedroom with sofa
A bedroom with leather sofa is an attractive and definitely elegant choice. It is a refined and particular solution to implement when you have perhaps a modern leather bed or a particularly formal environment. Simpler to insert in the environment is a linen, cotton or lined sofa. As for the colors, even in this case we must start from those dominant in the room, often opting for continuity, if we talk about a classic environment, or daring with contrasts if you want something more accessible. But to relax better, soft and harmonious colors are indicated.
A prerogative of a sofa is to be comfortable, always! And for one that must be in the bedroom, the same rule applies, indeed even more so, if we talk about an oasis of personal relaxation. Green light then also to soft pillows, which can make pendant with those of the bed.
Need to furnish your home or a single room?
Choose a top-notch woodworking shop.

We have over 50 years of experience!
Contact Us
Il Piccolo, a second-generation family-run joinery, opens its own showroom in Lugano. With over 50 years of experience, Il Piccolo brings with it a wealth of technical and design knowledge of the highest level, thanks to the numerous interiors designed and furnished throughout the world. In addition, Il Piccolo represents the most prestigious brands of furniture worldwide. Il Piccolo designs, produces and sells the best of the interior design made in Italy, following the customer from the design to the realization, delivery and installation of the work, integrating the process with a precise and professional assistance service. CONTACT US!