Il Piccolo Blog
Black Fenix kitchens, charm and elegance combine with practicality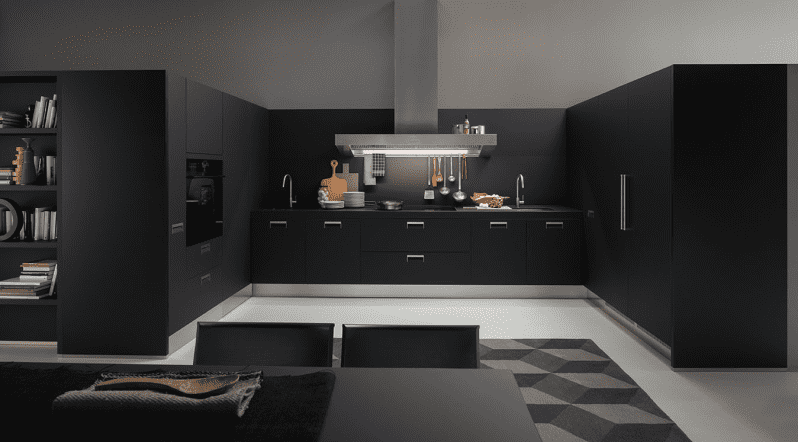 There are many qualities of Fenix. If it is black, then…
Very modern, elegant, as well as extremely functional, easy to clean and with a series of features that make them really attractive. black fenix kitchens combine the practicality of an innovative material, designed specifically for this fundamental room, and a colour capable of giving a refined uniqueness.
What is Fenix
So why choose a kitchen in Fenix and why opt for the colour black? Let us start, in giving an answer, from the characteristics of this latest generation material. It was invented in 2013, so it really is of the latest generation, precisely to improve the performance of kitchens, adding features that go towards a modern concept of the kitchen: ductile, beautiful to look at, easy to maintain and durable. Designed to be extremely thin, this material is born from new generations of acrylic yields, suitably treated.
What are the characteristics of black fenix kitchens or otherwise? First of all, the appearance is very elegant, a mix of ventilated and opaque, perfect for a modern environment. But there are also practical advantages. In fact, it is scratch-resistant, and you know how important that is in a kitchen. The surface even heals itself in the event of small scratches and abrasions using the effect of heat. Moreover, it does not become dull and no fingerprints remain on it: how many times when cooking have you touched the surface with your hand, leaving annoying traces? With Fenix, a material suitable for contact with food, these will not be there. But if you drag a pan around, the marks will remain.
Other characteristics are that it is antistatic, water-repellent, waterproof, has a high bacterial count reduction and is mould-free.
Black Fenix kitchens, why choose them
So, there are many reasons to choose Fenix, a material that, moreover, gives a silky effect to the touch. But why choose black kitchens? Black is undoubtedly a demanding colour, which if not used with the right expedients can be heavy: but if exploited to the full, it brings an invaluable sensation of elegance.
Attention to light and care for contrasts
If you want black fenix kitchens, bear in mind that you need to focus a lot on light. The kitchen where the furniture will be placed must be naturally bright, or artificial lighting must be provided, as black absorbs a lot of light. At the same time, it can add depth, making the room seem larger.
If black fenix kitchens may appear heavy to some, a trick to lighten them is to aim for furniture that is truly minimalist, saying goodbye to the superfluous and choosing simple wall units instead of shelves, and opting for solutions without handles (all perfect features for a modern environment in which Fenix blends in at its best).
Details in another colour can often be used to lighten and soften black. It is evident that white, or in any case a light and bright hue, looks particularly well. If desired, another material can be combined with Fenix to soften the tones a little. Perfect is wood, an evergreen in kitchens, which with its grain can delicately enhance black. By working with Fenix, a very elegant marble effect can also be achieved. So, give free rein to contrasts, with particular attention to finishes, which in such a refined and special environment make the difference, but always with balance: if the choice was made for black Fenox kitchens, it was because you liked the effect!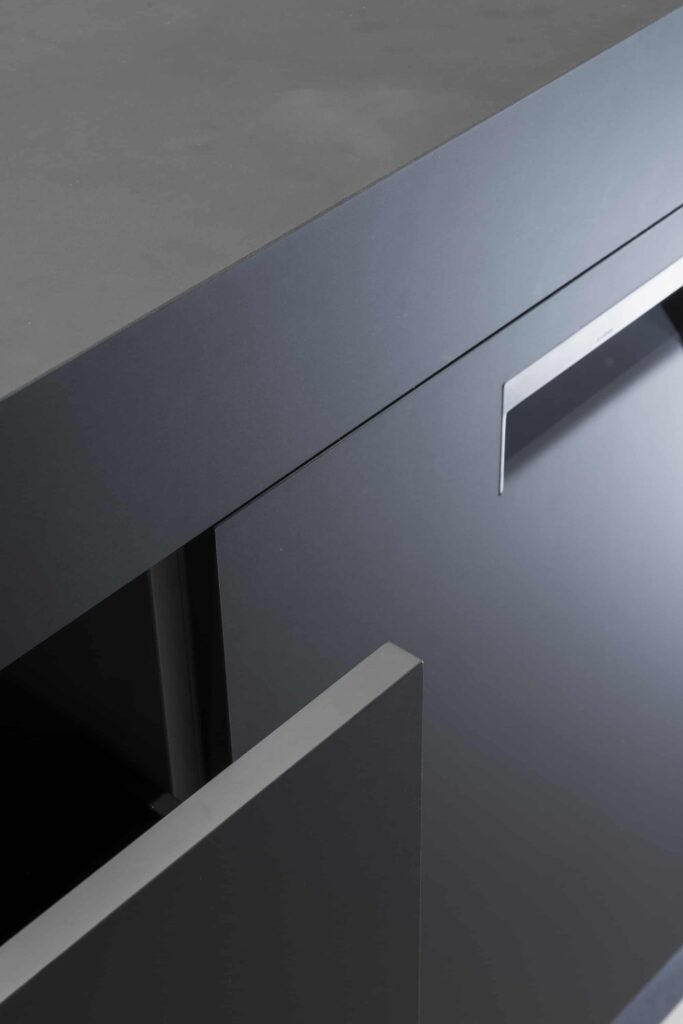 And to clean them? All you need is a damp cloth and degreaser
A damp cloth with warm water and a simple degreaser will suffice to keep a Fenix kitchen clean. While black surfaces are usually difficult to keep clean, not least because of dust, the intrinsic characteristics of the material make black Fenix kitchens easy to maintain.
Devi realizzare un progetto di Interior Design?
Devi arredare casa o un singolo ambiente?

Scegli una falegnameria di alto livello.
Contattaci
Il Piccolo, falegnameria a conduzione familiare di seconda generazione, apre il proprio showroom a Lugano. Con oltre 50 anni di esperienza, Il Piccolo porta con sé un bagaglio di conoscenze tecniche e progettuali di assoluto livello, grazie ai numerosi interni progettati e arredati in tutto il mondo. Inoltre, Il Piccolo rappresenta i brand più prestigiosi dell'arredamento mondiale.
Il Piccolo progetta, produce e vende il meglio dell'interior design made in Italy, seguendo il cliente dalla progettazione fino alla realizzazione, consegna e posa del lavoro, integrando il processo con un servizio di assistenza preciso e professionale. CONTATTACI