Il Piccolo Blog
The black sofa is design if the elements around it are well balanced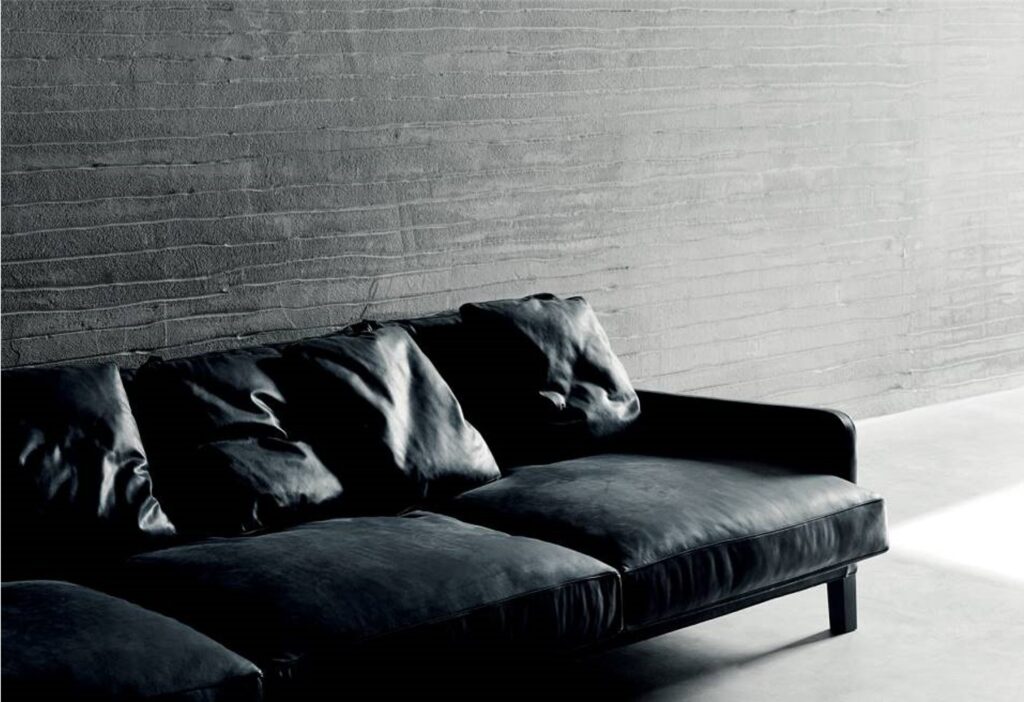 Black sofa, priceless design and elegance
The sofa can certainly be the highlight of a living room: choosing a black sofa is an important design decision. In fact, it is a colour that can be challenging but is synonymous with elegance. The choice of a black designer sofa must therefore be carefully considered.
The optical effect created by black. So the designer sofa must be…
A black sofa is a piece of design, but we must bear in mind that black has many shades. In fact, the perception of colour is different depending on the fabric chosen (from leather to natural fabrics such as linen, cotton or wool), a detail that should not be underestimated. It tends to create an optical effect capable of reducing the size, a fact that should be taken into account when choosing your designer sofa. Black is a colour without light; the darker it is, the harder it is for the eyes to process it, and this effect also applies to interior design. A black sofa allows you to scale down the size of the room where it is placed and also balances the colours: more design than that! In particular, if the living room is not very large, a black sofa will give the impression that it is larger. But you have to choose well.
Black sofa, it's design in any living room
The points in favour of a black sofa are numerous. The colour is synonymous with elegance and also gives a certain formality to your living room. And it never goes out of fashion, whatever happens to the world of design.
A black sofa is a design touch for any type of living room, from classic to minimalist. It is an evergreen choice, which fits perfectly into different contexts, from less modern rooms (which are "old-fashioned") to more contemporary ones.
Black goes well with any colour. But to achieve design effects, be careful what you combine with the sofa.
Black can be combined with any other colour, creating important design effects, quite easily. You can't go wrong: if your living room has a black sofa, you can put furniture of any colour next to it (naturally creating a balance between the elements that make up the living room). White and grey tones are usually played with, but it is not compulsory. It is advisable to be careful when combining a black sofa with red pieces of furniture, because it could give a dramatic effect: but if you want to be daring, nobody forbids it. A combination of black and gold is very elegant: a black sofa is already very refined, but when placed next to something gold the result will be priceless. As always, everything must be placed in the right context.
Cushions and carpets, how to make your black sofa a design element
With black, however, you must also be careful not to overdo it. If you choose a black sofa, it is better not to furnish the whole living room with black furniture in order to create a design room. Floors and ceilings coloured black would risk making the room look lower. And various black furnishing accessories, apart from the sofa, could lead to a sad living room.
The black sofa is therefore designer if it is the central element of the living room. The tones of the rest of the furniture should be played around it. Combinations must be carefully measured. Colourful blankets and cushions are welcome to lighten up the black sofa. To create a relaxed atmosphere, soft or bright colours are perfect, less middle ground. And prints such as stripes, zigzags or large polka dots give dynamism.
So, once you have chosen a black sofa, what should you put in your living room to create a design effect? The lighting needs to be well balanced, and modern solutions allow for various effects. If the walls are white, colourful prints will add an extra touch. The ideal carpet is in geometric shapes, perhaps with a black colour that recalls the sofa if you want a minimalist effect, with light tones if you have a more classic home.
Need to furnish your home or a single room?
Choose a top-notch woodworking shop.

We have over 50 years of experience!
Contact Us
Il Piccolo, second generation family-run carpentry shop, opens its showroom in Lugano. With over 50 years of experience, Il Piccolo brings with it a wealth of technical and design knowledge of the highest level, thanks to the many interiors designed and furnished all over the world. In addition, Il Piccolo represents the most prestigious brands of furniture worldwide. Il Piccolo designs, manufactures and sells the best of interior design made in Italy, following the customer from design to implementation, delivery and installation of the work, integrating the process with a precise and professional service. CONTACT US!