Il Piccolo Blog
Black wardrobe, perfect for those who want a choice with personality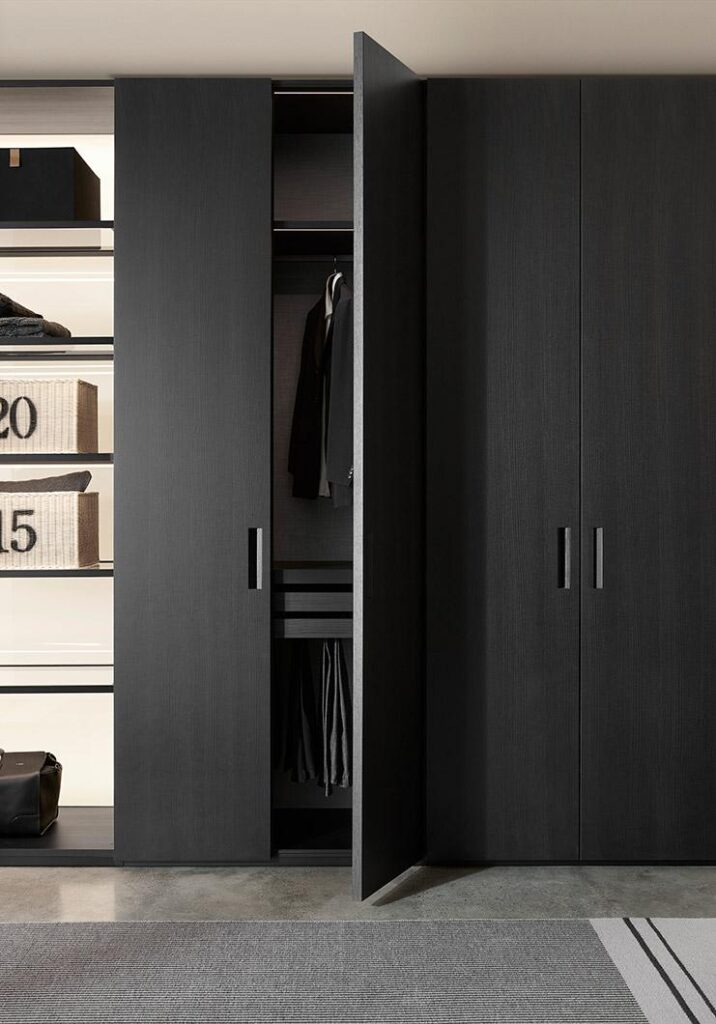 Why choose a black wardrobe?
Wardrobes are indispensable in any home and are needed to organise space and everything to do with the arrangement of clothing and accessories. Choosing the right wardrobe is therefore extremely important, and anyone considering a black wardrobe can be sure of opting for a colour synonymous with elegance and refinement. Black also works well with any other colour, making it easy to place a black wardrobe in a room where other colours are already present.
If you are considering a contemporary wardrobe, you will be able to add a touch of class by opting for black, but there are many styles available for this type of wardrobe and they cater for all tastes, although they are better suited to a modern environment than a classic one where lighter and softer colours are normally favoured.
The right black wardrobe for every need, from the decorative to the ironic
Choosing a black designer wardrobe is the perfect option for those who like to take risks and want to give their room an unprecedented style.
In the design field, it is possible to opt for a luxury black wardrobe, or even for one so enriched with decorations that hiding it would almost be a waste: a truly unique choice that makes it the star of the room. Not only is black a guarantee of elegance, but it also goes well with other colours. Yes, therefore, to a wardrobe in this colour with two thick sliding doors, enriched by glass in the finish, also black, or one with a polished frame and panels in a glossy finish, lacquered in black. This choice is perfect for art lovers, or for those who wish to impress their guests.
It is also possible to opt for a black wardrobe with trim in other colours. For example, if you want a bit of irony and fun, you can choose a wardrobe that combines the elegance and seriousness of black with more cheerful, sometimes slightly off-beat colours, such as fuchsia. This wardrobe allows you to play on contrasts (for example, combining black and white for those who love refinement), where black represents intimacy, elegance and charm, which are now mandatory for those who wish to furnish their homes with awareness.
As far as materials are concerned, go for the classic wood, painted or lacquered, perhaps with a glossy finish, but since a black wardrobe goes better with contemporary furniture, it is also excellent to opt for metal. You can opt for a piece of furniture with strict and simple lines, or, on the contrary, for a design element that winks at innovation.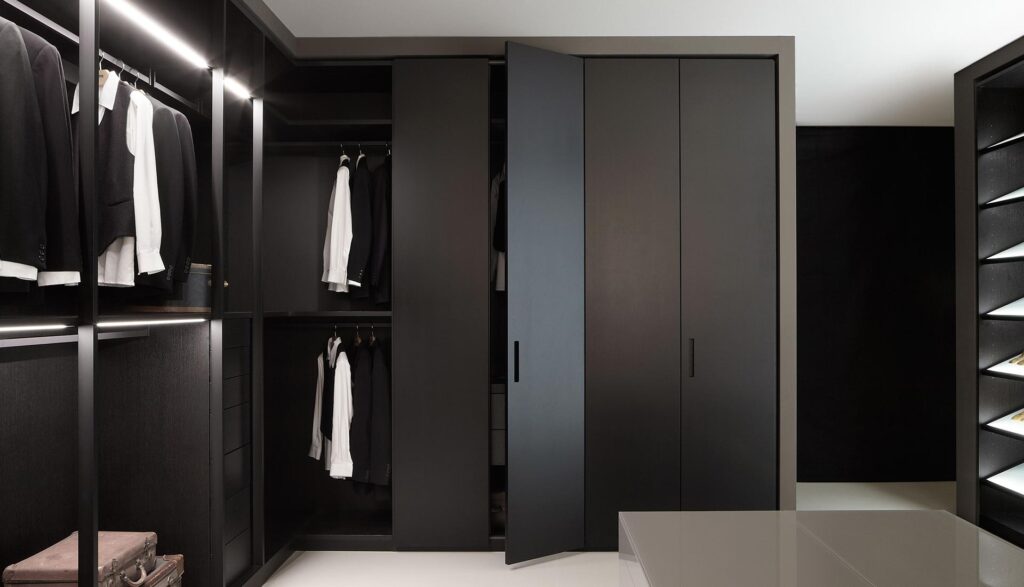 Many different shades for your black wardrobe
It's easy to think that black is a colour that offers few options, but that's not the case. There are many different shades to consider when buying a wardrobe. A lot also depends on the rest of the furniture in the house and, in particular, in the room where the wardrobe will be placed. Some rooms, or homes, may have a total black look, while at other times it is possible to opt for just a few pieces of furniture in black, perhaps exclusively for the wardrobe.
Black can be matt or glossy and, in the first case, it contrasts with any light coming in through a window.
It is a colour for strong-willed and determined people and is not easy to live with on a daily basis, which is why it is perfect for the homes of individuals with a strong personality. Often referred to as 'the absence of colour', it is in fact an intense, strong colour, capable of arousing great emotions in both those who experience it on a daily basis and visitors. Choosing to include a black wardrobe in your home is a decision that needs to be considered, but which will provide a unique touch.
Devi realizzare un progetto di Interior Design?
Devi arredare casa o un singolo ambiente?

Scegli una falegnameria di alto livello.
Contattaci
Il Piccolo, a second-generation family-run joinery, opens its own showroom in Lugano. With over 50 years of experience, Il Piccolo brings with it a wealth of technical and design knowledge of the highest level, thanks to the numerous interiors designed and furnished throughout the world. In addition, Il Piccolo represents the most prestigious brands of furniture worldwide. Il Piccolo designs, produces and sells the best of the interior design made in Italy, following the customer from the design to the realization, delivery and installation of the work, integrating the process with a precise and professional assistance service. CONTACT US!