Il Piccolo Blog
Canopy bed, not a film element: it's design and adaptable to all styles!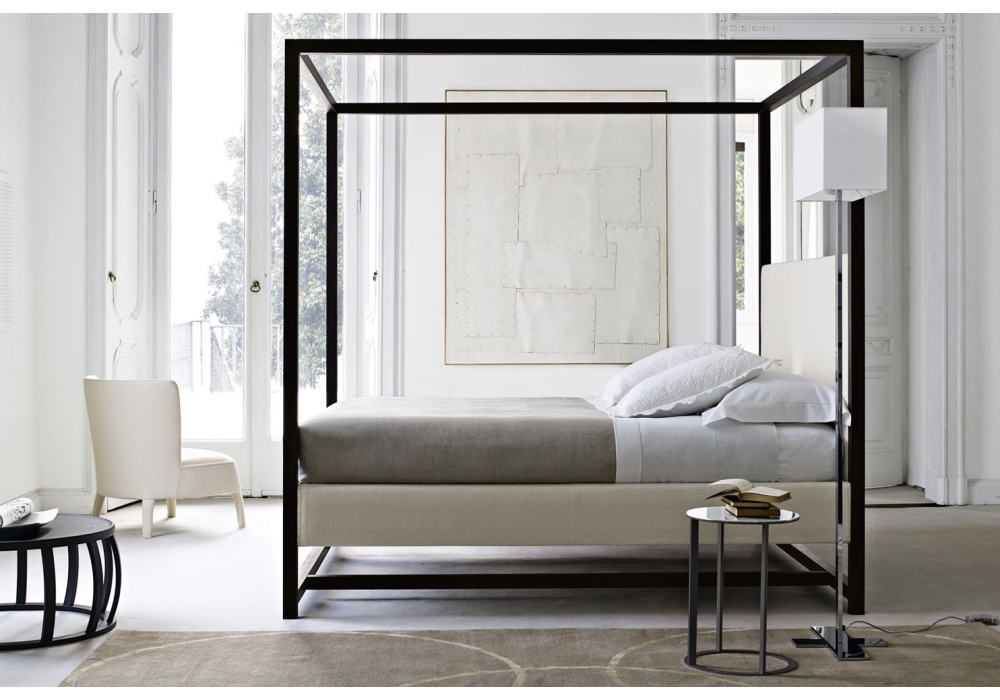 Canopy bed, a design element that appeals to children and adults alike
A canopy bed has nothing to do with design and is part of the fairytale atmosphere of films about castles and nobles? For those who love that kind of history and would like a canopy bed, there's good news. It's designer, all right! In recent years, many designers have given it a modern twist, making it suitable for everyone, including children!
In fact, it's not unusual for a canopy bed to find a place in a child's room. By design but also by function: it allows them to create an atmosphere of privacy, to take refuge, play at curtains, pretend to have an inaccessible place. And for little girls, to pretend to be princesses with a touch of design. The canopy bed is a great solution for everyone, especially for those who love romantic atmospheres.
A canopy bed too bulky? No, a central design element in the room
If you're afraid that a canopy bed will be bulky rather than comfortable and a design element, think again. There are canopy bed models inspired by the classic ones (although not exactly the same as the ones in the films…) but also minimalist models that go well with more modern furnishing styles. And beware that the size of the bed is standard: it can be single or double.
Without a doubt, buying a canopy bed is the choice of those who want an ornamental bed. And it is! The design function is to be the central element of the bedroom. Even when you go for modern, minimalist designs, it gives a bit of that retro feel that makes a room unique. The effect in terms of charm should not be underestimated. A four-poster bed is, by definition, protected by light veils which are themselves a design element. They create an undeniable charm, as well as bringing privacy to those who sleep in them: ideal in crowded houses with many people. It will be a good night's sleep because the curtains will shelter you from the light. 
Canopy bed for a romantic or industrial room? Always design
Opting for a canopy bed is a design decision for those who want a romantic room for themselves or their children. But the characteristics that make a canopy bed a design are not only linked to its charm: by definition, it has square shapes that are often rigorous, in order to be able to support the veils. You can play with these shapes. They are perfect for minimalist rooms that use clean lines and little softness, while there are also more rounded solutions: the latter will be suitable for classic and shabby styles, the clean ones for industrial spaces. A canopy bed is truly appropriate for every home!
A wide choice of materials and fabrics for the designer canopy bed
The canopy bed nowadays is available in every material, you can choose the one that best matches the design of your room. There are wooden models, which recall the antique and are more romantic, or simple wrought iron ones, perfect for modern environments.
This type of bed is certainly best placed in a room of large proportions, where it will be the central element. It is not recommended for rooms with low ceilings. The French canopy bed, with heavy drapes, is reminiscent of kings. But lighter fabrics can also be chosen for the drapes, which should be combined with curtains and chandeliers. If the structure of a four-poster bed is too bulky, you can think about recreating the effect with a canopy curtain fixed to the wall.
How to choose the colour? Freely! The canopy bed will be the element that creates the design of the room, so every other piece of furniture will have to match it. It is advisable to choose a smooth base if the canopy is ornate and vice versa, otherwise you risk having too many details.
Need to furnish your home or a single room?
Choose a top-notch woodworking shop.

We have over 50 years of experience!
Contact Us
Il Piccolo, second generation family-run carpentry shop, opens its showroom in Lugano. With over 50 years of experience, Il Piccolo brings with it a wealth of technical and design knowledge of the highest level, thanks to the many interiors designed and furnished all over the world. In addition, Il Piccolo represents the most prestigious brands of furniture worldwide. Il Piccolo designs, manufactures and sells the best of interior design made in Italy, following the customer from design to implementation, delivery and installation of the work, integrating the process with a precise and professional service. CONTACT US!