Il Piccolo Blog
Kitchens with central island: which type to choose according to your needs?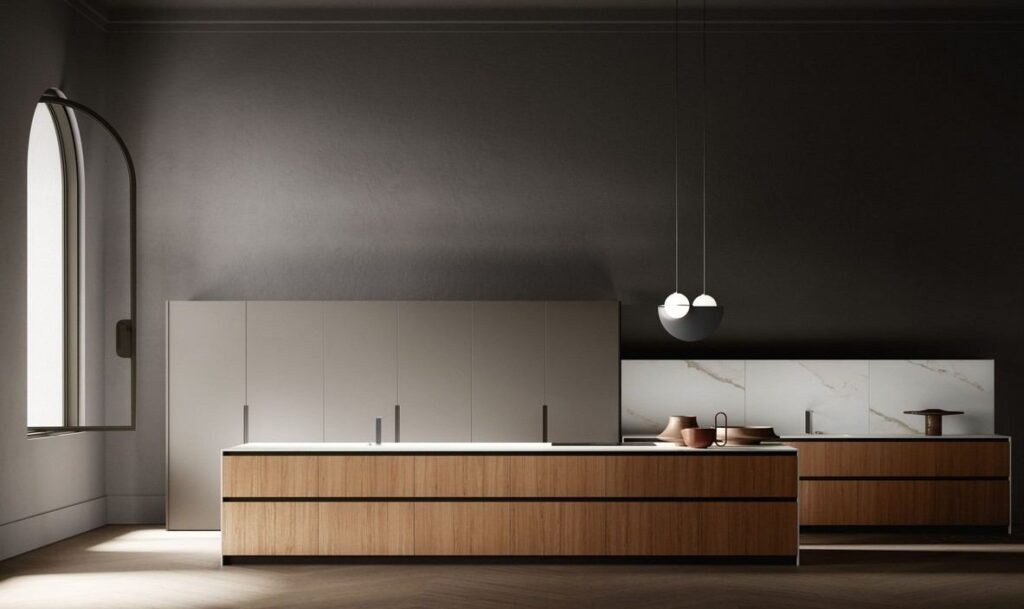 Kitchens with a central island are modern kitchens that are especially appreciated for their clever use of space and ability to perform multiple functions at once. In fact, the large island placed in the center of the room can be used for cooking and food preparation, but also for sitting and eating with friends and family.
First piece of advice. When designing a kitchen island , it is important to carefully check the available space and, consequently, choose the most appropriate arrangement for the different components of the kitchen.
What are the functions performed by kitchens with a central island?
Kitchens with a central island are a popular furniture solution, especially among those who like a modern, contemporary style.
First and foremost, adding an island to the classic kitchen makes the space versatile, both in terms of design and use. Typically, a kitchen with a island is used in rather large and spacious rooms, but, with some care, it is possible to install one even in a small kitchen, so as to enjoy the many advantages this configuration offers.
The central island becomes the focal point of the room and can be used in many different ways. Those who want to emphasize the more convivial side of the kitchen can allocate the island for eating meals. On the other hand, those who want to use the kitchen as a practical and functional space for food preparation can install the cooktop in the center of the room.
Those who choose a kitchen island for their home also appreciate the storage and organization capacity that this solution provides. In addition to a functional space for food preparation, the island also becomes the perfect place to place dishes, pots and pans, and other culinary utensils.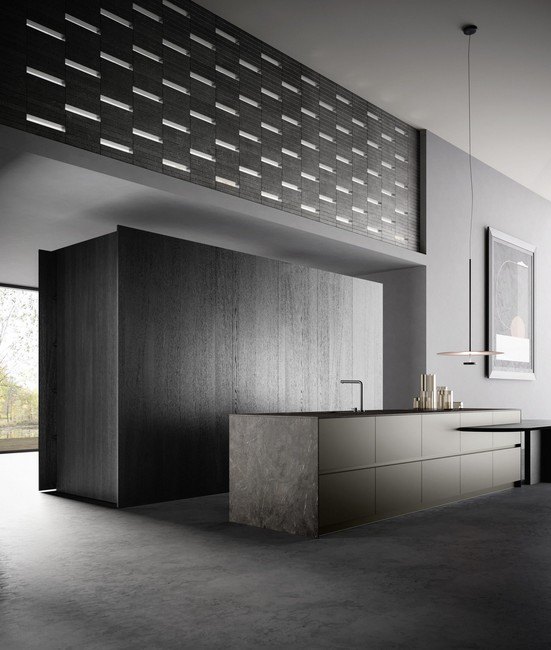 What are the advantages of choosing a kitchen with a central island?
There are many advantages to having an island in the kitchen. In fact, such a configuration provides more work and storage space, and it also makes cooking and food preparation easier.
The island is a practical, multifunctional space that can also be used as a dining table or as a place where guests can sit while they wait for their food to be served.
Kitchens with a island are often chosen for their versatility and functionality. A central island that houses the cooktop, for example, is ideal for families who like to cook together and for those who make a habit of preparing tasty meals for friends.
However, the central island should not be thought of as a space intended only for food preparation. In many interior design projects, the island is used in an original way, replacing the dining table. More specifically, the island is used for breakfast at the beginning of the day, a mid-morning snack, or an aperitif before dinner. The top of the island, raised above a classic table, is in some ways reminiscent of a bar counter and is ideal for a short rejuvenating break. To make this kitchen space even more cozy and elegant, you can add designer stools and upholstery in an elegant material.
Those who choose kitchens with central islands specifically appreciate their ability to optimize the use of space. Indeed, adding an island to a classic kitchen with a linear configuration allows you to make the most of the room's square footage. It also allows for simplified food preparation and cooking procedures. Also worth noting is the island's ability to create extra space in the kitchen, an essential aspect in any modern home.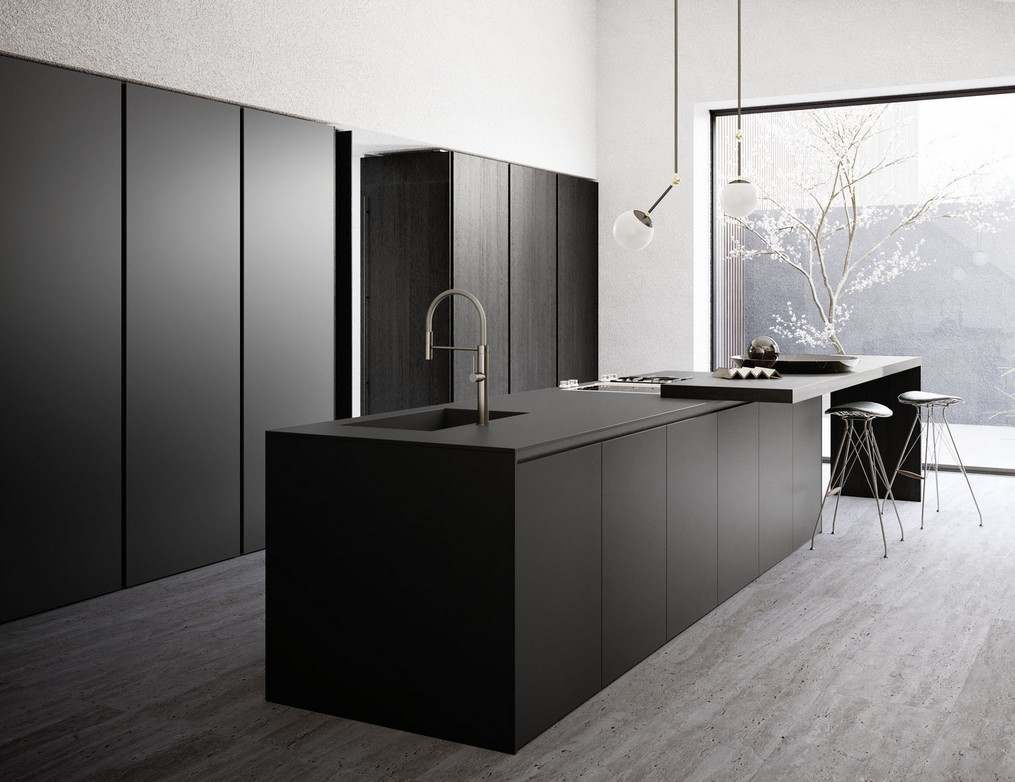 Our tips for furnishing a modern kitchen with an island
Kitchens with a island are an excellent choice for furnishing a home that is structured with an open-plan kitchen and dining room. In such environments, the kitchen with a island expresses its functional and elegant character to the fullest degree.
At the design stage, it is very important to take measurements correctly. The minimum space that must be between the central island and the wall-mounted cabinets is about 1.10 meters. A distance less than – or much greater than – this reference value could compromise the functionality of the kitchen. In fact, it could turn it into a space where it is difficult to move around or an overly dispersive environment, respectively.
The timing of furniture selection for kitchens with an island is equally important to be able to make the most of this space in the home and create a welcoming design environment.
In addition to considering the layout of the kitchen, it is important to select the right materials and appliances to meet your needs. For example, if you want to provide a dining area in the kitchen, you will need to add a snack top and stools to the island. On the other hand, if you want a more functional kitchen, you will be able to add advanced cooktops and a designer range hood to the island.
Need to furnish your home or a single room?
Choose a top-notch woodworking shop.

We have over 50 years of experience!
Contact Us
Il Piccolo, a second generation family-run joinery, opens its own showroom in Lugano. With over 50 years of experience, Il Piccolo brings with it a wealth of technical and design knowledge of the highest level, thanks to the numerous interiors designed and furnished all over the world. In particular, Il Piccolo has a wealth of experience in the design and production of several corner wardrobe models. Finally, Il Piccolo represents the world's most prestigious furniture brands.
Our company designs, manufactures and sells the best of made-in-Italy interior design, following the customer from the design to the realisation, delivery and installation of the work, supplementing the process with a precise and professional assistance service. Looking for the ideal corner wardrobe for your room? CONTACT