Il Piccolo Blog
The cherry kitchen: a guide to the ideal choice for your home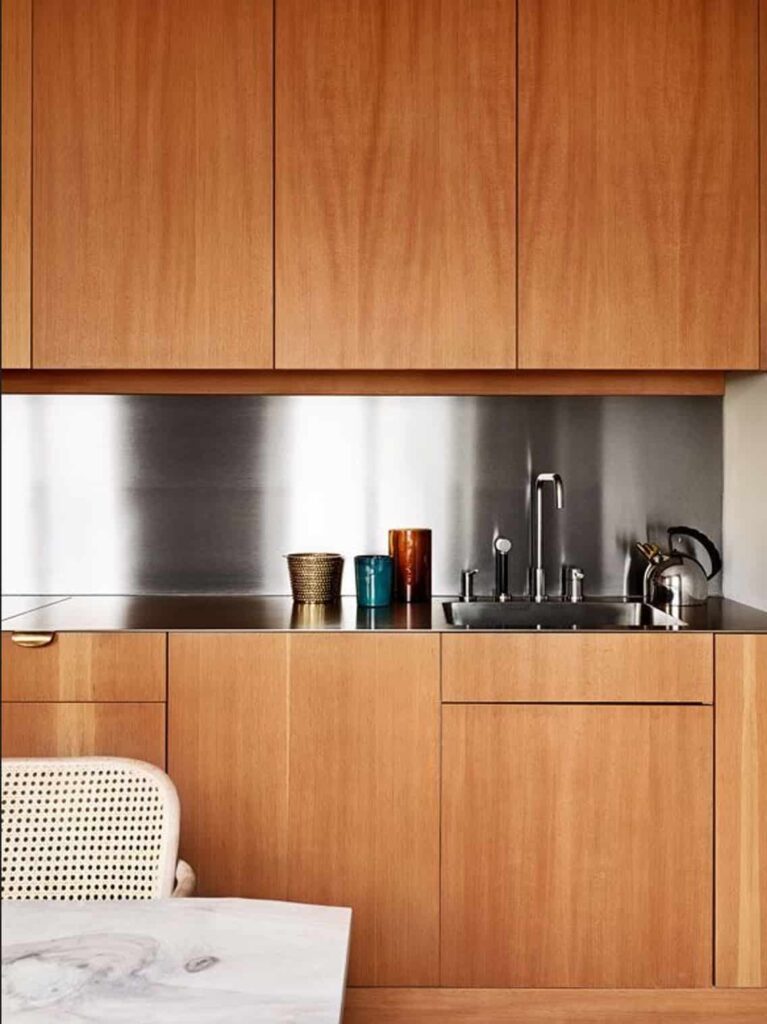 Cherry wood is one of the most widely used woods in luxury kitchens. Those who choose to install a cherry kitchen in their home do so mainly for two reasons: on the one hand, because it is a very resistant wood and perfect for the kitchen environment and, on the other hand, because cherry wood has a warm and intense colour, which makes the furniture in the room elegant.
For an impressive result, it is a good idea to match the materials and colours chosen for the other components in the room with the cherry kitchen. With this in mind, we will now give you some useful tips so that you do not make the wrong choice.
What are the advantages of furnishing with cherry wood kitchens?
Cherry wood is an excellent choice for kitchen furniture. How so? Its compact structure makes it very resistant to both temperature changes and humidity. As a result, it is perfect for a particular room in the house where food is prepared.
The aesthetic appearance of cherry wood also makes it an ideal choice for this home space. Indeed, the wood planks have a characteristic warm colour and delicate but noticeable grain. One must also consider the fact that, with time and oxidation, the wood tends to darken slightly. This accentuates its warm colouring even more.
Cherry wood is particularly valuable and a kitchen made of this wood naturally appears elegant and solid, whatever configuration is chosen. Specifically, cherry wood is excellent for linear type kitchens, as well as kitchens with an island. The furniture needs no special maintenance or treatment and retains its natural beauty over the years.
With judicious interior design choices and the right combinations, the qualities of wood can be brought out to the full and create a kitchen that is not only functional, but also impressive. And if you are thinking that cherry wood is a wood suitable only for more classic kitchens, you have to think again: there are splendid examples of contemporary kitchens made of this wood.
How to match a cherry kitchen to walls, floors and surfaces in general
The way a cherry kitchen looks also depends on everything around it. To make the colour of the wood stand out, it is best to use light colours for worktops, walls and floors. Besides white, you can also consider neutral shades and pastel tones.
For worktops, some of the most suitable materials are natural stones such as marble and quartz. Alternatively, you can opt for countertops made of a mix of resins and stones. Both solutions are functional and have an excellent degree of durability.
Another material that works very well in combination with cherry wood is ceramic. You can use it for floors or in the cladding of the backsplash, especially when you want to give the room a rustic touch.
Those who want a stronger result can also choose to match the cherry wood kitchen with dark colours. One possible combination is with brown or black marble for the worktops and floor. For the walls, it is in any case advisable to choose a light shade, also to ensure good brightness in the room.
Lighting is another central element in the design of a kitchen made of cherry wood. A nice chandelier in the centre of the room and spotlights to illuminate the cooking area are a good starting point. To bring out the tones of the wood, warm, soft lighting is preferred, which will also have the merit of creating an atmosphere that is both gentle and cosy.
Which style is best for cherry kitchens?
Cherry kitchens are a typical example of a classic kitchen, made of a valuable solid wood. But no-one forbids the use of cherry wood to design contemporary kitchens. In fact, more than the material used for the kitchen furniture, it is the details that will define the style.
While in a classic kitchen there will be mouldings and a symmetrical arrangement of the elements, in a contemporary kitchen there will be smooth doors, a groove – or push-pull – opening system and a more irregular arrangement of the elements, which more faithfully reflects the way one moves around the room.
Those who have chosen to install a cherry wood kitchen and want to give it a more contemporary look can also take advantage of the presence of appliances. The contrast between the warm colour of the wood and the shiny exposed metal of the oven, refrigerator and dishwasher gives the room a very sophisticated look. Those who have made such a choice might also consider installing a steel worktop to create an even sharper contrast.
Devi realizzare un progetto di Interior Design?
Devi arredare casa o un singolo ambiente?

Scegli una falegnameria di alto livello.
Contattaci
Il Piccolo, a second-generation family-run joinery, opens its own showroom in Lugano. With over 50 years of experience, Il Piccolo brings with it a wealth of technical and design knowledge of the highest level, thanks to the numerous interiors designed and furnished throughout the world. In addition, Il Piccolo represents the most prestigious brands of furniture worldwide. Il Piccolo designs, produces and sells the best of the interior design made in Italy, following the customer from the design to the realization, delivery and installation of the work, integrating the process with a precise and professional assistance service. CONTACT US!