Il Piccolo Blog
Classic crystal chandeliers add a touch of elegance to any room. Even modern ones!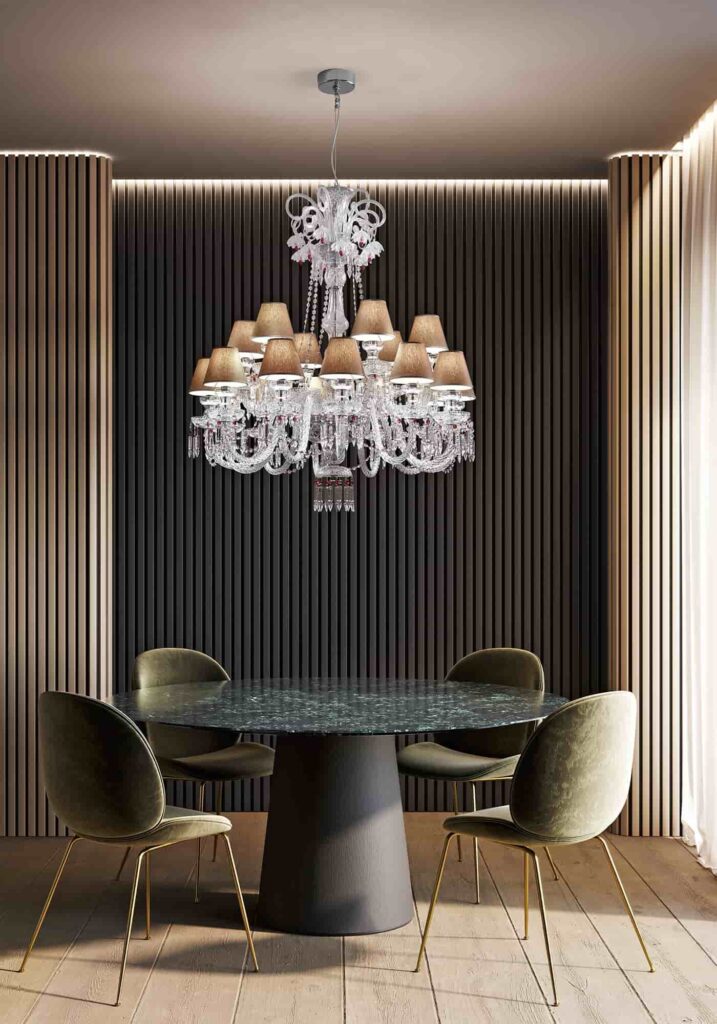 Crystal chandeliers, classicism does not exclude technology and contemporaneity
Chandeliers have always complemented homes of all kinds. Think of the movies, where in every living room, especially the elegant ones, there was a magnificent chandelier, perhaps drop-shaped, capable of impressing. Even in our times, even with modern lighting technology, with minimalist wall and ceiling lights, this type of lamp has not lost its charm. On the contrary! Classic crystal chandeliers are still able to give a unique look to the rooms where they are placed, combining functionality with timeless elegance. And as always, classicism is not at odds with modernity.
Who says they are not good for modern rooms?
By the way, classic crystal chandeliers are not only perfect for large rooms furnished in a classic style, with soft colours and imposing furniture, perhaps in wood, with woodwork and a delicate atmosphere. They are also suitable for different rooms, such as bedrooms, where they become dominant. But in reality they are also perfect to be inserted in a modern environment, perhaps minimal and played on materials such as steel and lacquered metals, if carefully calibrated. Classic design with cutting-edge technology, in fact, go perfectly together. Indeed, a chandelier that recalls classicism only lends an aura of timeless elegance and refinement.
What do classic crystal chandeliers look like? Usually, in perfect continuity with the classic style in general, they are imposing, detail-oriented and sophisticated. They are elegant and slender silhouettes despite their opulence, capable of combining size and even important materials with a sense of order and cleanliness given by perfect symmetry and soft, delicate curves, sinuous and rich in detail.
Precisely this sense of symmetry is one of the winning weapons of crystal chandeliers with a classic style, because inserted in an even modern environment they give balance even in rooms characterised by movement.
From Swarosky to Murano glass, so many refined choices!
Not only crystal: in chandeliers inspired by the classic style there can be various materials, from dark wood with gold or bronze finishes, decidedly elegant. But crystal certainly has its uses and can be declined in various ways. Of special refinement are those with Swarosky crystals, a very special material whose secrets nobody really knows. Also very popular are those with Murano glass, the charm of which lies in the art that has been handed down for centuries by the masters, who work each individual crystal by hand and using traditional techniques.
It is easy to understand how classic crystal chandeliers are timelessly desired and loved pieces of furniture, which even today are in demand and integrated in various styles.
Classic crystal chandeliers, from arms to balusters
Classic crystal chandeliers are also at their best in terms of finish and decoration. The linearity and simplicity of the material itself is certainly appreciated, but for the right salon one can choose models with floral patterns or sophisticated designs, which can recall those of the room.
The watchword in the choice is good taste. The most imposing models, such as teardrop or arm chandeliers, are suitable for large rooms, for smaller ones go for the rocker. And for the size, the height of the ceiling should be taken into account, so as not to weigh down. The colours should also go hand in hand with those of the room.
Devi realizzare un progetto di Interior Design?
Devi arredare casa o un singolo ambiente?

Scegli una falegnameria di alto livello.
Contattaci
Il Piccolo, a second-generation family-run joinery, opens its own showroom in Lugano. With over 50 years of experience, Il Piccolo brings with it a wealth of technical and design knowledge of the highest level, thanks to the numerous interiors designed and furnished throughout the world. In addition, Il Piccolo represents the most prestigious brands of furniture worldwide. Il Piccolo designs, produces and sells the best of the interior design made in Italy, following the customer from the design to the realization, delivery and installation of the work, integrating the process with a precise and professional assistance service. CONTACT US!