Il Piccolo Blog
Classic luxury kitchens: the step-by-step guide to the choice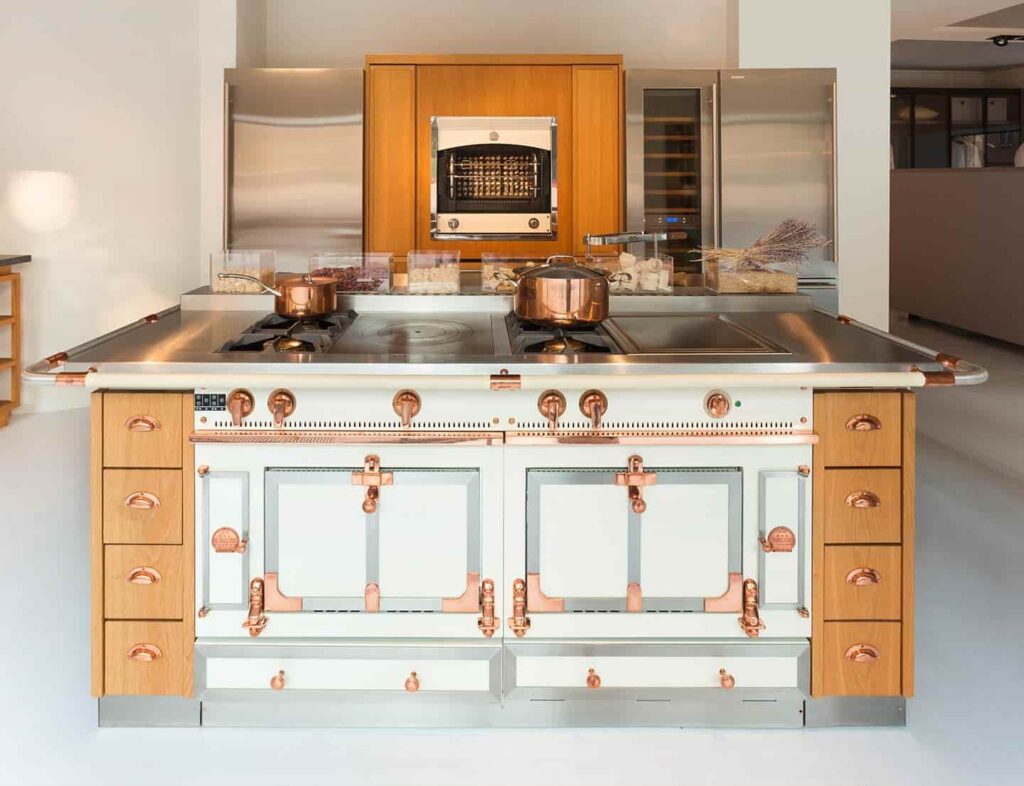 Classic luxury kitchens give the room an elegant look and convey a strong sense of prestige and sophistication.
Those who choose a classic kitchen are guided by the sophisticated design of this style, but also by the strength and durability guaranteed by the use of high quality materials. In addition, the many solutions available allow to balance tradition and modernity and allow to find always original configurations, to be used to furnish kitchens that have various dimensions.
What distinguishes classic luxury kitchens?
A first distinctive element of classic luxury kitchens are the materials used to make the furniture and worktops. In the creation of kitchens of this type, the highest quality materials are usually used, such as solid wood and marble. For a traditional luxury kitchen, it is essential to choose durable materials that will not be damaged by moisture and have good resistance to scratches and wear.
The traditional look is probably the main selling point of classic luxury kitchens. Framed doors, carved handles and carved wood are elements that are common to find in high value kitchens made in the classic style.
But what are the peculiarities of these furnishings? In particular, when we talk about classic luxury kitchens, we refer to one of the excellences of the made in Italy. The experience and knowledge of materials of Italian furniture makers are highlighted and expressed to the fullest, creating unique models capable of furnishing with great taste, without compromising the functionality of the kitchen. In fact, Italian style is universally recognized as synonymous with durability and quality. This is perhaps even more true for kitchens, which must have an extraordinary resistance to wear and tear.
What configuration to choose for classic luxury kitchens?
You may decide to install a classic luxury kitchen in rooms of all sizes. When the kitchen is placed in a large and spacious room, you can decide to give it a linear or angular structure, depending on the conformation of the room and the need for organization.
A classic model is also an excellent solution for large houses in which a second kitchen has been planned. Or for kitchens installed in a house used in vacation periods. For smaller kitchens, the angular configuration is the most practical: this structure allows you to optimize the use of space and offers, at the same time, an elegant and functional environment.
Those who love the classic style, but want to insert a hint of contemporaneity in the room, can opt for a kitchen with classic furniture with island or peninsula. This solution, also made to measure, is ideal in kitchens obtained in open space environments and in kitchens that open onto the living area. The island or peninsula thus become the fulcrum of the activities that take place in the kitchen and can accommodate countertops or work, stove or sink.
The centrality of the island and peninsula is also an opportunity to make the chosen materials stand out even more. For this element of the classic luxury kitchen, you can focus on the same materials used for furniture and countertops placed on the wall. Noin is a rule, however: you can also make a different choice.
What to evaluate when choosing a classic kitchen of the highest quality?
The quality and appearance of luxury classic kitchens depend a lot on the materials used. Solid wood is almost always used for the wall units, drawers and shelves used to store pots and pans, various utensils, kitchen linens and pantry. The most used essences for the most valuable traditional kitchens are walnut, with a timeless elegance and a remarkable resistance, oak, easy to work and versatile, and cherry, especially appreciated for the warm tone of the wood.
For countertops, marble is undoubtedly the most traditional choice. Those who wish to have a worktop made of an equally elegant, but less delicate material, can opt for other natural stones, such as quartz or granite. Or they can make a more original choice, deciding to include in a classic luxury kitchen a worktop made of a modern material. For example, tops made of mixtures of natural stones and resins are a very interesting option.
The location of appliances within a classic luxury kitchen is an important issue, which should be discussed between the client and the interior designer, in order to make a shared decision. If you want a kitchen with timeless appeal, you should opt for built-in appliances and a retro-looking cooktop. If, on the other hand, you want to balance the classic look of the furniture with elements of contemporary design, you can decide to install the appliances in sight and, why not, choose an induction hob. The neat look and the many details present in classic luxury kitchens are the elements that most distinguish them from modern style designer kitchens. Refined and able to create an environment with a warm and cozy atmosphere, classic kitchens of high quality are suitable for any type of home
Devi realizzare un progetto di Interior Design?
Devi arredare casa o un singolo ambiente?

Scegli una falegnameria di alto livello.
Contattaci
Il Piccolo, a second-generation family-run joinery, opens its own showroom in Lugano. With over 50 years of experience, Il Piccolo brings with it a wealth of technical and design knowledge of the highest level, thanks to the numerous interiors designed and furnished throughout the world. In addition, Il Piccolo represents the most prestigious brands of furniture worldwide. Il Piccolo designs, produces and sells the best of the interior design made in Italy, following the customer from the design to the realization, delivery and installation of the work, integrating the process with a precise and professional assistance service. CONTACT US!