Il Piccolo Blog
Classic panelling, character and refinement for every room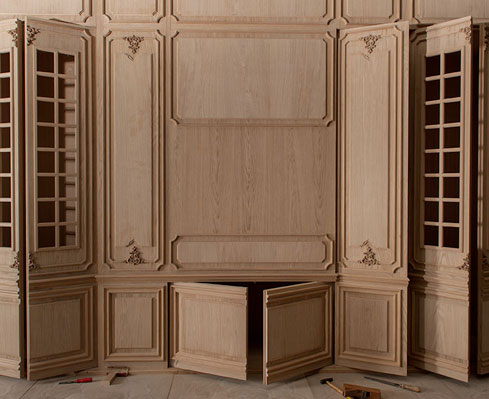 From past centuries to the present day: timeless classical wood panelling
The charm of classic panelling has been around for centuries and can add a touch of elegance to any room in the home. The study, the living room, the bathroom, the kitchen… every room can benefit from this type of panelling. The function of a boiserie is to cover ceilings, walls or doors with a cladding composed of wooden panels or frames made of plaster or stucco or other materials. Those who want traditional wood panelling will therefore opt for wood panelling.
In any case, it is possible to personalise it in different ways, taking into account one's own taste and needs in terms of painting, for example choosing a colour to match that of the walls or opting instead for a chromatic break. Inlays, engravings and carvings can also be used if they please, and it is also possible to alternate panels of various heights.
The uniqueness of classic wood panelling
They add character and sophistication to any room in the house. They offer an unobtrusive solution to problems such as humidity, or they can be useful for rooms where thermal and acoustic insulation is required. If you want luxury classic wood panelling, you can choose a classic design and combine it with high-quality wood, often made by highly qualified craftsmen, to add a touch of luxury to your home.
The ideal interior solution
Often interesting from an economic point of view, classic wood panelling is the perfect solution for those who wish to furnish the interior of their home, combining elegance and functionality, without forgetting the possibility of personalisation. They make rooms look larger and more opulent. They are usually made to take up the entire wall and the most commonly used woods are mahogany, cherry, fir and walnut. As far as brushwork is concerned, on the other hand, you can choose between matt or lacquered. Classic wood panelling is also perfect for children's or teenagers' bedrooms, as it will provide a warm and welcoming effect. In fact, it is not just an effect because wood is definitely warmer than the wall. If, moreover, there is a problem of humidity in the room, placing a boiserie next to the bed will offer a solution that is not only aesthetically pleasing but also capable of warming the environment. In children's rooms, however, panelling is usually placed behind the desk to protect the wall.
Classic and innovative
Although classic panelling is a nod to the past and to tradition, this does not mean that progress has not been made in this area over time. The options are now endless, catering for all tastes and needs. Biocompatible production, new materials, supplies with ecological material, which has no harmful emissions for human beings, and certified wood are just a few examples of how nowadays it is possible to finish such paneling with measures to preserve the health of those living in the house and that of the planet. The main power of wood panelling, apart from giving an idea of elegance and refinement, is to warm the room.
Although we do not know for sure when the first boiseries were actually made, we have reason to believe that the invention of this furnishing element dates back to the times of medieval palaces and castles, precisely because there was a need to build an element that would warm those large rooms, which were always so cold. Capable of giving a certain atmosphere to the environment depending on where they are positioned – sobriety to the study, warmth to the bedroom or elegance to the living room – classic boiseries are always a winning choice.
Devi realizzare un progetto di Interior Design?
Devi arredare casa o un singolo ambiente?

Scegli una falegnameria di alto livello.
Contattaci
Il Piccolo, a second-generation family-run joinery, opens its own showroom in Lugano. With over 50 years of experience, Il Piccolo brings with it a wealth of technical and design knowledge of the highest level, thanks to the numerous interiors designed and furnished throughout the world. In addition, Il Piccolo represents the most prestigious brands of furniture worldwide. Il Piccolo designs, produces and sells the best of the interior design made in Italy, following the customer from the design to the realization, delivery and installation of the work, integrating the process with a precise and professional assistance service. CONTACT US!