Il Piccolo Blog
Classical chandeliers for prestigious dining rooms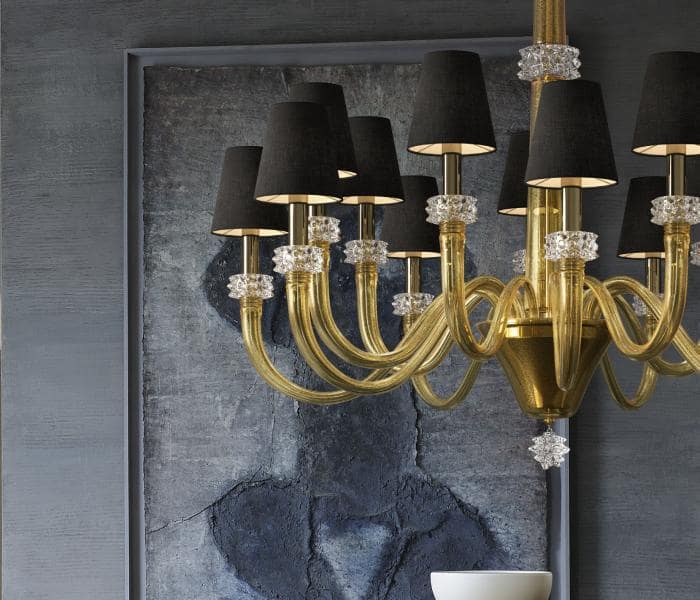 Light is important! In the living room and beyond
Illuminating one's dining room, a room in which to welcome guests during pleasant convivial dinners, with refinement and class is a goal of many. In interior design, the importance of suitable lighting has been understood and therefore this element has become just as important as the choice of furniture. For rooms that want to be subtle and wink at timeless atmospheres, Classical chandeliers are definitely a viable option.
Classical chandeliers, always start with dimensions
As always, the possibilities are wide and can be adapted to the type of your flat. But if you are talking about something classical al , you probably want to place it in a room that follows the classical , imposing style with a strong aura of romanticism. Classical chandeliers are hung from the ceiling and are made to be placed in an elegant context with furniture that stands out: they too do not just want to illuminate but to be seen. So, go for big sizes too, always taking into account the size (and height) of the room, because an excessive chandelier has the power to decisively shrink the room, certainly not the desired effect.
If it is to illuminate in particular the table where one eats, take its shape into consideration, to decide whether to choose Classical chandeliers with diffuse decoration or not. If it is elongated, more light points are needed (which can also possibly come from natural lights such as windows or spotlights placed in strategic points. The chandelier must be the main protagonist), if it is round or square, one is sufficient, placed in the centre.
Types and materials for an elegant chandelier that winks at classicism
Among the possibilities are crown chandeliers, perhaps the most classical chandeliers in the collective imagination, with a main light in the centre and smaller ones around it. They resemble, in shape and appearance, a crown: very elegant! Also common in classical al ism are the arm models: the number of arms is variable, from a few large ones to many small ones, each with one light. In this way it is certainly possible to distribute the degree of brightness with skilful play. The variations for each type are of course endless. There are also chandeliers that create a special diffuse light by means of lampshades, which are themselves part of the structure and charm.
For classical chandeliers, a material of a certain type is essential: opulent, luxurious. To dare towards something truly refined and special, one can choose gold or silver. For less complex and extreme solutions, crystals are absolutely perfect, and in fact even today there are many traditions that focus on chandeliers that wink at antiquity and classical al ism. And here the variety is wide: from Bohemian to Murano, from Swarosky to those made of drops. These are almost always models designed and made by masters who carry on techniques that are still handcrafted, albeit declined in modernity, contributing to the charm of these products, which will be able to enrich the room in a unique way.
In an elegant living room, you need a chandelier of a certain type: no ceiling lights, yes to antiques
A classical al  dining room will have furniture of a certain value, with materials such as wood, decorated with boiseries and obvious finishes, majestic sofas and armchairs, and large, solid tables. Elegant classical chandeliers must therefore, to fit in at their best, follow the style: they must be elaborate, with attention to the smallest details, with fine finishes, capable of really giving an extra touch. They absolutely must not blend in, but rather be noticed. Sophisticated shapes are welcome, such as conical or floral. The minimalism that characterises modern chandeliers has no place in this classical al  concept. What is absolutely wrong is the ceiling light! If placed well in the context, the antique model is an excellent choice
Devi realizzare un progetto di Interior Design?
Devi arredare casa o un singolo ambiente?

Scegli una falegnameria di alto livello.
Contattaci
Il Piccolo, a second-generation family-run joinery, opens its own showroom in Lugano. With over 50 years of experience, Il Piccolo brings with it a wealth of technical and design knowledge of the highest level, thanks to the numerous interiors designed and furnished throughout the world. In addition, Il Piccolo represents the most prestigious brands of furniture worldwide. Il Piccolo designs, produces and sells the best of the interior design made in Italy, following the customer from the design to the realization, delivery and installation of the work, integrating the process with a precise and professional assistance service. CONTACT US!