Il Piccolo Blog
A contemporary wardrobe in a modern home, combining functionality and design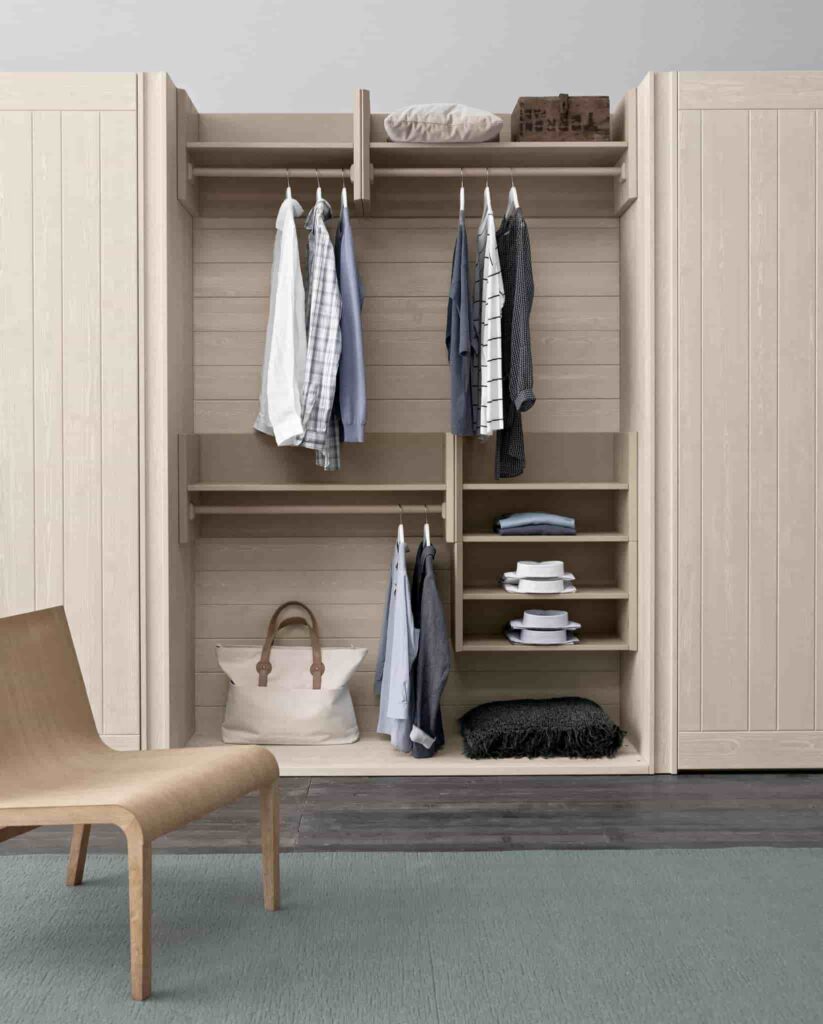 A wardrobe to be included in a home furnished in a contemporary style, therefore essentially functional, linear and essential, must respect the same criteria. It can be used as a purely useful space, where clothes or whatever is needed can be stored, making the most of the space, or it can be made into a total design element, taking advantage of many benefits such as the possibility of customisation, excellent efficiency and various options for modularity. It can also be combined with different pieces of furniture such as a bookcase or a desk, fitting dynamically into a living area.
The minimalist contemporary wardrobe with usually sliding doors
It gives a touch of elegance to the environment, without forgetting utility. As always when talking about wardrobes and furniture in general, it is essential to think about size: one that is too big, for example, would reduce the space available and make the room seem small. An environment furnished in a contemporary style usually has minimalism as its strong point and the wardrobe is no exception.
Wardrobe doors can be sliding or hinged, usually chosen according to how much space you have. But usually when it comes to contemporary style wardrobes they easily have sliding doors, which are well suited to bold and linear shapes. Nothing prevents you from opting for a hinged solution.
The contemporary wardrobe, a wide choice of colours and materials, perhaps in combination
One of the advantages of a contemporary wardrobe is that it can be customised in terms of both aesthetic taste and functionality. It is possible to create a made-to-measure wardrobe, or even to consider the wardrobe as a real furnishing element of the wall to furnish it in a coordinated manner and with the necessary measurements for large wardrobes.
Obviously also in terms of materials, shapes, style and colours, the choices for a contemporary wardrobe are almost endless. If we are talking about a modern environment, materials such as metal are perfect, while something that goes well in any context is wood, especially if it is finished, lacquered or decorated with strictly modern and essential boiserie. There is also a free choice of colours, from white onwards, depending on the shade of the room. Very modern rooms are often characterised by contrasting colours such as grey, but those who want to be daring can choose any colour, perhaps bright and dynamic, creating interesting optical effects.
To really give a contemporary touch to your wardrobe, making it modern and attractive, the combination of several different materials, such as wood and metal, is an original and appreciated choice. Also inserting elements in the contemporary wardrobe that wink at tradition, such as mirrored doors or boiserie, together with others such as a TV placed on an open shelf or special lights, gives movement and a special touch to your wardrobe. In fact, creating a wardrobe that is not "full" but with lively solutions, made up of doors, drawers and open elements, helps to make it look more dynamic and contemporary, combining design and functionality.
However, while you are free to play with the various options, pay attention to the shapes. If the wardrobe you want in your room is contemporary, it cannot be opulent or classical, but essential and as linear as possible.
A wardrobe in the middle of the room? Why not, but beware…
A contemporary wardrobe is not only suitable for the living room or the bedroom but can also be placed, for example, in the entrance hall, perhaps exploiting niches or areas which would otherwise be wasted: in fact, modern homes often try to use every useful space, as they are often small in size.
The latest trends also speak of placing your wardrobe not necessarily against a wall, as in the traditional vision, but in the centre of the room, making it the main and central element, combining utility with being a design element. Obviously, at that point it must be carefully finished at the back as well, and the other furniture must be placed and chosen starting from it.
Devi realizzare un progetto di Interior Design?
Devi arredare casa o un singolo ambiente?

Scegli una falegnameria di alto livello.
Contattaci
Il Piccolo, a second-generation family-run joinery, opens its own showroom in Lugano. With over 50 years of experience, Il Piccolo brings with it a wealth of technical and design knowledge of the highest level, thanks to the numerous interiors designed and furnished throughout the world. In addition, Il Piccolo represents the most prestigious brands of furniture worldwide. Il Piccolo designs, produces and sells the best of the interior design made in Italy, following the customer from the design to the realization, delivery and installation of the work, integrating the process with a precise and professional assistance service. CONTACT US!