Il Piccolo Blog
To work best from home you need a corner studio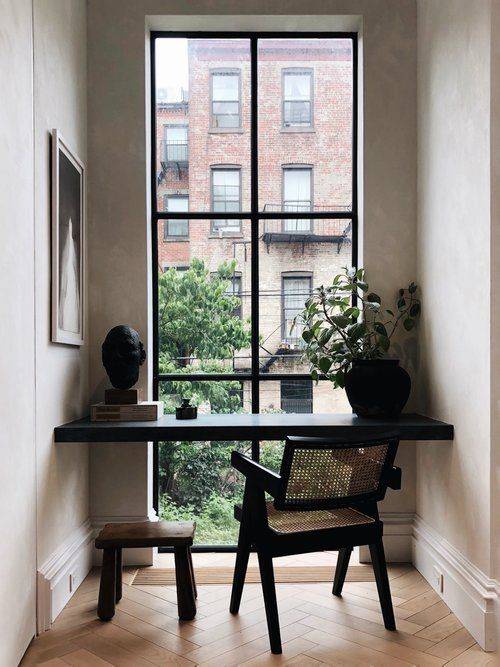 A space for smartworking: where? Anywhere!
The pandemic has made a new way of working known: home working. Most people have discovered that they can work from home. It is not easy, because it requires a reorganisation of rhythms and of the work-leisure division, especially if one is a mother, for example, and certainly creating one's own corner studio also has its importance.
Those who work from home need their own space where they can concentrate. While it used to be not uncommon to have a studio in one's own home, organising it in the best possible way has now become imperative. It may be an ad hoc room, a study where one can isolate oneself and devote oneself to work, but it is not necessarily possible: for reasons of space or because there is a need to keep an eye on the children while doing so. In these cases, one often carves out a corner studio in the living room, the kitchen or even the bedroom, with the need to make it integrated with the rest of the furnishings and if possible camouflage it. All it takes to make it design is a little touch of customisation, such as a knick-knack, a framed photo, a relaxing plant, care in the arrangement of objects, be it even just a special pen holder.
The desk is the basic piece of furniture for one's corner studio
What cannot be missing in a corner studio? Certainly the key element is the desk. It must be large enough to allow you to work and keep your computer and any documents there. If the space is adequate, you can opt for a corner desk, so that you have space for your computer and at the same time a free surface.
Other must-haves: bookcase and comfortable chair!
A bookshelf in a study is perfect, because it provides plenty of space for filing cabinets, tools, perhaps a printer or other technology items that you need. Design objects can be placed on the bookshelves and shelves: they give an extra touch and do not take away space on the desk, where they would risk creating chaos. Furthermore, if the desire is to camouflage one's study corner, one can choose a bookcase unit with shelves and a worktop, which at first glance will appear to be simply another cabinet shelf.
Another detail that should not be forgotten when setting up your desk is lockable drawers, especially if you prefer to have your materials out of sight.
A very important element in a corner studio is the chair. If you plan to spend several hours at work, you cannot ignore sitting comfortably: back and neck pain problems are becoming more and more frequent with sedentary work. In addition to design, look at ergonomics when choosing, if possible opting for a swivel model that allows easy and adjustable movement.
Light for a corner studio
Light is also crucial when working. Those who have the possibility can place their study corner near a window to take advantage of natural light. But artificial light, with table or wall lamps, is also basic. Aim for warm light and beware of the glare from the PC, which becomes annoying if the room is too dark.
Styles, materials and colours of the corner studio: freedom of choice!
For your own studio furniture, the choice in terms of style, material and colour is truly vast. You can opt for something very modern, with strict, essential and minimalist lines, with thin thicknesses and materials such as steel and metals. On the other hand, if you want a classic study corner, wood is undoubtedly favoured. The colours? Green light to the imagination, although since you need to be able to concentrate, it would be better to choose something neutral or shades such as white or black: too many cheerful colours could be distracting.
Need to furnish your home or a single room?
Choose a top-notch woodworking shop.

We have over 50 years of experience!
Contact Us
Il Piccolo, a second generation family-run joinery, opens its own showroom in Lugano. With over 50 years of experience, Il Piccolo brings with it a wealth of technical and design knowledge of the highest level, thanks to the numerous interiors designed and furnished all over the world. In particular, Il Piccolo has a wealth of experience in the design and production of several corner wardrobe models. Finally, Il Piccolo represents the world's most prestigious furniture brands.
Our company designs, manufactures and sells the best of made-in-Italy interior design, following the customer from the design to the realisation, delivery and installation of the work, supplementing the process with a precise and professional assistance service. Looking for the ideal corner wardrobe for your room? CONTACT US!