Il Piccolo Blog
Corner TV cabinet: guide to choosing the ideal corner TV cabinet
Using a corner TV cabinet is the ideal solution for making productive use of a living room space that is often difficult to furnish.
This type of furniture is particularly useful for those who want to have a TV in the home without placing it in the middle of the living room and for those who have a living area that is not particularly large. Even when there are only a few centimetres available, a beautiful result can be achieved by choosing a designer TV cabinet, for example.
What are the advantages of corner TV furniture?
Those who opt for a corner TV cabinet often do so to give personality to an area of the living room that would otherwise remain empty and disconnected from the rest of the room. In fact, filling the space with an aesthetically pleasing piece of furniture – and perhaps custom-made for the room – immediately improves the appearance of the room and makes it fully coherent with all the other spaces in the house.
In addition to being beautiful and elegant, a corner TV stand must first and foremost be a functional piece of furniture. That is, it must be able to support the TV and allow it to be viewed from different points in the room and from different angles. For some years now, TVs with slightly curved screens have been on the market, precisely to facilitate the correct viewing of TV images, even when the TV set is in a corner.
Very often, the choice of a TV cabinet with a corner structure is a necessity linked to the limited size of the space to be furnished. If you have to furnish, for example, a two-room apartment or a small living room, a piece of furniture of this type is an intelligent solution that makes the most of all available space.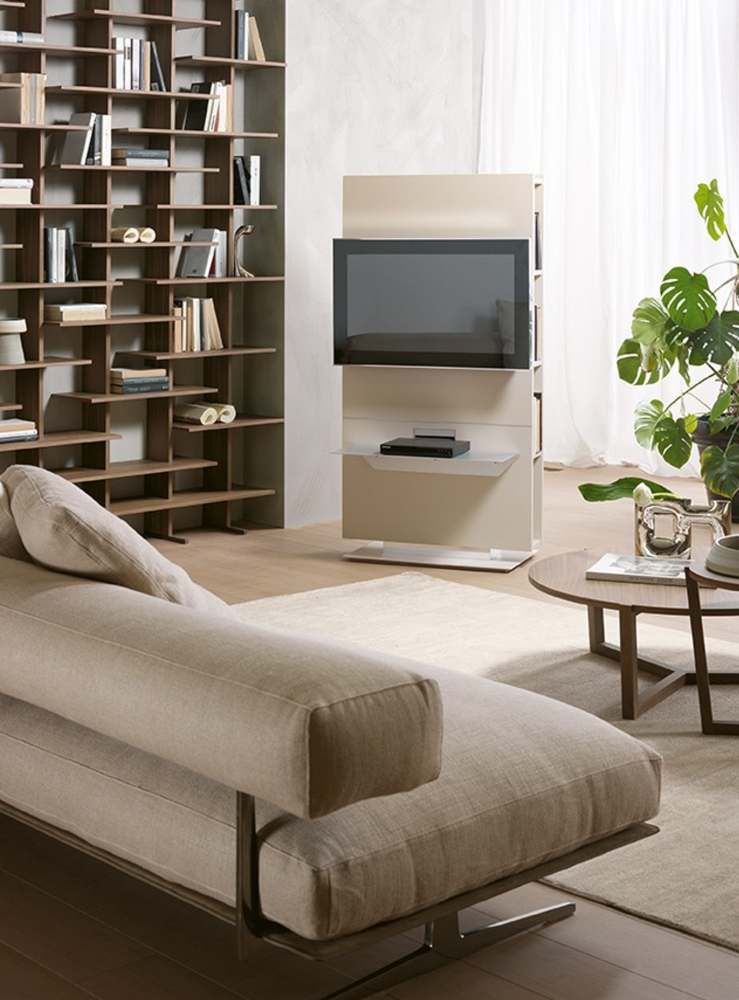 How many types of corner TV furniture are there?
The variety of models for a corner TV cabinet is such that everyone can find the ideal solution for their own style and home. The differences between one model and another may concern both the materials they are made of and the external structure of the furniture. Let us take a closer look at what the best offers are.
In most cases, TV stand furniture is made of wood. They may or may not be solid wood furniture and are available in every possible colour shade. Among contemporary solutions, there is also furniture made entirely of metal or that has metal elements. There is also the type of corner TV furniture with elements made of crystal or high-quality plastic materials.
They range from minimalist corner TV furniture, consisting only of a shelf on which to place the television, to furniture consisting of drawers, doors and storage shelves. There are also modular solutions, which allow you to add modules of different shapes and sizes to create a customised solution that perfectly meets your storage needs.
It must always be remembered that the corner TV cabinet is a functional piece of furniture. The ideal furniture is that which allows you to hide cables from view and organise the arrangement of all objects that are in some way connected to the use of the TV. Depending on one's habits and passions, these can be, for example, decoders, remote controls, game consoles and box sets containing video games and films.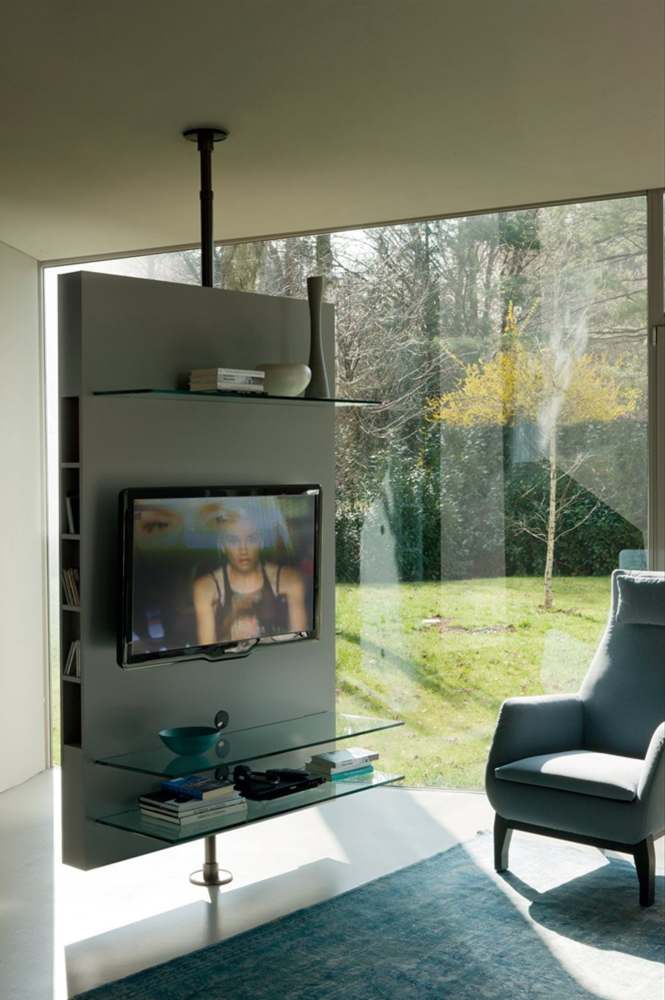 How to choose a corner TV cabinet for your living room?
Before even considering which style and design to choose for your corner TV cabinet, it is necessary to define the minimum requirements that this particular piece of furniture must have. First of all, based on the size and weight of the TV set, the dimensions of the cabinet itself must be calculated. It must then be verified that there are no elements in the house that could be in the way, such as windows or switches.
In order to be able to choose the most suitable cabinet, one must also take into account how much storage space is needed. If you only need a shelf on which to place the television, minimalist corner TV furniture will do. On the other hand, if you need compartments and drawers in which to store DVDs and video games, you will need a piece of furniture with a much more articulated structure.
In other words, carefully choosing the design of the corner TV cabinet is essential to ensure that the end result is elegant and harmonious with the rest of the furniture. If you want your TV cabinet to blend in perfectly with the other furniture in the room, you can also opt for a custom-made cabinet.
A few more suggestions. An excellent alternative to custom-made solutions is a designer corner TV cabinet. These are pieces of furniture that stand out for their personality and manage to maintain an excellent balance between aesthetics and functionality, playing with variations in volume or height or playing with original combinations of colours and different materials.
Need to furnish your home or a single room?
Choose a top-notch woodworking shop.

We have over 50 years of experience!
Contact Us
Il Piccolo, a second generation family-run joinery, opens its own showroom in Lugano. With over 50 years of experience, Il Piccolo brings with it a wealth of technical and design knowledge of the highest level, thanks to the numerous interiors designed and furnished all over the world. In particular, Il Piccolo has a wealth of experience in the design and production of several corner wardrobe models. Finally, Il Piccolo represents the world's most prestigious furniture brands.
Our company designs, manufactures and sells the best of made-in-Italy interior design, following the customer from the design to the realisation, delivery and installation of the work, supplementing the process with a precise and professional assistance service. Looking for the ideal corner wardrobe for your room? CONTACT