Il Piccolo Blog
Corner walk-in closet, comfortable, adaptable and a friend of tidiness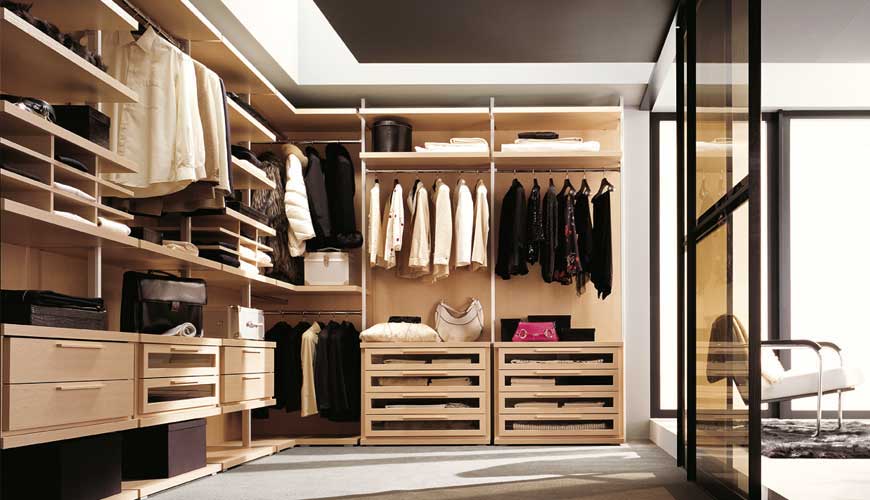 Corner walk-in closet, great capacity in a small space
A walk-in closet is very practical, as well as an innovative and traditional furnishing choice. If you want to optimise the space in a room, you can certainly consider fitting a corner walk-in closet. This model of walk-in closet offers great capacity, while taking up little space. For these reasons, it could be the ideal solution to make the most of the space available and at the same time store all your clothes in one cabin.
The infinite possibilities of a walk-in closet
Corner closets offer possibilities for everyone, to be adapted to the style of the house and also to your budget. The walls of the walk-in closet can be made of plasterboard or masonry or with self-supporting frames that make it possible to save a few centimetres, which is often important, as well as making full use of the space.
As far as internal equipment is concerned, generally in corner closets it is mounted on boiseries by means of aluminium racks.
An important factor to consider when choosing a corner shape for your walk-in closet is that everyone can customise the interior as he or she sees fit and as it suits him or her best, for example by preferring drawer units or compartments. Sliding doors are more recommended than hinged doors; this choice is undoubtedly preferable from an aesthetic point of view but also because it allows you to have a less bulky corner walk-in closet.
Do not forget that there are endless possibilities when it comes to choosing fabrics and colours.
What to keep in mind when choosing a corner walk-in closet
Even though there are no hard and fast rules, it is important to remember that the points to start from when designing a corner closet are the best possible arrangement of the internal elements and the height at which to fix the hangers. For this last aspect, it is necessary to take into account what kind of garment we are going to hang. For example, if you are planning to hang coats, you should take into account a height of between 130 and 150 cm. The same applies if you want to hang long dresses. By subtracting around twenty centimetres from these measurements, you can achieve the necessary height for those who want to hang coats and jackets. If you want to hang skirts and trousers in the walk-in closet, you need a height of around 90 cm. It is very important to take precise measurements to avoid ending up with an overly bulky corner closet in the room, which can also restrict movement in the room.
Nowadays, assembly is generally done using plastic joints. Fitting walk-in closets is not impossible, but it is not easy either.
A room within a room
The interior configuration of a walk-in closet generally includes one side with tubes and shelves for hanging clothes, and the other side free to fit coat racks, for example, or to be left completely free to store bulky items.
The walk-in closet is perfect for adults' and children's rooms
In any case, this type of walk-in closet allows you to have everything in order at all times, and for this reason it is perfect not only in adult bedrooms but also in children's rooms, which are often very chaotic. The corner walk-in closet is a real room within a room, in which it is possible to hang not only clothes but also other items such as musical instruments or toys.
A walk-in closet gives any space a modern and fresh look. Those who have small spaces will find the perfect solution in the closet because it is not bulky and at the same time allows to have everything in order and under control, from clothes to other things such as household linen, accessories or, if in the children's room, their things. A valuable point in the entire home, it is the solution for those who want to optimise space and keep everything in one cabinet with an eye on convenience but also looking for a piece of furniture that easily adapts to all tastes and homes of all sizes.
Need to furnish your home or a single room?
Choose a top-notch woodworking shop.

We have over 50 years of experience!
Contact Us
Il Piccolo, second generation family-run carpentry shop, opens its showroom in Lugano. With over 50 years of experience, Il Piccolo brings with it a wealth of technical and design knowledge of the highest level, thanks to the many interiors designed and furnished all over the world. In addition, Il Piccolo represents the most prestigious brands of furniture worldwide. Il Piccolo designs, manufactures and sells the best of interior design made in Italy, following the customer from design to implementation, delivery and installation of the work, integrating the process with a precise and professional service. CONTACT US!