Il Piccolo Blog
Decorate living room wall: a storage wall is a dynamic solution. But not the only one…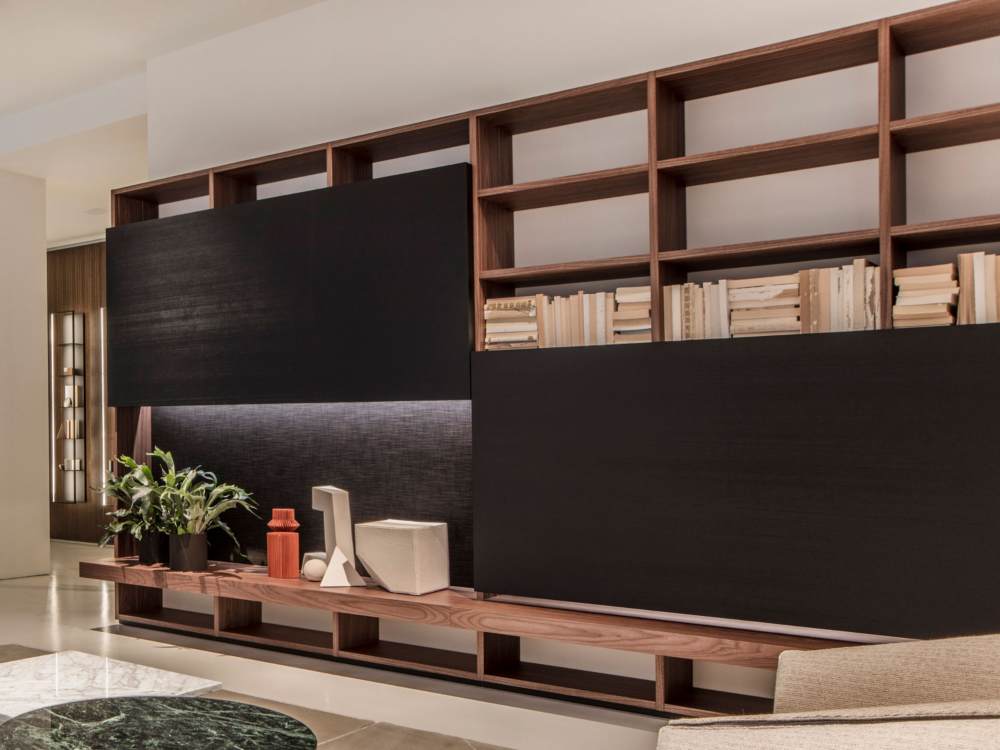 How to make your living room unique?
The living room is the room where you welcome guests on formal evenings but also where you spend time relaxing with the family, in front of the TV or with a good book. To make it truly unique, attention must be paid to decorate living room wall in a dynamic and original way. A very popular solution that everyone likes, suitable for any style and very versatile, is the equipped wall, although it is not the only solution.
Alternative solutions for decorate living room wall: from pictures to lights to wallpaper
A wall system is the most versatile system, capable of combining design and utility, for furnishing the wall of your living room. It is a particular wall made up of shelves and shelves, which can be composed in an infinite number of ways, playing with empty and full spaces, vertically and horizontally. For those who do not want this very versatile and popular piece of furniture in every style, there are many other possibilities: you can leave the wall clear of furniture, for example, dedicating it to a collage of pictures or photos, which must not of course be chosen at random but in a way that is functional to the style of the living room. Those who like to play with light can fill the wall with LED lamps. You can find them in infinite shapes and many colours, so that you can create a design ensemble. Another original and winning idea is to use wallpaper, from the most classic to the hi-tech modern ones.
The storage wall: a game of full and empty spaces
However, the most dynamic and original, as well as functional, way of decorate living room wall is with the wall unit. How do you create the perfect one for your living room? One must start with the dimensions of the room itself. The furniture that will be created does not necessarily have to occupy the entire wall, hanging elements can be used.
The versatile piece of furniture with which you can decorate living room wall can be a sleeve, a sideboard or a mixed solution. The abutment wall is essentially made up of vertical elements, which form a series of columns, varying in height according to requirements. If it appears somewhat static, it can be enlivened by playing with an effect between empty and full spaces through the addition of drawers, doors, vasistas and flaps. On the other hand, if you opt for the bushing solution you will have something even more dynamic, because it combines different elements.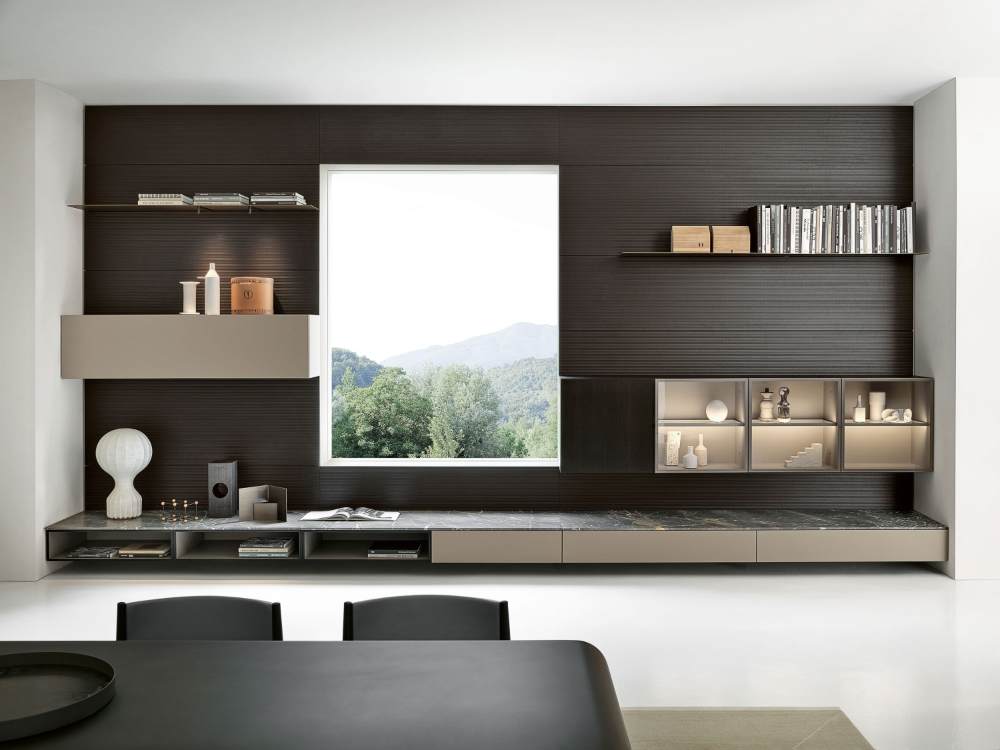 What do you want to include in the living room wall unit?
What counts when you decide to use a wall system to decorate living room wall is what you want to include. Do you want a bookcase effect, putting in lots of books? At that point, shelves of equal height are fine, perhaps interspersed with others of different sizes where, for example, vases or furnishing accessories can be placed. If the idea is to make room for the television in the wall unit, it will be the element that will determine the entire composition, whether positioned in the centre or to the side.
You can even insert a fireplace in an equipped wall: a traditional wood-burning one or a bio-fireplace.
Style and colours for furnishing modern living room walls
When it comes to the style of a wall unit, the choice is truly vast. You can opt for a piece of furniture with a classic, and therefore imposing, mould, or for very light modules that move towards a modern philosophy.
 The material and colours? To decorate living room wall  with such a solution, one ranges from wood, an evergreen option, to more modern materials such as metal or steel. And for colours, you can go for a single colour, something that goes well with the living room décor. You can combine a wood and a solid matt colour or choose something garish. You can never go wrong with white, natural wood or black in a modern context.
Need to furnish your home or a single room?
Choose a top-notch woodworking shop.

We have over 50 years of experience!
Contact Us
Il Piccolo, a second generation family-run joinery, opens its own showroom in Lugano. With over 50 years of experience, Il Piccolo brings with it a wealth of technical and design knowledge of the highest level, thanks to the numerous interiors designed and furnished all over the world. In particular, Il Piccolo has a wealth of experience in the design and production of several corner wardrobe models. Finally, Il Piccolo represents the world's most prestigious furniture brands.
Our company designs, manufactures and sells the best of made-in-Italy interior design, following the customer from the design to the realisation, delivery and installation of the work, supplementing the process with a precise and professional assistance service. Looking for the ideal corner wardrobe for your room? CONTACT