Il Piccolo Blog
How to create designer compact kitchens?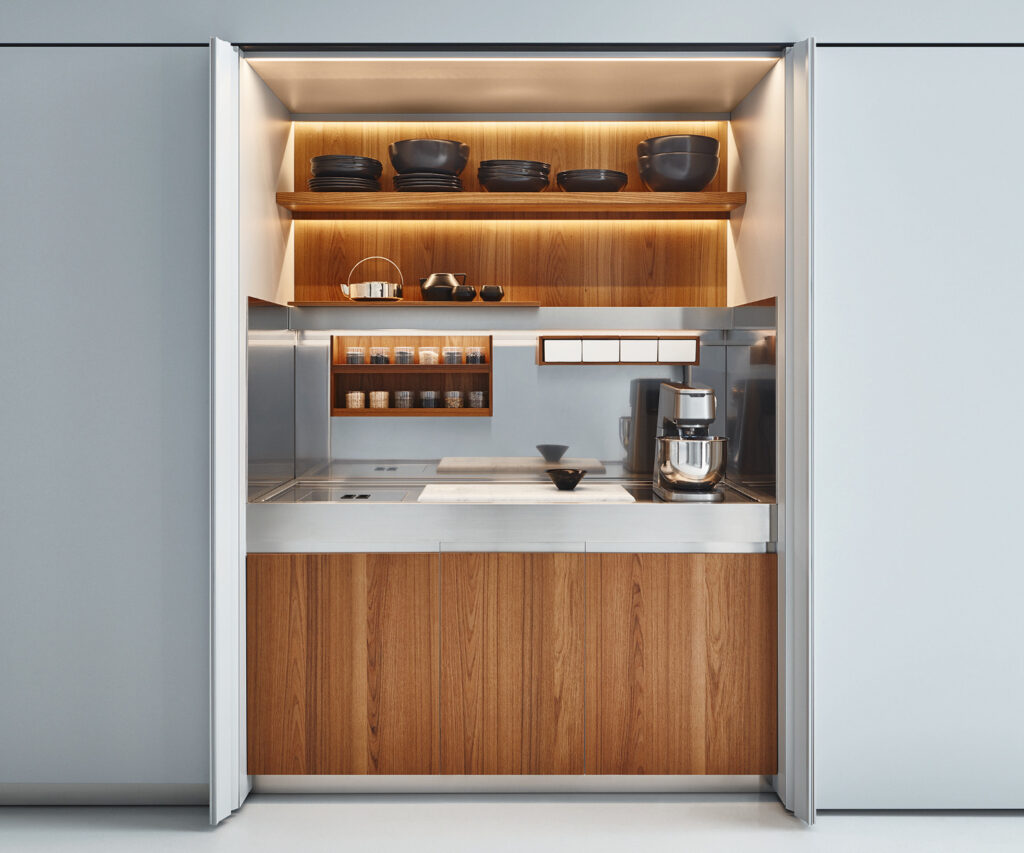 Compact kitchens save space and wink at design
Can compact kitchens combine practicality and design? Yes, especially in recent years, when this type of kitchen has become popular. It is perfect for smaller homes where space is at a premium.
Design compact kitchens are intended for the kitchenette but at the same time contain the appliances used for this purpose. In compact kitchens, therefore, you find a hob and oven, so as to save space. In fact, they are perfect for example for small houses, where there is a need to have efficient kitchens but without the possibility of using too much space.
The origins of compact kitchens go back to the days of our grandparents, when they were very common, and now they have made a comeback and often become a design element to give a special touch to a crucial room like the kitchen. Don't forget that in small flats or lofts, there is not always a real division between rooms, which accentuates the need for compact kitchens that are design-oriented.
For example, kitchens can be concealed, especially in open spaces (where an island is often used), hidden behind a sliding or folding door, made with folding doors or recesses in the sides: however, the design must be taken into account even if you choose to hide them.
What do you need to know when choosing a compact kitchen design?
How can you make your compact kitchen not only practical but also stylish? Through the choice of materials and colours.
Compact designer kitchens, especially in very modern homes, have modern, state-of-the-art appliances in them, which support those who have to cook by providing the best tools. So many people really want to cook in their compact kitchens, not just as design elements!
The role of shelves in compact kitchen design
Shelves are a useful space-saving and design element. In compact kitchens, which are also called monobloc kitchens, they are located on the hob and sink. They accentuate the verticality of the space, an element that combines design and practicality, allowing more objects to be stored in less space. Verticality avoids the suffocating effect of a place where there are many utensils, which is essential when it comes to minimalist spaces.
But shelves can become real style elements if they are chosen in the right colours. If the compact kitchen has a muted colour scheme, you could use stronger colours for the wall units to create contrast. It is also very elegant and evergreen to combine light-coloured compact kitchens with dark wall units or vice versa, opting for white, which never goes out of fashion in kitchens and goes with every style.
The materials to make your kitchen compact and design-oriented
As far as materials are concerned, the possibilities for concealed kitchens are truly many. They range from wood, which, like white, adapts to every style and every home, capable of giving warmth to the house, to elegant glass, which lightens the environment. There are also many modern materials, from metal to steel, which are also easy to clean and adapt to the latest appliances. For urban environments, eco-concrete is perfect.
What do you need to pay attention to when designing your compact kitchen to make sure it looks good? The lines. Compact kitchens need to be balanced to give a good effect. In other words, you have to carefully alternate full and empty spaces, heights and projections. Light points are also important. For more modern compact kitchens there are interesting solutions with concealed LEDs, while if you want an enveloping light and you have a vintge environment, you can use larger bulbs.
Need to furnish your home or a single room?
Choose a top-notch woodworking shop.

We have over 50 years of experience!
Contact Us
Il Piccolo, a second-generation family-run joinery, opens its own showroom in Lugano. With over 50 years of experience, Il Piccolo brings with it a wealth of technical and design knowledge of the highest level, thanks to the numerous interiors designed and furnished throughout the world. In addition, Il Piccolo represents the most prestigious brands of furniture worldwide. Il Piccolo designs, produces and sells the best of the interior design made in Italy, following the customer from the design to the realization, delivery and installation of the work, integrating the process with a precise and professional assistance service. CONTACT US!