Il Piccolo Blog
Design hallway wardrobe, important space saver? Not only!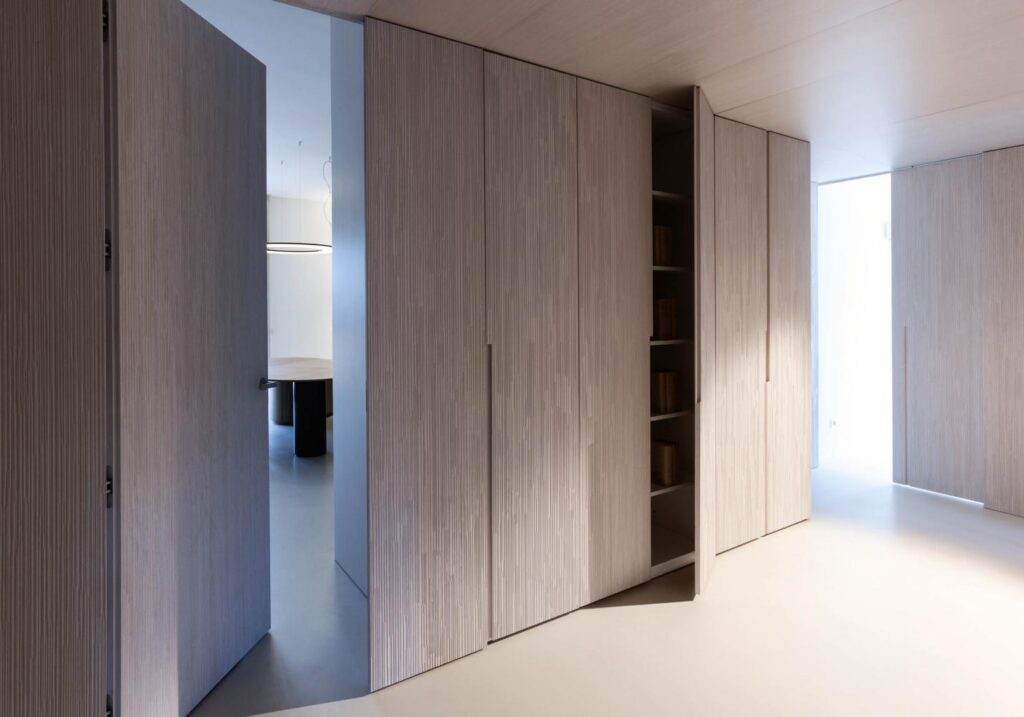 A hallway wardrobe is useful and designer
Can a hallway be given a design touch? With the right wardrobe, yes. It is a part of the home that is often overlooked, seen only as an entrance or a link between other rooms. But a hallway at the entrance welcomes guests, a wardrobe is needed for their coats, and if it is designer, all the better. Having a wardrobe in a seemingly minor corridor saves a lot of space that you would not have elsewhere.
A wardrobe in the hallway is practical because it allows you to store guests' coats. It is a design wardrobe if it blends in with the environment, but also if it contrasts with it, perhaps with modern, flowing lines that attract attention. A designer wardrobe, even in the corridor, must not only be functional, it must be seen.
Designer hallway wardrobe, how to find space to store excess clothes
A hallway wardrobe at the entrance can be very useful for storing shoes. In other rooms, as well as being a design feature, it also comes to the rescue of those who live in houses with small rooms and already find it difficult to store all their clothes, looking for various solutions such as corner walk-in wardrobes. Putting a wardrobe in the hallway allows you to have space for clothes or objects you don't use right away and wouldn't know where to leave them, with the walk-in wardrobes overflowing and perhaps being used not just for utilitarian purposes but as a design element, with selected clothes in evidence. What you want to show off goes in the bedroom, the rest ends up in the corridor wardrobe!
In the corridor the practical wardrobe is a wall cupboard. But take care with design
Corridors are usually not huge, so a built-in wardrobe is ideal. It can often be made to measure to make the best use of space. As well as being a design feature, a hallway wardrobe can be used to store coats, shoes, or even as a storage space or to conceal items that are needed but do not add design touches, such as heating structures.
If you really want to make the most of your space, when thinking about a hallway wardrobe you should consider not only the length but also the height.
To ensure that it is designer, you need to give the wardrobe in your hallway something special. If you have chosen to use every available centimetre, this does not prevent you from embellishing the wardrobe with special closures. Many solutions can be found in sliding doors, which can be of different types. A trick for those who want to make their hallway look longer in the eyes of guests is also to use mirrors, which are perfect on wardrobes.
Hanging and wall-mounted wardrobes in corridors are modern and functional. They may not be as spacious as a walk-in wardrobe, but they add an extra touch of design.
Materials and colours: many choices for a designer hallway wardrobe
The materials chosen for hallway wardrobes can be varied. Of course, you have to choose according to the decor of your home: even if it is a simple corridor, it must not clash. The most commonly used ones are certainly wood or metal. With both you can also play with colours. The ideal way to make the corridor look wider and therefore not feel heavy is to use light colours.
Wall or bookcase, other design solutions for your hallway wardrobe
A daring solution, but one not to be ruled out for houses with a strong corridor layout (not modern open spaces), is wall-mounted wardrobes covering the entire corridor which also integrate the doors of the rooms. These are unusual and definitely a touch of design, with the door to the rooms being confused with a door opening.
If you only want to use the hallway as a design element and don't need to have space, you can choose a bookcase instead of a cupboard. Books in the hallway give a refined touch to the room, and let's not forget how bookcases can be filled with all sorts of objects.
Need to furnish your home or a single room?
Choose a top-notch woodworking shop.

We have over 50 years of experience!
Contact Us
Il Piccolo, second generation family-run carpentry shop, opens its showroom in Lugano. With over 50 years of experience, Il Piccolo brings with it a wealth of technical and design knowledge of the highest level, thanks to the many interiors designed and furnished all over the world. In addition, Il Piccolo represents the most prestigious brands of furniture worldwide. Il Piccolo designs, manufactures and sells the best of interior design made in Italy, following the customer from design to implementation, delivery and installation of the work, integrating the process with a precise and professional service. CONTACT US!