Il Piccolo Blog
Design kitchen furniture: how to make the right choice?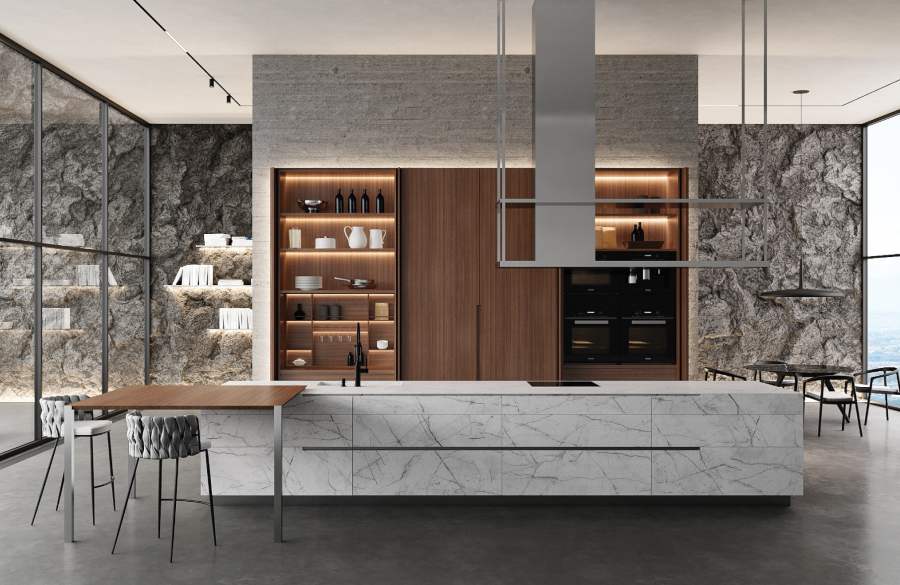 The kitchen is, par excellence, the most important sharing and convivial space in the home. Furnishing it with design kitchen furniture is a great help in creating an environment that invites discussion with family and friends and that is, at the same time, functional and pleasant to use.
Why furnish the kitchen with designer furniture?
More than in other spaces in the home, in kitchens it is essential to have furniture that is welcoming, functional and easy to use. This is as true for those who live in the home as it is for those who visit it sporadically or are guests.
Resorting to design kitchen furniture helps to create a refined and personalised environment, as well as being able to optimise the available space, also through the choice of made-to-measure solutions.
In order to achieve an aesthetically pleasing result and a kitchen that is practical to use, however, it is necessary that, to a certain extent, the various pieces of furniture and other kitchen components interact with each other. What do we mean by this? It is quickly said: the furnishing style must be harmonious, as must the colours and lines.
In projects inspired by contemporary design, the furniture has straight, clean lines. Functionality is one of the principles that guide furniture choices. Even if they have minimal and essential lines, they are functional and versatile pieces of furniture that allow food storage and preparation to be handled smoothly.
Within modern kitchens, design furniture can take on various configurations. A few examples? The basic rule to follow is to follow the flow of movement between the hob, sink and worktops. Specifically, designing the layout of the furniture in an ergonomic manner, taking into account all these movements, helps to optimise the use of the kitchen and make it more functional.
Guide to choosing design kitchen furniture: the case of a modern kitchen
Modern and contemporary interior design multiplies the choices available compared to the past. Today, the variety of materials, colours and finishes helps to achieve customised designs that best meet everyone's needs.
In modern designer kitchens, the furniture tends to have light and bright colours. White is a very common option, as are neutral and pastel tones. Another option to consider is the timeless contrast between black and white. By distributing these two colours among the furniture, walls, floors and worktops, you can create kitchens with a contemporary and very interesting look.
Sometimes, all it takes to radically change the look of a designer kitchen is to change the finish of its furniture. For example, furniture with a glossy finish will bring more brightness to the room, while choosing furniture with a textured finish will help stimulate other senses besides sight.
The configuration of the kitchen also influences the role played by designer furniture. In today's interior design projects, the linear configuration is making more and more room for island or peninsula configurations, but also for furniture that integrates snack tops, LED lights, drawers and compartments of various types and sizes. There are even those who opt for the installation of decorative fireplaces.
As can easily be seen, the choices of designers and specifiers can often go far beyond traditional design kitchen furniture!
What configuration should be given to a kitchen furnished with designer furniture?
The ideal configuration for a kitchen is one that succeeds in creating a comfortable and cosy space. In order to find the best solutions for each project, the shape of the room and the available space must first be taken into account, and secondly, the wishes and habits of the person commissioning the project.
Large open-plan kitchens in modern homes allow for a wide range of solutions. And these include design kitchen furniture. For example, alongside the classic linear configuration, one can resort to a corner arrangement, occupying two sides of the kitchen with designer furniture, perhaps accompanied by a designer table placed in the centre.
Those who put functionality of the kitchen at the top of their wish list will value a design with a peninsula or island, even with a snack top. A suspended kitchen, on the other hand, may be the right solution for those who wish to have a kitchen with an original and very modern look.
Whatever configuration best suits the space to be furnished and one's needs, beautiful interior design projects can be realised with design kitchen furniture. When you have special needs, you can also resort to made-to-measure designer furniture, so you can be sure that the furniture will fit perfectly into the home space.
By combining various materials, colours and styles, every detail of a kitchen can be customised with designer furniture. In such cases, the furniture will be obtained on the basis of one's needs and, in addition to this, will be able to meet the functional, ergonomic and stylistic requirements that have been identified by the designers.
Need to furnish your home or a single room?
Choose a top-notch woodworking shop.

We have over 50 years of experience!
Contact Us
Il Piccolo, a second-generation family-run joinery, opens its own showroom in Lugano. With over 50 years of experience, Il Piccolo brings with it a wealth of technical and design knowledge of the highest level, thanks to the numerous interiors designed and furnished throughout the world. In addition, Il Piccolo represents the most prestigious brands of furniture worldwide. Il Piccolo designs, produces and sells the best of the interior design made in Italy, following the customer from the design to the realization, delivery and installation of the work, integrating the process with a precise and professional assistance service. CONTACT US!