Il Piccolo Blog
A dining table for eating together outside is a must today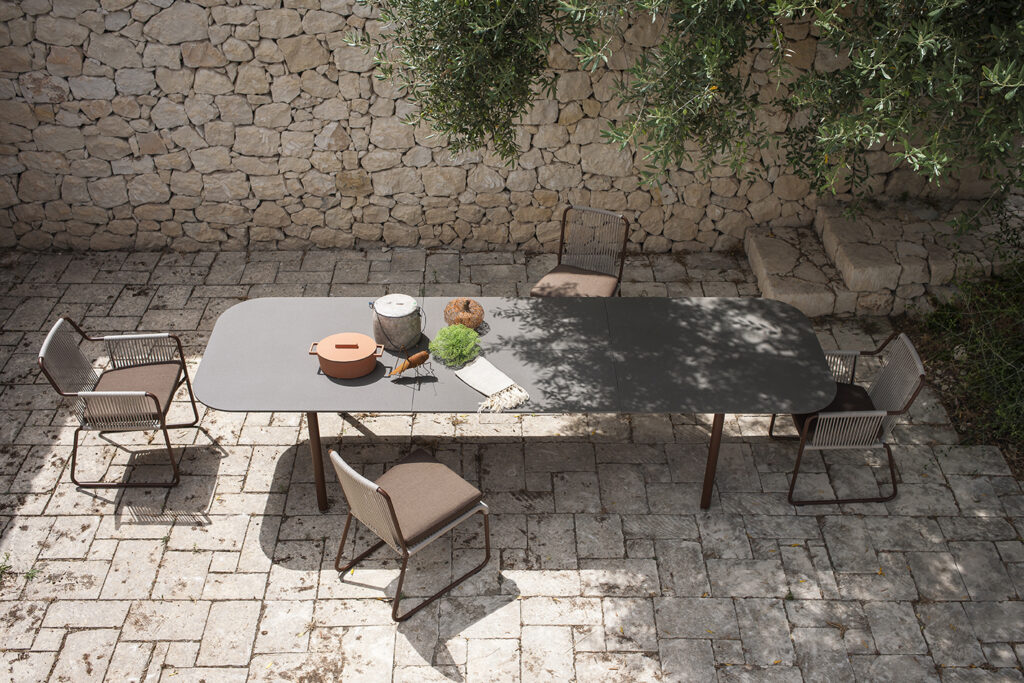 A dining table is a must in an outdoor living space
An outdoor dining table is now a must for anyone who has a large outdoor space, be it a garden, a private courtyard or a terrace. Especially in recent years, the outdoors is very much alive. And the dining table was no exception.
In outdoor spaces, lounges are being created, with sofas where you can sit comfortably with friends and enjoy a cocktail. But that's not all: outdoor kitchens are becoming increasingly popular, because people also want to cook on the terrace or in the garden. So how could a dining table be missing?
Size and number of people, here's where to start when choosing an outdoor dining table
The first factor to consider when choosing a dining table, and this applies to indoors but even more so to outdoors, is the size. You will not put the same type of outdoor table on a small terrace or in a huge garden. You must consider that sufficient space must be left around the table so that people can move around without any problems, thus promoting a friendly and relaxed atmosphere.
The next question is how many people will be using the outdoor dining table. If you have a large family, you will obviously be thinking of larger solutions. If, on the other hand, you are hosting friends, you can opt for a table that can be extended if necessary.
It is important to bear in mind that you don't necessarily have to choose between a lounge and dining area in your outdoor area. If you do not have enough space, instead of chairs around the outdoor dining table you can place sofas: the diners will eat there, in an informal setting.
The ideal shape for an outdoor dining table
As far as the shape is concerned, for outdoors you can opt for something rectangular, square or round. Obviously, those with corners will give a more linear effect, round or oval ones a softer feel. Not to be overlooked is the fact that choosing a round or square outdoor table will allow you not to have anyone sitting in particular positions, such as at the head of the table, giving conviviality.
In addition, a square table can easily be placed in a corner of the garden or terrace. However, with the same size, more people can sit around the round table.
For the material, consider that the dining table will be outside
There are outdoor tables in various materials. As always when it comes to furniture that is to be left outdoors, if it is not to be stored every evening (which would be inconvenient), it is important that it is weatherproof. Especially for contemporary and modern terraces, aluminium or metal is perfect for your outdoor dining table. To make it chic, you can turn to a model with a toughened glass top.
The wooden outdoor table, on the other hand, is perfect for bringing warmth to the room, as well as being durable and perfectly adaptable to any style. Nowadays, there are not only models on the market made of European woods (pine, oak, acacia, etc.) but also options made of exotic woods (teak, cumaru, itauba, etc.).
There are also plastic models, often at lower prices, but those tables can fly off easily and are not aesthetically pleasing: they are comfortable but do not contribute to the design of the terrace or garden and last only a few years.
An outdoor dining table can also be made of steel, a durable material that goes well with iron and wood; aluminium, which is solid but lightweight and at risk of tipping over if it doesn't have toughened glass on top and overheating in the sun; wrought iron, for a vintage charm; or concrete (but will be difficult to move once placed).
What to put next to an outdoor dining table
Combine the dining table with outdoor chairs or sofas. You can choose from the same material and colour or not. An umbrella will avoid eating in the sun.
Need to furnish your home or a single room?
Choose a top-notch woodworking shop.

We have over 50 years of experience!
Contact Us
Il Piccolo, second generation family-run carpentry shop, opens its showroom in Lugano. With over 50 years of experience, Il Piccolo brings with it a wealth of technical and design knowledge of the highest level, thanks to the many interiors designed and furnished all over the world. In addition, Il Piccolo represents the most prestigious brands of furniture worldwide. Il Piccolo designs, manufactures and sells the best of interior design made in Italy, following the customer from design to implementation, delivery and installation of the work, integrating the process with a precise and professional service. CONTACT US!