Il Piccolo Blog
Double bed with storage, practical and, if you want, modern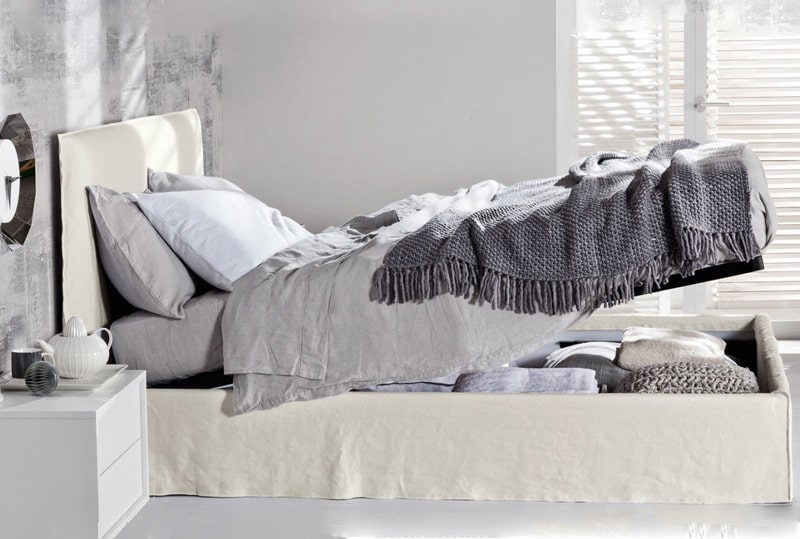 The modern double bed with storage is a modern space saver
The modern double bed with storage is an excellent space-saving solution for those who do not have large rooms but instead have many clothes. It allows you to have a sort of wardrobe hidden under the double bed, precisely the modern container, useful for storing clothes and accessories. In today's homes, space is often at a premium, which is why the storage double bed is a modern and practical piece of furniture.
There are many space-saving ideas, from walk-in wardrobes to corner cupboards to those positioned in the hallway. The idea of inserting a storage unit under the double bed is part of this type of solution. A modern double bed of this type can be an addition to the wardrobes, or even replace them if we are not talking about a large amount of clothes. At that point the bed could completely dominate the bedroom, a very modern and designer choice, especially if you opt for something large.
What types of double beds with storage are there?
Double beds with storage are mainly divided into two categories: sommier and with drawers. The sommier type consists of a lift-up double bed, with storage underneath, and a wide base. Its advantage is that it takes up little space, only the width of a modern double bed, but it is not very comfortable to open and close. The opening can be at 45°, suitable for taller people, or parallel to the bed.
On the other hand, the modern double bed with storage drawers has, as the term implies, a number of drawers available, allowing you to store your linen or clothes neatly. Contrary to the sommier solution, it requires more space, but it is also more practical when opening it (but be careful to close the drawers when passing by, they could get in the way and ruin several days if caught in the shins!).
The dimensions of the modern double bed with storage, measure yourself well!
A modern double bed with storage is therefore a good choice if you want to have some sort of extra wardrobe. If the bed has drawers, it can sometimes even replace the classic wardrobe. What are the dimensions of a modern double storage bed? It depends, if we are talking about a French double bed obviously less than the classic solution, which in turn is smaller than the king size: but keep in mind that the drawers, if you choose that option, require some space.
Style and colour, the options for a double bed with storage are varied, from modern to classic
A modern double bed with storage can come in various styles and materials and should therefore be chosen according to the style of your bedroom. For practicality's sake, most of these beds have a wooden base, a material that is always great for bedrooms. In any case, you need something that is durable, as it has to be opened and closed, or lifted up.
A good solution is the fabric storage bed, which can be modern and fit into almost any décor, given the variety of colours available. You have to be careful of dust, which can accumulate. A modern idea is a double bed with visible drawers, as if the actual bed were placed above the drawers. They would not be hidden but highlighted, a modern design element. For lovers of modern tout cort, you can even opt for a double bed with storage with a led strip on three sides, for extremely minimalist rooms with lots of technology.
A touch of modernity, as well as practicality, to these double beds with storage is the absence of a headboard. A detail to pay attention to is the mattress, it must not be too heavy, especially in the sommier models.
Need to furnish your home or a single room?
Choose a top-notch woodworking shop.

We have over 50 years of experience!
Contact Us
Il Piccolo, a second-generation family-run joinery, opens its own showroom in Lugano. With over 50 years of experience, Il Piccolo brings with it a wealth of technical and design knowledge of the highest level, thanks to the numerous interiors designed and furnished throughout the world. In addition, Il Piccolo represents the most prestigious brands of furniture worldwide. Il Piccolo designs, produces and sells the best of the interior design made in Italy, following the customer from the design to the realization, delivery and installation of the work, integrating the process with a precise and professional assistance service. CONTACT US!