Il Piccolo Blog
Double-sided wardrobe divider, divide and furnish at the same time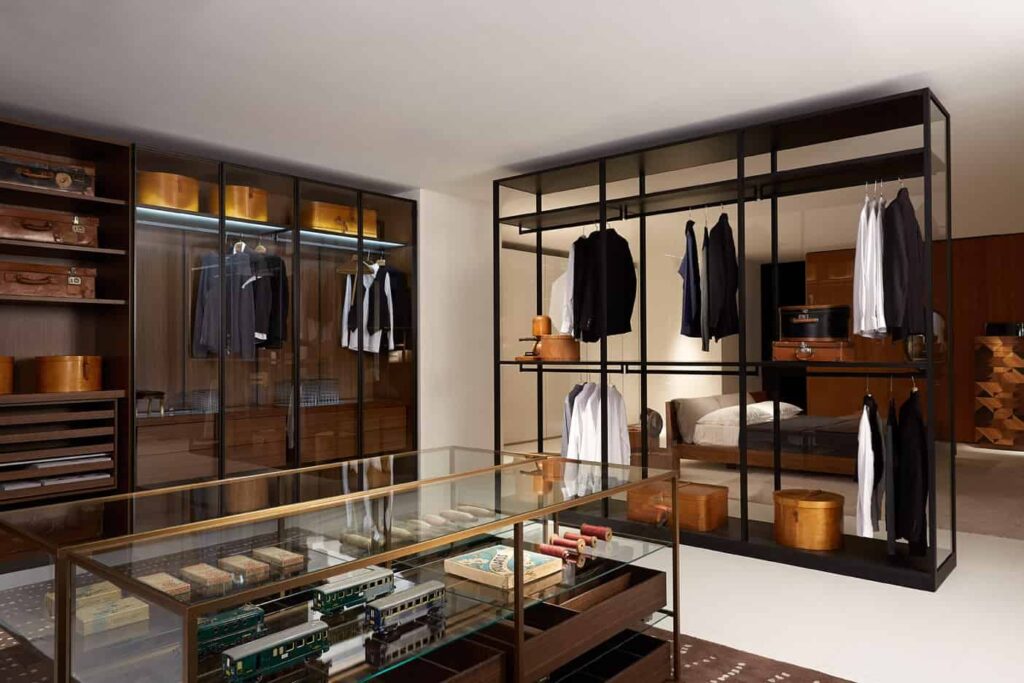 Dividing rooms without plasterboard and masonry work is possible
One living solution that is becoming increasingly popular is a double-sided room divider. It is used to organise space without having to lift plasterboard, walls and fittings, but also without having to carry out masonry work, which is often costly and time-consuming. Its purpose is to separate rooms and it is certainly an optimal solution from many points of view.
It can be used as a dividing wall and as a room divider, without running the risk of having problems with light because the double-sided dividing wardrobe screens out light without blocking it completely and maintains air circulation.  This type of wardrobe, also finished in the upper part, does not disfigure in the centre of the room because, from any position you look at it, it is very pleasing to the eye. The doors and drawers can be arranged so that they open on both sides and for a variety of functions. A double-sided wardrobe can be used as a living room cabinet, shoe cabinet, wardrobe and storage unit. By combining the panels with furniture elements such as a desk or bookcase, the wardrobe can be made even more functional.
The double-sided wardrobe partition is a solution for every type of room
It can be useful on different occasions, such as separating the living area from the sleeping area in a one-room apartment, separating the wardrobe area from the sleeping area, or separating the entrance from the living room if you live in an open space.
A double-sided dividing wardrobe allows you to divide either one or two rooms. If the objective is to divide a room, such as an open plan kitchen from a living room (an alternative to a partition, perhaps in glass) or a bedroom for two children, it is possible, for example, to place the double-sided wardrobe in the centre of the bedroom and then insert two beds, two desks and two bedside tables at the sides so that everyone has their own room with all the functions they need. In this case, special attention must be paid to light sources. If, for example, there is only one window, it may be necessary to fall back on alternative light sources, otherwise the light coming in through the window will only illuminate part of the room.
With a fitted wall, organised in various ways: the idea
Those who, on the other hand, aspire to use this type of wardrobe to divide two rooms such as kitchen and living room, living area and sleeping area and so on, will be pleased to know that any room in the house can be separated from another by using a double-sided dividing wardrobe.
It guarantees, in any case, maximum functionality of the rooms and the best possible use of space, and can also be accompanied by an equipped wall to make it even more efficient. This type of wardrobe is particularly useful for those who need to make their bedroom more functional. If the bedroom is large enough, it is possible to place the double-sided wardrobe in the centre of the room in order to create a sort of relaxation area just for you, or a corner dedicated to work.
Materials and colours, the choice for a double-sided wardrobe that divides is wide
As far as materials and colours are concerned, a double-sided dividing wardrobe must logically fit into the context of the house, but there are basically no limits. Often the wardrobes are designed as solid structures in wood, a material that is well suited to classic and modern rooms, perhaps lacquered to make it shiny. But metal is also well suited to a contemporary home. As far as colours are concerned, white is the preferred colour in rooms, or wood left in its natural state. But you can really use any colour, as long as it is in harmony or in a studied contrast with the rest: bright colours are especially popular in modern contexts.
Double-sided dividing wardrobe has doors and drawers that can be arranged to open on both sides and for various functions. It can serve as a living room cabinet, shoe cabinet, wardrobe and storage unit. It can be used to divide two rooms such as kitchen and living room, living area and sleeping area.
Devi realizzare un progetto di Interior Design?
Devi arredare casa o un singolo ambiente?

Scegli una falegnameria di alto livello.
Contattaci
Il Piccolo, a second-generation family-run joinery, opens its own showroom in Lugano. With over 50 years of experience, Il Piccolo brings with it a wealth of technical and design knowledge of the highest level, thanks to the numerous interiors designed and furnished throughout the world. In addition, Il Piccolo represents the most prestigious brands of furniture worldwide. Il Piccolo designs, produces and sells the best of the interior design made in Italy, following the customer from the design to the realization, delivery and installation of the work, integrating the process with a precise and professional assistance service. CONTACT US!