Il Piccolo Blog
From materials to shapes, how to create elegant modern kitchens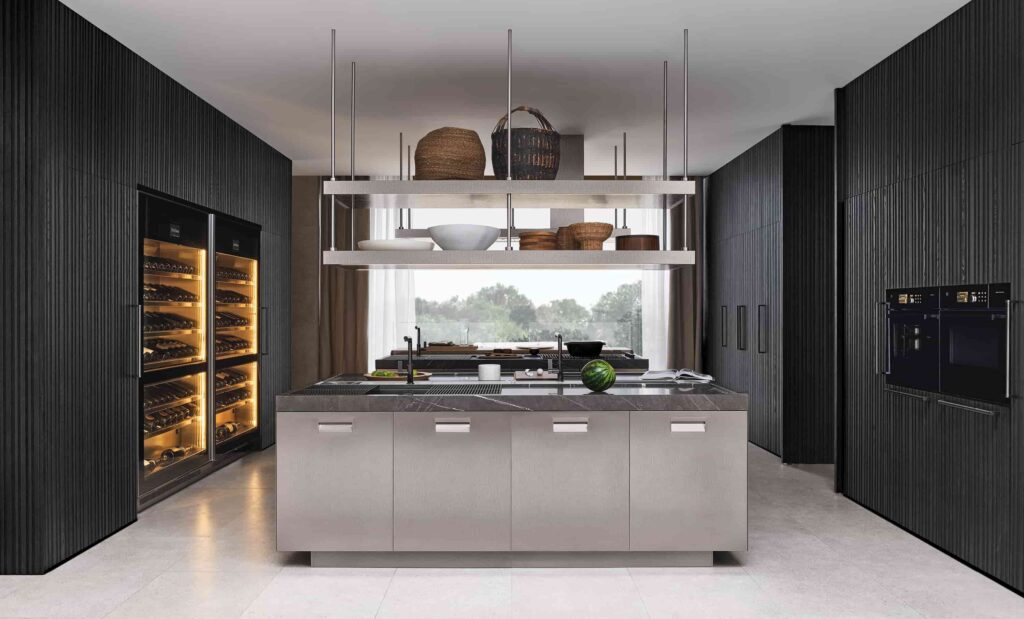 Does modern exclude elegance? Absolutely not! Here's how
If you believe that modern and elegant are mutually exclusive terms, you are wrong. You can create kitchens for your home that have both characteristics, to be included in a usually refined and modern environment, with state-of-the-art appliances. Elegant modern kitchens are functional and practical, with sober lines, carefully studied colors, modern materials and maybe combined with each other, great attention to detail.
The kitchen in recent years is experienced as a place where not only cook, and therefore have all the amenities that allow you to prepare food with every possible tool, but where you can also spend time with friends. In lofts, by choice or because the square footage is reduced, are emerging open kitchens. Creating stylish modern kitchens becomes in this case a fundamental atout, since they are seen and experienced by guests.
Since in most cases they fit into rooms furnished in modern styles, kitchens that combine it with elegance are often characterized by clean and essential lines. Functionality and practicality are sought after, combined with devices and details capable of giving a touch of elegance.
Elegant modern kitchens, choose resistant materials and latest generation, perhaps combined with each other
Fundamental are the materials. Among those of the latest generation there are many that can create the perfect modern kitchens elegant, without forgetting the attention to essentiality, order and even cleanliness. In fact, in most cases, these are materials that guarantee a high degree of cleanliness (those who want to be facilitated in this process can also think of a suspended kitchen).  Corian, quartz, marble, cement, natural stone, laminates, stainless steel, perhaps combined with each other or with glass, can be mentioned. In fact, in most cases elegance is given by the attention to detail, by the graceful and refined finish, by an extra touch that transforms the entire room. They are all durable materials that also have a decorative character inherent in them.
The importance of color in modern elegant kitchens Even in the walls.
Of course, colors also have their importance. Recently, total white or total black kitchens are very popular, and these are the colors you can choose for your modern elegant kitchens. Monochrome is certainly a refined choice, but for those who want something a little different, you can also use combinations with brighter colors, capable of giving dynamism and uniqueness to the environment, and other more sober ones. So, green light to red, yellow, sage green, gray, which, however, should be combined with neutral colors such as creamy white or black.
The walls are also important. You can never go wrong with white, but certainly if the kitchen furniture is all white, it is advisable to choose something a little more whimsical, such as red, yellow or navy blue. On the other hand, if the furnishings are colorful, white or black are perfect for the walls of sleek modern kitchens.
In this way, the room will have an elegant brightness. Light is a key element, so it is recommended to choose carefully the lamps: they must also be modern and elegant.
To combine elegance and modernity think carefully about spaces and proportions
The spaces must be distributed wisely, to give balance and because often, as mentioned, the dimensions are not immense. The use of an island, for example, is welcome, as it can organize and divide the kitchen in a linear way. To save space, concealed, wall-mounted or full-height solutions are also welcome. Proportions are always the secret to elegant modern kitchens. Every single space must be thought of with care, combining clean lines and modernity: think of an induction hob, linear and functional.
And don't think that wanting something elegant excludes modern appliances, because that's not the case at all! On the contrary, innovation and convenience are key.
Devi realizzare un progetto di Interior Design?
Devi arredare casa o un singolo ambiente?

Scegli una falegnameria di alto livello.
Contattaci
Il Piccolo, a second-generation family-run joinery, opens its own showroom in Lugano. With over 50 years of experience, Il Piccolo brings with it a wealth of technical and design knowledge of the highest level, thanks to the numerous interiors designed and furnished throughout the world. In addition, Il Piccolo represents the most prestigious brands of furniture worldwide. Il Piccolo designs, produces and sells the best of the interior design made in Italy, following the customer from the design to the realization, delivery and installation of the work, integrating the process with a precise and professional assistance service. CONTACT US!