Il Piccolo Blog
Extra-luxury kitchens, refinement and functionality: not just cooking in them, living in them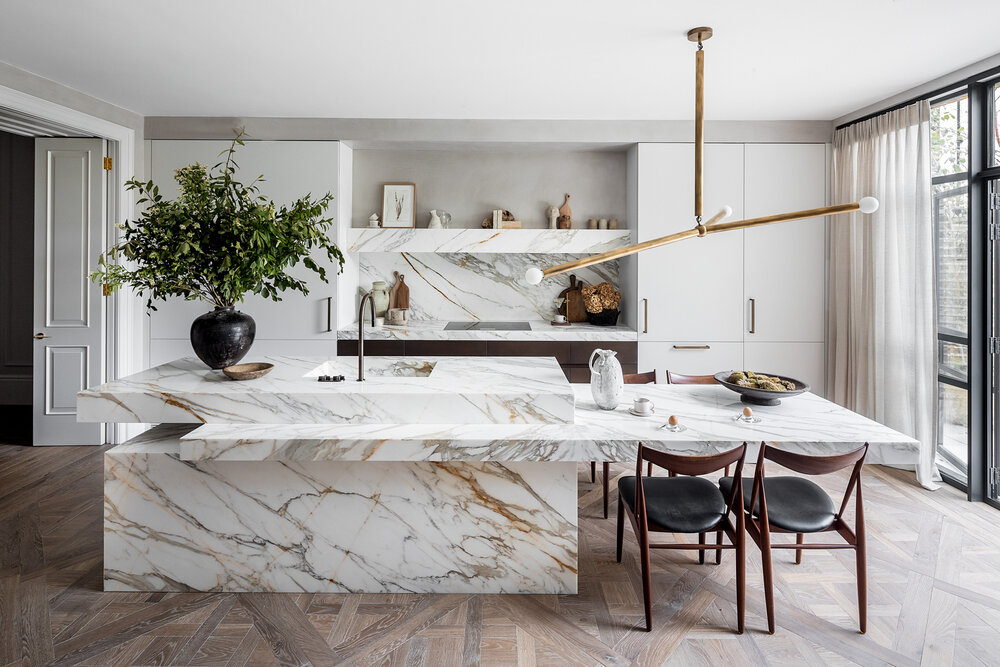 Extra-luxury kitchens also mean choosing the latest generation of appliances
Extra-luxury kitchens? They are becoming increasingly popular and sought after in homes where design and aesthetics are the real must-haves. But even in medium-standard homes people often look for a kitchen that represents a true extra luxury, an extra touch. Long gone are the days when kitchens were only used for cooking: now they are an integral part of the furnishings and combine functionality with luxury and a sense of beauty.
Of course, even extra-luxury kitchens cannot forget their original function. So, give free rein to design and aesthetics, but don't forget that you have to cook. On the contrary, those who choose an extra-luxury kitchen want to equip themselves with the best appliances on the market, thus creating kitchens that are beautiful to look at but also super-equipped and high-performing.
Extra-luxury kitchens: classic, modern, open space and even island kitchens
The Italian tradition goes well with the idea of extra luxury kitchens. In particular, they tend towards the classic or modern style, without disdaining open space and island kitchens, especially in ultra-modern flats. Those who choose a minimalist style of furnishing, with rooms divided only by furnishings, can think of an extra-luxury kitchen that also acts as a division between the various living spaces, combining, as in perfect minimalist taste, functionality and aesthetics.
There are many possibilities for creating extra luxury kitchens. Naturally, the investment is significant, although you will then be dealing with fine materials and state-of-the-art appliances, so these are potentially long-lasting assets.
Extra-luxury kitchens have certain characteristics in common: they combine functionality with a certain opulence. They are not kitchens almost to be hidden away, but real furnished rooms to be shown off.
Marble, glass, steel, solid wood: materials are important in extra-luxury kitchens
An important element in making a kitchen extra luxurious is the material. Marble is one of the most precious materials, where Made in Italy products can have their say. Extra-luxury kitchens in marble are in great demand because they immediately add elegance to the room. In addition to the aesthetic side, they guarantee hygiene and resistance to use, so, as we said, it is a considerable investment in the long term. Marble in extra-luxury kitchens can be combined with solid wood and quality ceramics. The furnishing of the kitchen itself contributes to its extra-luxury appearance, so you will not only see elements that are useful for cooking, but also others that have been strategically studied to increase the sense of design.
Glass is also a material that goes well with the concept of extra-luxury kitchens. Contrary to popular belief, they are durable and easy to clean. Other popular materials used for luxury kitchens are stainless steel and wood, with handcrafted solid wood panels, with different finishes and colours.
Both glass and marble wink at brightness, which is an essential element in extra-luxury kitchens. Quartz is also well suited to this type of kitchen.
Especially those who want a classic extra-luxury kitchen often like a slightly retro style. A kitchen with a central island is now very much in vogue, perfect for creating a convivial and spacious environment where you can not only cook but also eat and talk. Open-plan kitchens also aim to occupy a large space and are therefore suitable for spending time in.
The right colours for luxury kitchens
When it comes to extra-luxury kitchens, we usually play with classic colour tones. It is difficult to think of a kitchen that wants to be very luxurious with a daring colour: light, elegant lacquers in white, cream or grey dominate, designed to enhance brightness. Some people might even use darker colours.
In an extra-luxury kitchen, don't forget the panelling
An element that gives an extra touch to extra-luxury kitchens is the boiserie, able to cancel any hint of monotony in the environment.
Need to furnish your home or a single room?
Choose a top-notch woodworking shop.

We have over 50 years of experience!
Contact Us
Il Piccolo, second generation family-run carpentry shop, opens its showroom in Lugano. With over 50 years of experience, Il Piccolo brings with it a wealth of technical and design knowledge of the highest level, thanks to the many interiors designed and furnished all over the world. In addition, Il Piccolo represents the most prestigious brands of furniture worldwide. Il Piccolo designs, manufactures and sells the best of interior design made in Italy, following the customer from design to implementation, delivery and installation of the work, integrating the process with a precise and professional service. CONTACT US!