Il Piccolo Blog
Extrasoft sofas, the triumph of comfort and choice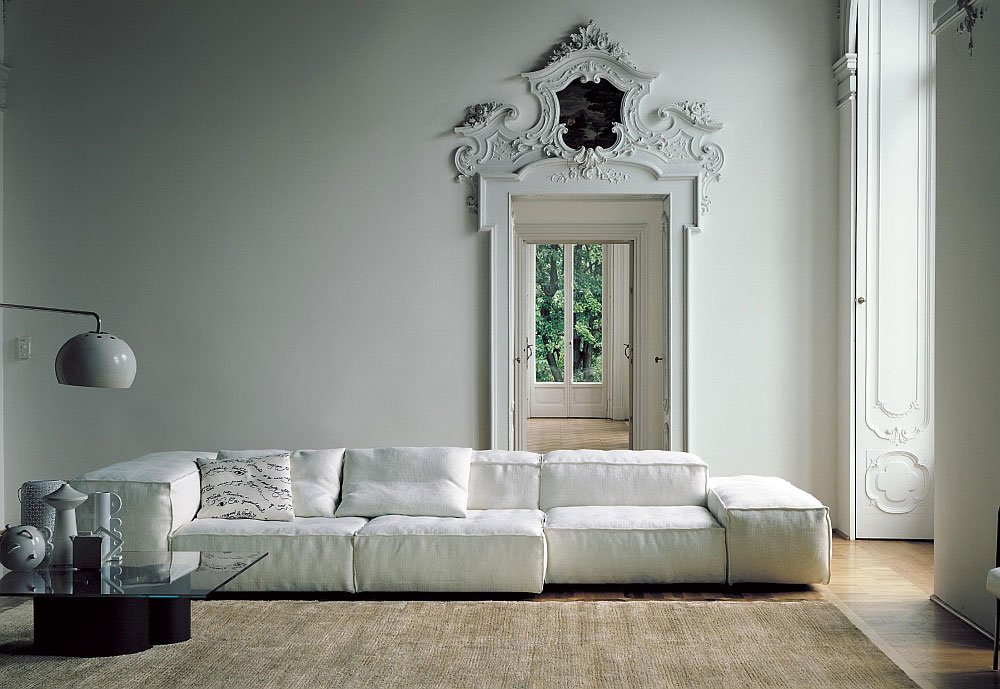 Comfort but not only: the advantages of extrasoft sofas
Extrasoft sofas, even their name suggests an image of comfort and convenience, but their benefits do not end there. This type of sofa offers almost infinite solutions in terms of composition, with materials and finishes that wink at modern luxury and, thanks to its modularity, allows for different design solutions.
Living Divani, the strength of contemporaneity
Living Divani is undoubtedly one of the manufacturers of quality extrasoft sofas. It is a made in Italy company that has been following a clear path for over forty years, where contemporaneity is a key feature that catapults it among the best design companies. It is a company that easily adapts to the needs of the market without forgetting tradition and that boasts worldwide distribution. Living Divani also offers the best solutions for an extra soft sofa.
Living Divani and its Extrasoft indoor sofa
Designed by Pietro Lissoni and part of the collection in 2008, Living Divani's Extrasoft sofa offers an informal look, ideal for those who use the living space for convivial occasions, without however sacrificing comfort. Its soft, cosy comfort makes the Extrasoft sofa perfect for relaxing afternoons in front of the television or with a book in hand, but also for evenings with friends and colleagues. The geometries of the Extrasoft sofa are regular due to the seats that are placed next to each other, the uncertain contours contribute to the informal and cosy look of the sofa. The seats themselves are created to accommodate and to welcome. The key word here for the extra soft sofa is pure comfort.
The frame is made of honeycombed spruce and poplar with caoutchouc knotted strip springing. The sofa is padded with differentiated density polyurethane foam, upholstered in leather or fabric, the mattress is in goose down.
This is a sofa that can be customised in terms of both geometry and colours, and is one of the most successful products in the collection. The company also offers various options for the covers of the Extrasoft.
Extrasoft sofas, Living Divani also offers the outdoor solution
When we think of an Extrasoft sofa, we generally think of a living area, but this type of sofa is also suitable for outdoor use. Living Divani offers a solution designed especially for those who want comfort even in the garden or on the terrace, relying on an outdoor Extrasoft sofa, part of the 2012 collection. The compositions here are almost infinite.
The Extrasoft outdoor sofa consists of three backrests with removable covers and made of outdoor fabric and three bases. The feet are adjustable in height. The structure is made of marine plywood with elastic strip springing knotted with caoutchouc.
The elements are assembled and modular thanks to various hooks. As for the seats, there are various options in terms of width and depth, 68, 94 or 120 cm. Cushions, backrests and armrests can be combined with the seats to create linear, island, peninsula or corner compositions.
Living Divani Extrasoft sofas, true pieces of furniture
Whether you are looking for an extra soft sofa for indoors or outdoors, you can count on natural and highly selected raw materials, robustness and resistance that make the products long-lasting. Extrasoft sofas guarantee a contemporary design that goes beyond current fashions. It has padding with different densities that guarantee long-lasting comfort.
These Extrasoft sofas are therefore true pieces of furniture capable of providing a unique touch and a sophisticated atmosphere in any type of home. Tailor-made comfort and relaxation that are part of Living Divani's constant quest for customised comfort and innovative products combined with a genuine passion for contemporary design.
Need to furnish your home or a single room?
Choose a top-notch woodworking shop.

We have over 50 years of experience!
Contact Us
Il Piccolo, second generation family-run carpentry shop, opens its showroom in Lugano. With over 50 years of experience, Il Piccolo brings with it a wealth of technical and design knowledge of the highest level, thanks to the many interiors designed and furnished all over the world. In addition, Il Piccolo represents the most prestigious brands of furniture worldwide. Il Piccolo designs, manufactures and sells the best of interior design made in Italy, following the customer from design to implementation, delivery and installation of the work, integrating the process with a precise and professional service. CONTACT US!