Il Piccolo Blog
Floor-standing coat racks: how to choose the right model for your furnishing style?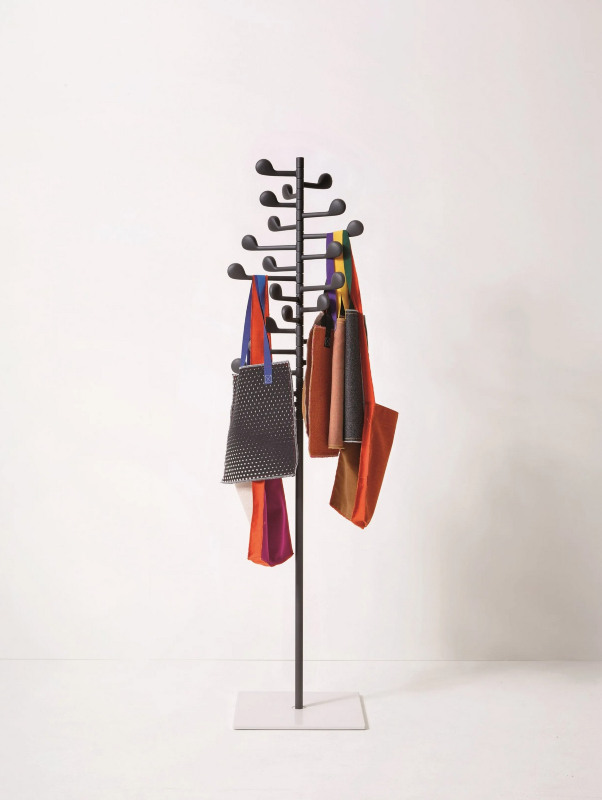 Floor-standing coat racks are a versatile solution for organising space efficiently and, at the same time, for stylishly furnishing the entrance and living areas of any home.
In fact, these furnishing elements not only serve to keep clothes and accessories tidy, but also add a touch of style to the entire environment. Let's find out more about them and how you can choose the right coat rack for your furnishing needs .
What are the advantages of floor-standing coat racks?
One of the distinctive features of these specific objects is undoubtedly their ability to serve as a furnishing accessory even when not in use. Moreover, being able to choose from a wide range of designs, one can always find the right coat rack for every context.
Let's take a few examples. While simple and essential-looking hangers are the most appropriate choice for spaces furnished with contemporary and traditional furniture, designer ones add personality and style to the room. Zanotta's Sciangai model, for example, is one of the best known products and, with its distinctive design, succeeds in furnishing spaces in a way that blends elegance and functionality together.
This is certainly not the end of the story. In fact, floor-standing coat racks are a viable alternative to wall-mounted coat racks or closed hall hangers, also because they can often perform several functions at once. And all of this with a minimal footprint. Some models, for example, also integrate an umbrella stand, thus offering a complete solution for organising your accessories, especially those you use when leaving the house. Other models are equipped with wheels and can be moved easily from one room to another, depending on the needs of the moment.
In their different versions, floor-standing coat racks make it possible to organise clothes and accessories in a practical and elegant way, while at the same time adapting to the specific interior design style.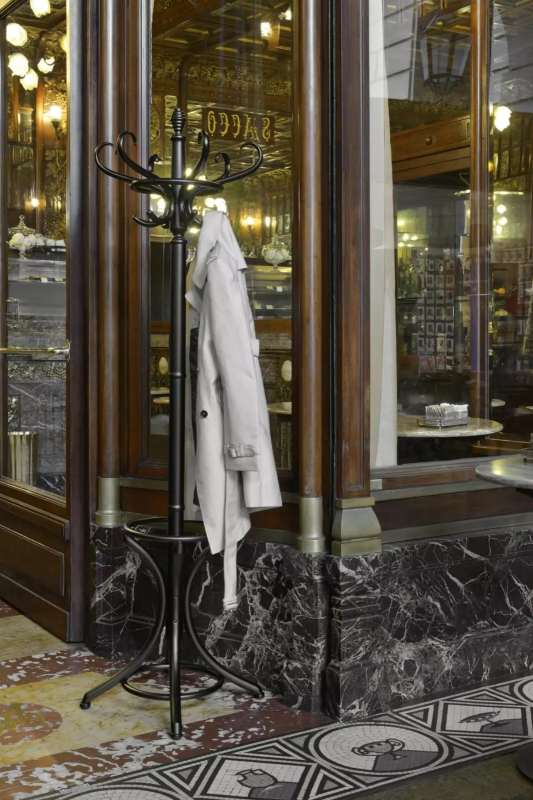 How to integrate a floor-standing coat racks into your home décor?
Incorporating a floor-standing coat rack into your home décor can add not only functionality but also style to the room. In fact, these versatile pieces of furniture can be placed in different areas of the home, depending on the needs they have to fulfil and depending on the atmosphere one wants to create in the home.
In the home, they often find their ideal location in the entrance area. Here they play a fundamental role in welcoming guests and family members and offer a comfortable and functional space in which to hang coats, jackets and bags. Let us also give a practical example here. In an open-plan house, with an entrance hall leading directly into the living room, a designer floor-standing coat rack can be placed that blends in with the room's furnishings.
A coat stand placed on the floor is also a practical and functional choice for furnishing offices and commercial premises. For maximum aesthetic impact, it is essential to choose a model that harmonises with the overall atmosphere of the place. For example, an element in the shape of a tree or cactus adds a touch of originality and fits perfectly into a contemporary and unconventional interior. A coat rack with a minimalist and essential structure, on the other hand, integrates perfectly into a room that has been decorated in a Nordic style, thus helping to maintain a sense of cleanliness and order.
What are the materials and styles of floor-standing coat racks?
Floor-standing coat racks are available in many different combinations of materials and styles. In some cases, it is even possible to customise their appearance and functionality, so that they fit perfectly into your space and aesthetic preferences.
The most common materials used for the production of hangers that will be placed at floor level are wood and metal. These materials can be used individually or combined to create interesting and original designs.
Wood is chosen when you want to give the coat rack a warm and natural look, while transmitting solidity and concreteness. Metal, on the other hand, gives this piece of furniture a modern and robust touch.
When it comes to choosing the material to use for a floor-standing coat rack, one must not only consider aesthetic aspects, but also the strength and functionality of each model. In particular, it is essential to check that the object is stable and durable. In addition, one must ensure that it can perform its task effectively, guaranteeing safety and reliability.
In the panorama of contemporary design models, it is possible to find coat racks that are also made of more unusual materials, such as plexiglass or plastic. These materials introduce a touch of innovation and can be suitable for more modern and daring interiors. However, even in these cases, stability and strength remain paramount considerations.
Regarding the style of floor-standing coat racks, the choice is largely influenced by personal taste and the interior design choices that have been made previously. In this sense, coat racks can be minimalist and essential, if one has chosen a Nordic style, or they can feature elaborate details, if they have been intended for a more classical environment.
Need to furnish your home or a single room?
Choose a top-notch woodworking shop.

We have over 50 years of experience!
Contact us!
Il Piccolo, a second generation family business, opens its showroom in Lugano. With over 50 years of experience, Il Piccolo brings with it a wealth of technical and design knowledge of the highest level, thanks to the many interiors designed and furnished around the world. In addition, Il Piccolo represents many of the best international luxury furniture brands. We design, manufacture and sell the best in design. Also with regard to La Cornue kitchens, we follow the customer from the design to the realisation of the project, integrating the whole process with a precise and professional service.CONTACT US