Il Piccolo Blog
Small bathroom or a touch of design in the living room? Freestanding baths are the answer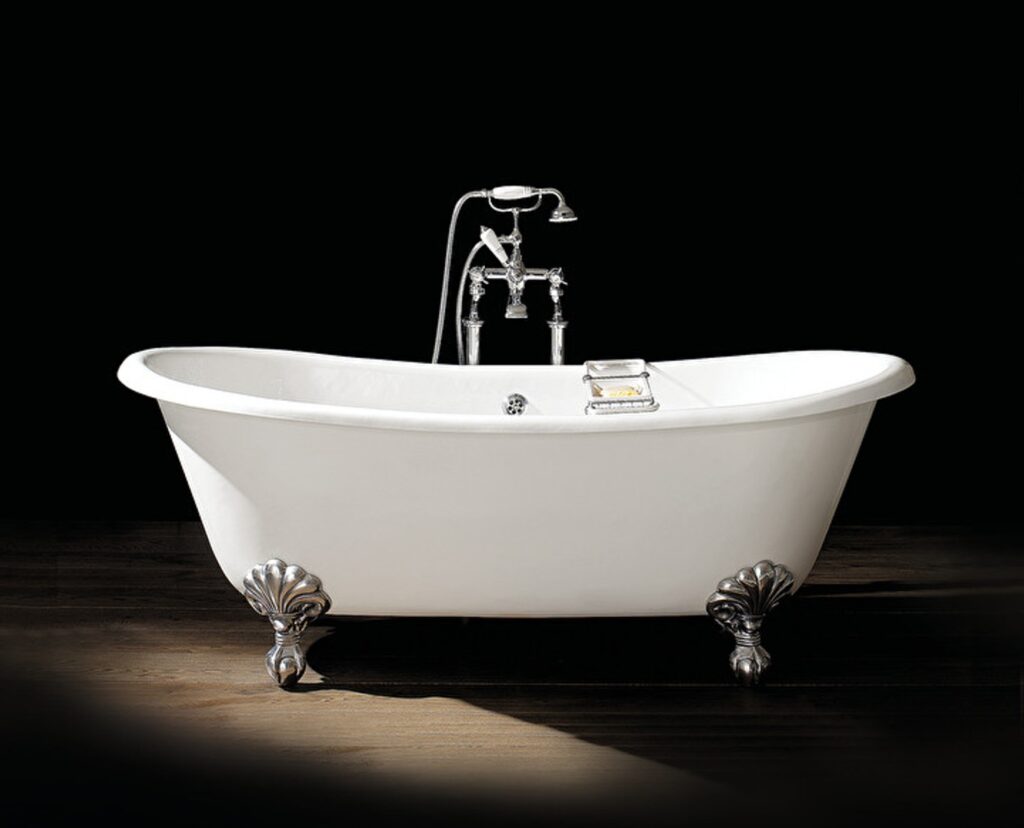 Bathtubs: freestanding or built-in
An alternative to the classic bathtubs that everyone is familiar with are freestanding bathtubs. The most popular and best-known bathtubs are called built-in bathtubs.
Freestanding bathtubs, for small bathrooms and… other rooms!
What are the characteristics of a freestanding solution? The bathtub does not have to be in the bathroom. Strange for some people to think, but in recent years there has been a huge shift in furnishing trends towards multi-functionality, and a bathtub is a must. So, choosing freestanding is the best way to fit bathtubs into your bedroom, if you want, for complete relaxation or into a versatile living room.
Freestanding baths are also very useful for the bathroom, especially when it is small. In fact, there are models of reduced dimensions, which can even be defined as mini, measuring 140 centimetres by 80 centimetres, with 60-80 centimetres of margin. From an aesthetic point of view, it is best to bear in mind that freestanding bathtubs should have empty space around them in order to look good in the room (this is not always possible, of course, especially if they are chosen to fit into a small bathroom).
Showering can be a problem in freestanding baths
The usual bathtubs that everyone is familiar with and that characterise most bathrooms are built-in, i.e. built directly into the floor or on a raised platform. Increasingly, they also include a shower. On the other hand, freestanding baths are not advisable, because they risk flooding everything. An option for those who cannot do without a shower is a curtain.
Freestanding bathtubs are reminiscent of movie atmospheres. When you opt for one, if you want to aim for total relaxation, you usually choose a large model, to be placed in the bathroom or in another room. And however unusual, a freestanding bathtub in a different room creates an unparalleled romantic appeal.
It must be said that it is false to believe that because bathtubs are not built-in they don't need pipes and installation, in fact these are more complicated (and expensive) than normal bathtubs. This is a detail to be taken into account especially if you choose freestanding baths for living rooms or bedrooms.
How to enhance freestanding baths, from shape to material
Where to place them? In a large room is ideal. If the bathroom is a good size, placing them in the centre can make them the characteristic decor, if you have a small room, better choose a corner.
A freestanding bathtub, with or without hydromassage, is perfect for home spas or bathrooms that want to resemble a real relaxation area. And it certainly adds a valuable touch to the room.
Freestanding bathtubs are self-supporting and, since they are not built into any structure, they have to be finished on all sides, which certainly adds to the design.
The shapes of freestanding bathtubs are similar to those of built-in bathtubs, which are mainly rectangular, perhaps with rounded edges to give a sense of softness, or oval. For the more daring there are also round or even asymmetrical models.
The dimensions, as mentioned, are very different. When it comes to materials for freestanding bathtubs, there is a wide range of possibilities, from acrylic, which is the cheapest, to ceramics, composite materials, stone and metals. The choice of course has to be made according to the bathroom or room where the bathtub will be placed, in order to create continuity.
The cons of freestanding baths
Beware of the fact that freestanding baths are heavy and not always practical, as they can be difficult to clean with feet and have no space to put shower gel and soaps. The cost is also quite high, but those who make a stylistic choice are often willing to spend.
Need to furnish your home or a single room?
Choose a top-notch woodworking shop.

We have over 50 years of experience!
Contact Us
Il Piccolo, a second-generation family-run joinery, opens its own showroom in Lugano. With over 50 years of experience, Il Piccolo brings with it a wealth of technical and design knowledge of the highest level, thanks to the numerous interiors designed and furnished throughout the world. In addition, Il Piccolo represents the most prestigious brands of furniture worldwide. Il Piccolo designs, produces and sells the best of the interior design made in Italy, following the customer from the design to the realization, delivery and installation of the work, integrating the process with a precise and professional assistance service. CONTACT US!