Il Piccolo Blog
A French double bed is smaller, cheaper and also designer!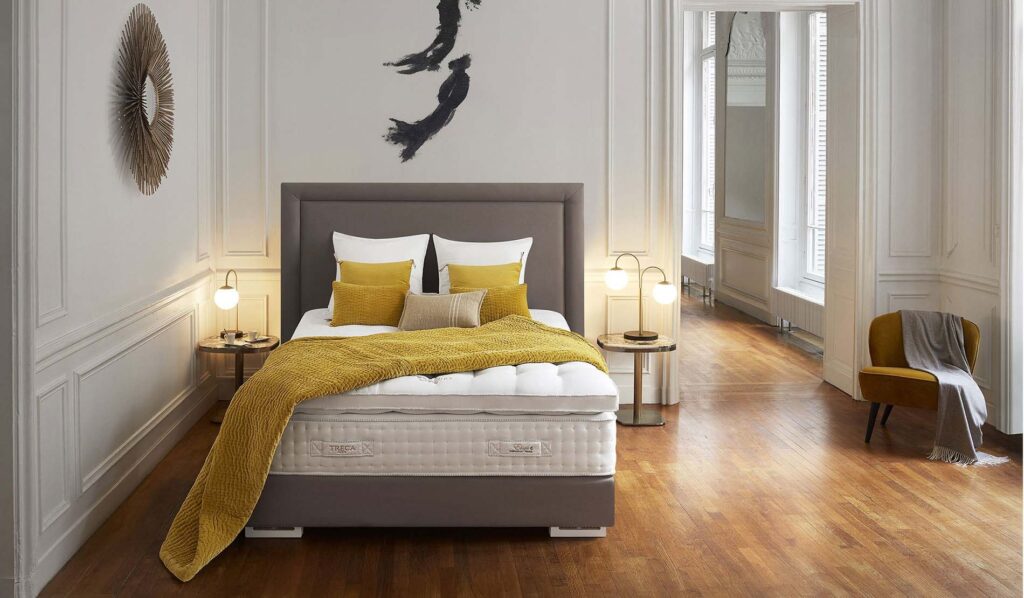 French double bed – the difference is in the size
A French double bed is designed for two people, but it is actually smaller than a classic double bed – not everyone knows that!
A company that has made the French concept of "savoir dormir" its credo is Treca, which creates the perfect bed starting with the mattresses.
So what is a French double bed? A bed that has the same length as a classic double bed (190 to 200 centimetres) but a smaller width, namely 140 centimetres, as opposed to the traditional 160 to 180 centimetres. As its name suggests, it is designed for two people, but it is also perfect for those who sleep alone and want more space. It is also widely used in the world of hotels and bed and breakfasts and is ideal for young people's rooms. It is also well suited as a guest bed, so it can only be used occasionally. In this case, many people opt for a foldaway French bed, which is only opened at night and does not disturb the living area at other times, even hidden behind a sofa bed.
In a small room, a French double bed is perfect. But if you want space…
It is perfect for small bedrooms. The measurements shown refer to the mattress base, while those of the actual bed are larger if you are thinking of a traditional bed, while for modern ones, they are only slightly larger than the base. The spread of the French double bed is constant throughout Europe in houses that are not huge, where recovering even just twenty centimetres in a bedroom can make a difference, allowing you to extend wardrobes or walk-in wardrobes, have more choice in bedside tables or even leave some empty space.
Sleeping comfort is not affected, as long as the two people occupying the room have a high degree of intimacy and are not disturbed by being close together. If privacy is considered essential and you want more room to turn around, the French double bed is not the best solution.
Sometimes the choice of a French bed is also an aesthetic one. You could perhaps put in a classic sized bed, but that would risk weighing down the room.
To save more space, choose a French double bed with a chest of drawers.
Of course, you can be creative in your choice of French bed, as well as any bed, double or otherwise. When the choice is dictated by the lack of space, it can be useful to opt for a model with storage, which incorporates in the bed a large compartment, suitable for blankets and duvet, which often do not find space in the wardrobes.
The styles of a French double bed
It is evident that there are French-style beds in a variety of materials. If the main aim is to save space, you could think of sommiers, made up of just the bed frame without a keyboard. On the other hand, there are upholstered beds, which are larger and bulkier but unbeatable in terms of comfort and softness. A popular model is the wrought iron one, suitable for modern environments and with a hint of classic. As always, wood never goes out of fashion and is evergreen, with its multitude of declinations, styles and colours.
Bedding and costs of a French double bed
If you buy a French double bed, you should also bear in mind that the bedding should be made to measure: the bedding designed for a classic bed is too large. So, if you change from a traditional double bed to a French bed, consider changing the bedding as well.
In terms of cost, being smaller, a French double bed is usually cheaper than a classic one. The same applies to its mattress. In addition to saving centimetres, a French double bed could also save you some money.
Need to furnish your home or a single room?
Choose a top-notch woodworking shop.

We have over 50 years of experience!
Contact Us
Il Piccolo, second generation family-run carpentry shop, opens its showroom in Lugano. With over 50 years of experience, Il Piccolo brings with it a wealth of technical and design knowledge of the highest level, thanks to the many interiors designed and furnished all over the world. In addition, Il Piccolo represents the most prestigious brands of furniture worldwide. Il Piccolo designs, manufactures and sells the best of interior design made in Italy, following the customer from design to implementation, delivery and installation of the work, integrating the process with a precise and professional service. CONTACT US!