Il Piccolo Blog
Full wall furniture living room, guidelines: from bookcase to styleFull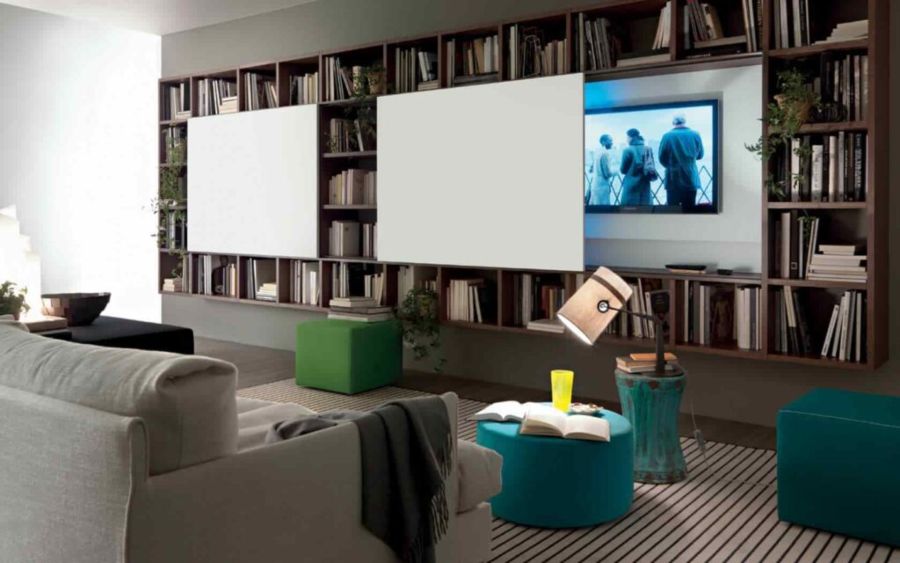 What is Full wall furniture living room?
How can you furnish a wall in your living room in an original and designer way? A full wall unit, also known as a storage unit, is an excellent solution.
From the term itself it is clear that a Full wall furniture living room (but, if you want, it can also be smaller in size so as to leave some free space). As well as being useful for storing a television or CD player, for example, together with numerous knick-knacks, it is very decorative and gives a strong personality to the living room, one of the rooms that is often the most important when furnishing, because it is also used to welcome guests.
The Full wall furniture living room can hold books and TV or even have a bed area
A Full wall furniture living room unit becomes, and you must be aware of this when choosing it, the absolute protagonist of the living room, with its important dimensions. Consequently, it must be the centre of the room and the other furniture must not be too many or too bulky, so as not to give a sense of suffocation.
Full wall furniture living room can also contain a bookcase, which always looks good in a living room. In addition to books, a wide range of accessories can be stored. Often in the wall units there are also tops or boiserie, even cupboards or furniture where the television is placed, which therefore integrates with the furniture.
If desired, and if the dimensions of the wall are really important, the full wall living room furniture can even include an office area with a desk. Some people can add a sleeping area, with a fold-down bed that is hidden: this is a good idea especially for open spaces where everything is in one room or for studio apartments, where you have to make a virtue out of necessity.
A Full wall furniture living room complements every type of living room
The Full wall furniture living room solution is suitable for homes that are furnished in a variety of styles. It is available in many different materials and styles to suit any home. Of course, the choice must start from the furnishings of the entire room: if it is a modern room, you should opt for a wall-mounted furniture with materials that recall modernity and essentiality, but if we are talking about a classic living room, wood, for example, could be perfect.
There are a number of Full wall furniture living room models made of wood that can be adapted to more classic environments. There are also a number of models that give a modern twist with laminate. The finishes can be in glass, perfect for an essential and elegant room. The colours are also absolutely varied, ranging from opaque to shiny, from light to dark tones.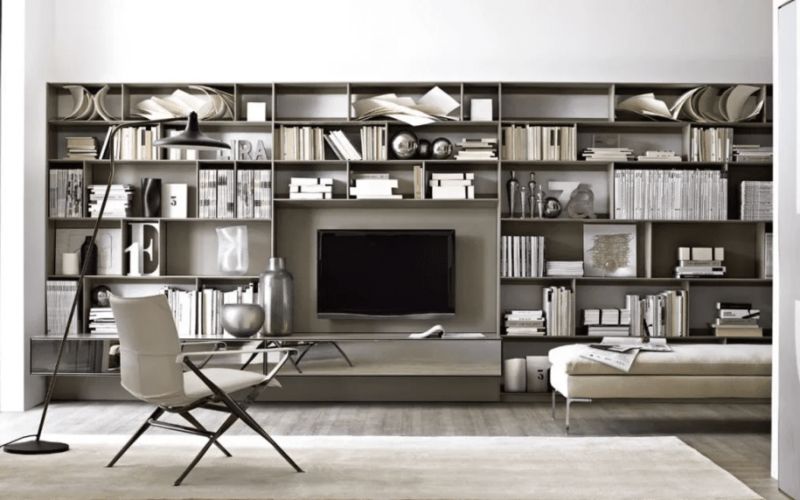 In the living room, is a full wall unit modular, sectional or fixed? It depends… also on your pocket
As far as composition is concerned, full wall units can be symmetrical, with all the spaces of equal size, or asymmetrical, with a play on shapes. The first solution is suitable for those who want to give a sense of order to the living room, while the second will give it a sense of movement and originality. The wall unit can have a focal point.
If you want customised options, tailored to your living room concept, you will usually have to opt for a modular wall unit, which allows you to indulge your imagination. In other cases, full wall furniture living room is modular, i.e. it starts with a few fixed modules that include base and wall units as well as display cabinets and wall-hung base units. If you want to spend less, you can opt for wall-mounted furniture with a fixed layout, but this does not lend itself to customisation.
Before choosing your wall-mounted furniture, it is essential to understand what function you want it to serve, i.e. whether it should be purely decorative, or whether it should also contain numerous objects; there are wall units that are purely aesthetic and others that are more functional, while remaining elements that bring design to the living room.
Need to furnish your home or a single room?
Choose a top-notch woodworking shop.

We have over 50 years of experience!
Contact Us
Il Piccolo, a second-generation family-run joinery, opens its own showroom in Lugano. With over 50 years of experience, Il Piccolo brings with it a wealth of technical and design knowledge of the highest level, thanks to the numerous interiors designed and furnished throughout the world. In addition, Il Piccolo represents the most prestigious brands of furniture worldwide. Il Piccolo designs, produces and sells the best of the interior design made in Italy, following the customer from the design to the realization, delivery and installation of the work, integrating the process with a precise and professional assistance service. CONTACT US!