Il Piccolo Blog
Functionality, design and innovation? Opt for round kitchens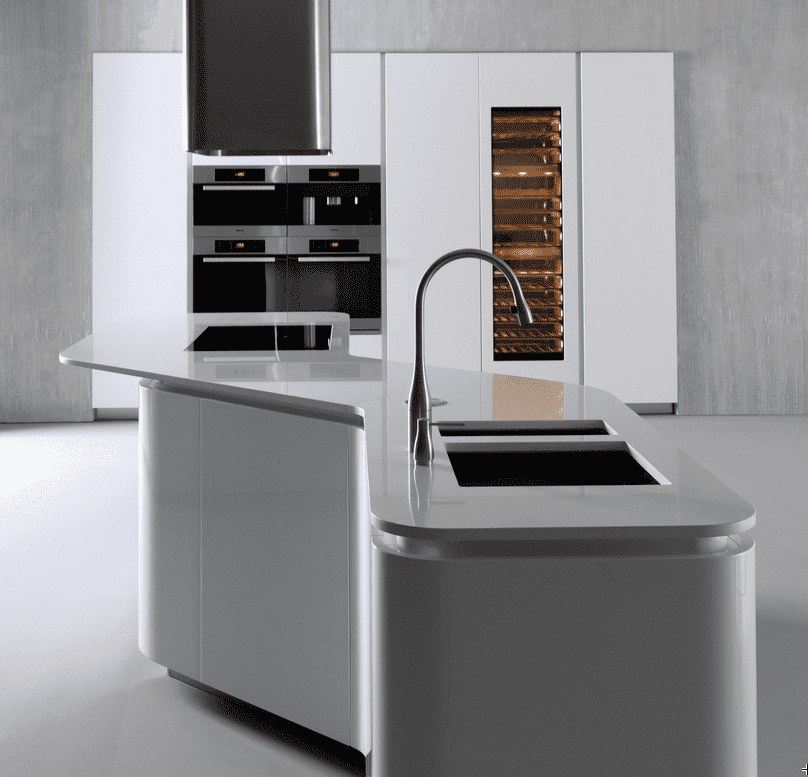 Round kitchens, still a niche choice, but how fascinating is that?
Round kitchens, i.e. kitchens with a round island, where sometimes the plates and elements used for cooking are also present, are capable of arousing different kinds of emotions. They are still a relatively niche choice and offer special shapes and give the kitchen a unique originality. If until recently the only kitchens on the market were those with linear elements, it is easy to understand how round kitchens have represented a breath of fresh air. Curved and sinuous surfaces are therefore suitable for those who want to move away from more traditional kitchens which, regardless of style and a whole series of factors, remain predominant. But for those who want innovation and have the courage to choose something new, this is a fascinating solution.
Round kitchens and modernity
It is rather difficult to find a classic or country-style kitchen with round shapes. These are generally the prerogative of modern or high-design kitchens. Made with a glossy finish, bright colours, steel and/or glass and equipped with everything high-tech imaginable, such as a cooker hood, sink, oven and stove, round kitchens offer a mix of originality and functionality that winks at modernity in the sense that the kitchen is aesthetically gratifying and surprising, but also offers the best in all practical aspects and individual components.
Softening up minimalism
Modernity and minimalism often go hand in hand, but sometimes kitchens risk being characterised by rigidity and immobility. Opting for round kitchens means, therefore, "animating" the situation described above with shapes designed to soften the minimalism of modern styles. The "curves" of this type of kitchen give a unique sensation of warmth and, if you opt for high-design kitchens, you can have the feeling of being in an amphitheatre. The figure of the circle is obviously at the centre of the concept of kitchens designed in this way and has been linked since ancient times to the concept of perfection and centrality.
A mix of curves and strong lines
The "curves" of round kitchens blend naturally with the more decisive and straight lines: a combination is therefore of great charm, even if it must be well thought out. A fusion that is a real pleasure to the eye, integrated with extreme simplicity with all the technological elements in the room, such as the appliances, which are generally state-of-the-art. Round kitchens are therefore perfect for a demanding clientele, who pay close attention to functionality but know the importance of aesthetic taste.
Any spatial configuration can lend itself to the insertion of "curves" or elements that are more animated than traditional ones, but the best possibilities are when there is the opportunity to furnish spacious kitchens. This does not mean that kitchens with more linear shapes, such as U-shaped or L-shaped kitchens, cannot have elements made of "curves". Adding this type of element to these types of kitchens means breaking the most traditional patterns. Semicircular counters, for example, are an excellent element that is well suited to any type of kitchen and whose focus is on reception and all those events that may include the participation of guests. In fact, it contributes to increasing the feeling of welcome and intimacy in the room.
Don't forget a balance between curves and straight lines for your kitchens
Whichever type of kitchen you decide to furnish with "curved" elements, therefore, you must always have a certain balance between the curves themselves and the straight lines. In this case, in fact, you will obtain an impeccable result from an aesthetic point of view without disdaining functionality. Opting for round kitchens, with an island or even in view, without hiding them but rather enhancing them, is a choice for very demanding customers who have well understood the need for a natural harmony between the two aspects, the purely aesthetic and the practical.
Devi realizzare un progetto di Interior Design?
Devi arredare casa o un singolo ambiente?

Scegli una falegnameria di alto livello.
Contattaci
Il Piccolo, a second-generation family-run joinery, opens its own showroom in Lugano. With over 50 years of experience, Il Piccolo brings with it a wealth of technical and design knowledge of the highest level, thanks to the numerous interiors designed and furnished throughout the world. In addition, Il Piccolo represents the most prestigious brands of furniture worldwide. Il Piccolo designs, produces and sells the best of the interior design made in Italy, following the customer from the design to the realization, delivery and installation of the work, integrating the process with a precise and professional assistance service. CONTACT US!