Il Piccolo Blog
Glas Italia Tables, Moulded Crystal for Design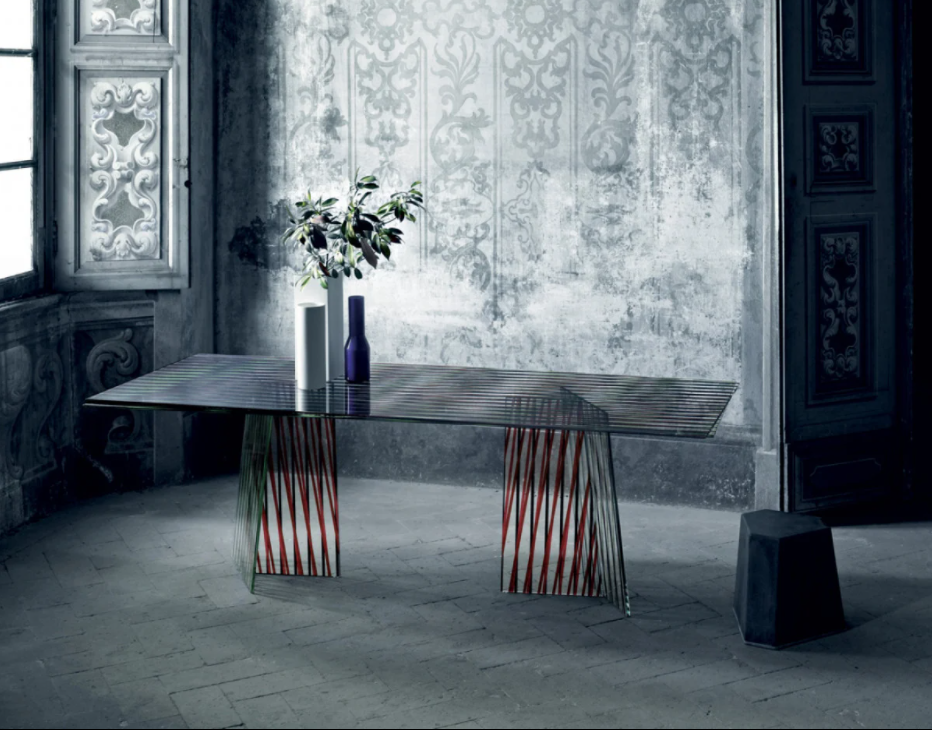 Glas Italia, not only tables: crystal as a symbol of elegance
Glas Italia tables bring a touch of refinement to your home, whether you choose them as dining tables or as a room element. Deciding to buy them is definitely a choice that goes towards style, an opening to quality and elegance.
Glas Italia is one of the many companies in the field of interior design that makes Italy one of the leading nations in the field. There are many that could be mentioned, such as Baxter, Gervasoni and Porro. When it comes to style, Italy definitely has its own say, and it is no coincidence that its kitchens are appreciated everywhere.
As the name suggests, Glas Italia works with crystal, creating various furnishing accessories with this material, from tables and mirrors to doors and partitions, combining visual pleasure and functionality, to put a precious material at the service of a modern home. Glas Italia has grown from a family business in the 70s to a worldwide reality, with a leading name like Piero Lissoni as art director since 2004.
Glas Italia creates tables for every need, from transparent tables to the most unusual ones
Glas Italia tables fit in with the company's philosophy, which starts with the use of crystal to create unique creations. How to choose a crystal table? The possibilities are endless. There are all kinds of models, from dining tables to low tables for the hall.
In most cases the shapes are essential and square. Glas Italia focuses on the shine of a material that attracts light and increases the brightness of the room, and plays with simple, clean shapes. These tables are perfect for minimalist interiors with a touch of elegance.
But Glas Italia does not only create models that make simplicity their watchword. There are tables with unusual shapes. The crystal is modelled and the various geometric pieces combined into extravagant and unique tables. Even the colour makes many Glas Italia tables unmistakable creations. Sometimes transparent crystal sheets are combined with coloured ones.
Needless to say, anyone who chooses a Glas Italia table, especially if they opt for one of the colourful and unusual ones, should make it the centrepiece of their room. Everything else must be calibrated to highlight shine, shape and colour. A Glas Italia table should not be of secondary importance in a room, not even if you buy a geometric and totally transparent model.
How to enhance Glas Italia tables, protagonists of the room
So how can you make the most of your Glas Italia table? When it is the living room table, the chairs must be chosen ad hoc. If the model chosen is transparent and with clean lines, armchairs with padding or at least chairs with armrests are perfect. A doily can certainly be placed on top of the table. A flower vase also makes an impression on a Glas Italia table. The room can be enriched with a carpet.
When you opt for a table by Glas Italia with a special shape, perhaps with curved glass, and coloured, the colours of the rest of the room should be adapted to it. The luminosity that distinguishes the material will make the table the focal point of the room, even if it is small, designed for example as a piece of furniture in front of the TV. It is up to the interior decorator to recognise this fact: if he were to place furniture that takes the leading role away from the table, Glas Italia's creation would not be enhanced as much as it should be. And at that point, opting for a table from a prestigious company would be an economic effort from which the best would not be obtained.
Glas Italia tables are sturdy
Glas Italia tables, being made of crystal, seem fragile but in reality they are resistant and timeless.
Easy to clean, they remain unchanged in quality and are made from a sustainable material par excellence.
Need to furnish your home or a single room?
Choose a top-notch woodworking shop.

We have over 50 years of experience!
Contact Us
Il Piccolo, second generation family-run carpentry shop, opens its showroom in Lugano. With over 50 years of experience, Il Piccolo brings with it a wealth of technical and design knowledge of the highest level, thanks to the many interiors designed and furnished all over the world. In addition, Il Piccolo represents the most prestigious brands of furniture worldwide. Il Piccolo designs, manufactures and sells the best of interior design made in Italy, following the customer from design to implementation, delivery and installation of the work, integrating the process with a precise and professional service. CONTACT US!