Il Piccolo Blog
Glass bubble chandelier: how to choose the right model?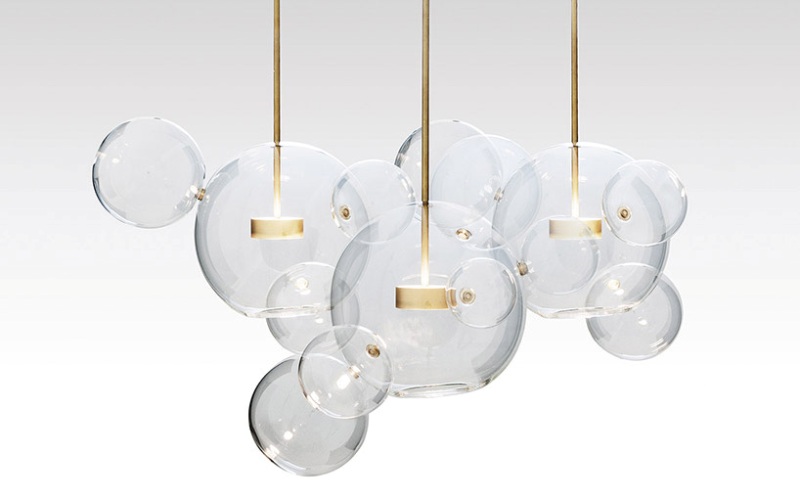 The glass bubble chandelier is one of the trendiest models of the moment. Why? Before answering this question, let's try to explain what this piece of furniture is.
When we talk about chandeliers with glass bubbles, we are referring to suspended lighting systems which are available in many different versions and styles and which, moreover, can be adapted to the most diverse contexts.
The strength of these models lies in the play of light and reflections guaranteed by the refraction of light on glass. How best to exploit this feature to achieve a functional and classy piece of furniture? We explain it now in this detailed guide.
Why should you choose a chandelier with glass bubbles?
Glass bubble chandeliers are extremely versatile. By choosing between vertically developed models and horizontally developed suspended models, you can find the best solution to illuminate and furnish every space in your home.
Those who opt for a chandelier of this type are not only making a functional choice, but are also opting for a model with great decorative capacity. In this case, the chandelier becomes a furnishing object that enhances the space, even when it is switched off.
Glass bubble chandeliers are particularly suitable for homes furnished in a contemporary and industrial style, but they can also successfully enhance rooms furnished in a minimalist style. Or they can bring a modern touch to a classic space.
Starting with simple materials such as metal and glass, designers are able to create original and modern compositions that can furnish living and living rooms, bedrooms, bathrooms and hallways. Depending on how the room is developed, one can opt for a chandelier composed of glass bubbles grouped together or one can decide to purchase a model with glass bubbles scattered here and there. The first solution is suitable when you want the light to be concentrated in a specific point of the room, while the second allows you to have a diffused light, which creates an intimate and very cosy atmosphere.
What does a glass bubble chandelier look like?
Glass bubble chandeliers are modern chandelier models composed of glass bubbles of different shapes and sizes.
In luxury models, the glass used to make the bubbles is hand-blown and worked by skilled craftsmen. The transparency of the glass allows for plays of light and shadow that give the room a special atmosphere.
Glass reflections can be amplified or attenuated depending on the type of workmanship chosen. Specifically, reflections are maximised when choosing a chandelier with transparent glass bubbles, while they are much less when choosing smoked glass or glass with a matt finish. In contemporary furnishings, chandeliers with coloured glass bubbles can also be successfully incorporated, either by using a single shade or by using several colours.
As for the structure of a chandelier with glass bubbles, what can be said? Typically, the suspended chandelier has a central metal body. Often, brass is used, but other materials frequently used are wrought iron and steel.
How to furnish a room with a glass bubble chandelier?
The variety of models of suspended glass bubble chandeliers is such that choosing just one model may seem complex. By adopting precise criteria for evaluating the available alternatives, however, you will be able to find the perfect chandelier effortlessly.
First of all, it is important to consider the size of the room to be illuminated and its function of use. In a large, open-plan living room, you can assume that there are at least two or three areas of the room where you can spend your time. In such a situation, one might decide to install a glass bubble chandelier composed of many different bubbles scattered around the room. Alternatively, one could install a single central chandelier, supported by wall lamps or floor lamps, all placed in strategic places in the living room.
In the bedroom, on the other hand, it is sufficient to install a large chandelier in the centre of the room, perhaps made of coloured glass that picks up on the colours used for the walls, textiles or furniture.
Generally speaking, in order to find the right glass bubble chandelier for your home, you need to consider how the models you prefer relate to the other protagonists of the decor. This aspect is especially important in the living room and lounge, i.e. in those spaces of the home where the chandelier is in symbiosis with the dining table.
The fascination of glass bewitches today as in the past and conquers fans of every furnishing style. The malleability of this material also inspires designers and allows them to create true sculptures that combine functionality and decorative ability. This is as much as can be said, if one wishes to close with a final and summarising remark on a subject as full of curiosities as that concerning glass bubble chandeliers.
Devi realizzare un progetto di Interior Design?
Devi arredare casa o un singolo ambiente?

Scegli una falegnameria di alto livello.
Contattaci
Il Piccolo, a second-generation family-run joinery, opens its own showroom in Lugano. With over 50 years of experience, Il Piccolo brings with it a wealth of technical and design knowledge of the highest level, thanks to the numerous interiors designed and furnished throughout the world. In addition, Il Piccolo represents the most prestigious brands of furniture worldwide. Il Piccolo designs, produces and sells the best of the interior design made in Italy, following the customer from the design to the realization, delivery and installation of the work, integrating the process with a precise and professional assistance service. CONTACT US!