Il Piccolo Blog
Glass kitchens: pros, cons and some advice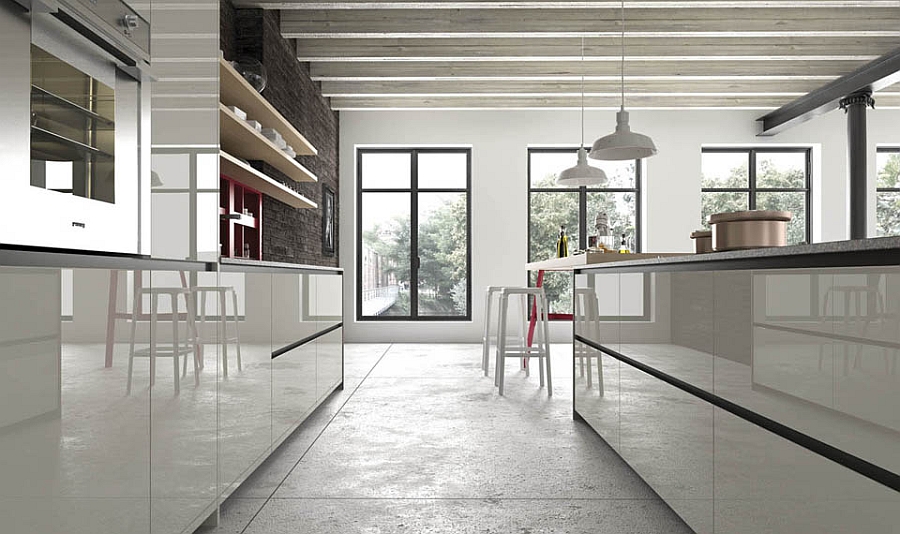 Is it worth choosing glass kitchens?
Glass kitchens are beautiful and elegant, but if you're decorating your new home or replacing an old kitchen, you might wonder whether it's difficult to maintain it. Is the glass sufficiently resistant? Won't glass kitchens get dirty more easily? Is it really worth it?
The pros of having a glass kitchen
There are pros and cons. Let's start with the pros.
The maintenance of glass kitchens is child's play. The fear that the high temperatures of the cooker, wear and tear, infiltration of humidity or water could ruin the material is unfounded. Glass is resistant to all this and is easy to clean, including stains.
Especially in times like these, when hygiene is of the utmost importance, glass kitchens are impervious to mould and bacteria. Ease of cleaning ensures optimum hygiene.
People tend to think that glass is a fragile material and that nothing is needed not only to ruin it but also to break it. Nothing could be more wrong! Unlike other materials, glass is non-deformable.
It must be said that choosing glass kitchens means being environmentally friendly. This material is recyclable and, therefore, eco-sustainable.
Glass kitchens, there are also cons
On the downside, glass kitchen doors need to be polished with special products, which cost more than normal kitchen cleaning products. It will take a little more time and attention, but the beauty of the glass will make it worth it.
Having said that glass is a very resistant material, when you decide to buy a glass kitchen, you will have to choose whether to make all the kitchen wall units in glass or use it only for the doors of the upper block. This choice is particularly recommended if you have children.
"Just glass? No, endless aesthetic possibilities for kitchens
Glass kitchens are elegant, bright and refined. The aesthetic possibilities are virtually endless, with various colours. You would think that glass would be opaque, shiny or neutral, but in reality glass kitchens come in a variety of colours, from grey and black to white and bright colours such as yellow and red. It is also possible to add a touch of stone to the doors. Real stone doors can be heavy and expensive; glass doors can be textured with a calacatta or kerlite finish.
How glass kitchens are made
The glass used in kitchens is called toughened glass. Even if it shatters, it breaks into many small shards that do not cut and is therefore safe for everyone. Through the process of grinding, the edges are rounded, polished and evened out. Of course, there are also measures to protect the glass, such as always using a trivet if you place hot objects or appliances on it, and using a cutting board if you use knives or sharp tools. Also be careful when using abrasive substances, washing powder, alcohol, ammonia and detergents containing acids.
Cleaning – a few tips for shining glass kitchens
Glass kitchens can be cleaned using a soft cloth and, as we have already seen, special detergents. A microfibre cloth dampened with lukewarm water is perfect for rinsing. A microfibre cloth is ideal for dusting the parts that can be painted, i.e. those that are not visible. They should never be cleaned. And how do you solve the stain problem? Obviously, a little more care than usual is advisable, but if a stain does happen, ethyl alcohol diluted in water, preferably distilled, can be used.
Whether you are looking for a minimalist style or a refined one, glass kitchens certainly enrich the home, giving it a touch of elegance, refinement and practicality while respecting the environment, which is never a bad thing.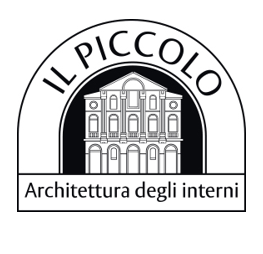 Il Piccolo is a company specialising in interior architecture. In the sector we are today a recognized brand, which has been able to become the spokesman of the made in Italy all over the world.
For over 50 years, we have been serving the most demanding customers and the most innovative designers. Born as upholsterers, over time we have become interior designers, having the privilege and the ability to work with the most famous names in the fashion industry and with architects representing the most prestigious names in international interior design.