Il Piccolo Blog
What elegance! A glass partition wall between the kitchen and living room is a design touch for every room.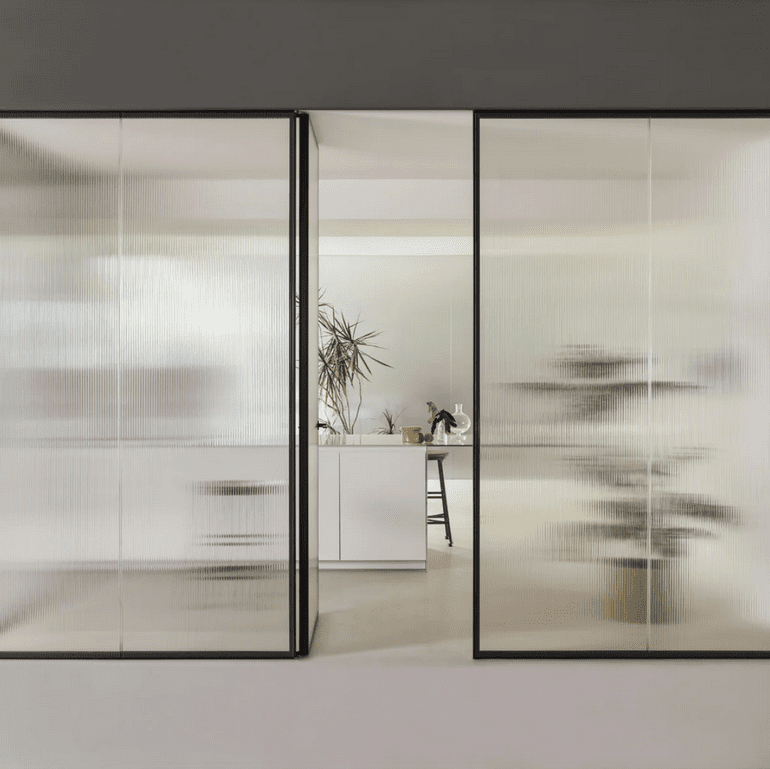 Why choose a kitchen/living room partition made of glass?
Refined, elegant, in some ways impalpable. If you want to play it safe in terms of aesthetics, glass is always the right choice. And it is no coincidence that in the era of open spaces, glass partitions for kitchens are becoming increasingly popular.
Glass for such a partition lends itself to any type of environment, giving brightness and elegance to all flats: large, small, modern, classic. It is a perfect and absolutely pleasant solution, an extra touch to give a different air to your open space. Sometimes separating rooms is a practical need as well as an aesthetic one (it is no coincidence that people often choose furniture that can do this, such as double-sided dividing bookcases, link to add). In the case of the kitchen and living room, which are often one room in modern flats, a glass partition wall between the kitchen and living room prevents odours from entering the living area (which is one of the problems of open kitchens for the most sensitive of smells), provides acoustic insulation and regulates the passage of light from one room to another.
Glass and… How to design your own kitchen partition wall
What brings refinement to any room more than glass? Nothing, which is why it is often chosen for a kitchen partition. It can adapt to any style and never goes out of fashion. It goes perfectly with an all-glass kitchen or a glass and aluminium kitchen, but not necessarily. It pairs perfectly with any type of material, which makes it extremely versatile (it is also eco-friendly). In particular, laminated glass is used for this type of furniture.
To design your own glass partition for the kitchen, you can start with very thin and therefore not very visible frames or with a thicker and more visible frame: often, beyond the construction requirements, this is also a design choice, if you opt for a material (from steel to metal and even wood) that gives continuity with those used in the rest of the room. It lends itself very well to being decorated in various ways, and you can indulge in colours. If plain glass is the simplest and most refined idea, there is nothing to stop you from colouring it (but you really have to be careful about the play of light, then!), or partially decorating it with patterns, all in line with the style of the house. You can also use opaque glass if you wish.
Light and space division with a glass partition between the kitchen and living room
A glass wall dividing the kitchen and living room is a perfect way to regulate light. A kitchen needs to be bright, and if the living room is bright it is certainly a plus. You need to take into account how natural light is reflected in the various rooms, depending on the time of day, and adjust lamps and LEDs accordingly. A glass wall dividing the living room from the kitchen is also a good choice when dealing with dark window frames or furniture in a colour that does not seem bright enough.
It will be a unique way to redefine the spaces of your open space, dividing them and giving an airy impression that seems to increase the size in a harmonious way. The doors dividing the rooms can also be fitted with doors, sliding in the more modern solutions or hinged. You are not obliged to choose a wall that is high from floor to ceiling, but you can opt for something halfway up (but then the effect for smells and sound is significantly weakened).
Of course, the glass kitchen partition must always be clean! If not, there's no point in creating a dramatic effect with halos…
Devi realizzare un progetto di Interior Design?
Devi arredare casa o un singolo ambiente?

Scegli una falegnameria di alto livello.
Contattaci
Il Piccolo, a second-generation family-run joinery, opens its own showroom in Lugano. With over 50 years of experience, Il Piccolo brings with it a wealth of technical and design knowledge of the highest level, thanks to the numerous interiors designed and furnished throughout the world. In addition, Il Piccolo represents the most prestigious brands of furniture worldwide. Il Piccolo designs, produces and sells the best of the interior design made in Italy, following the customer from the design to the realization, delivery and installation of the work, integrating the process with a precise and professional assistance service. CONTACT US!