Il Piccolo Blog
Hanging tv cabinet, a joker for every context: modern or classic, large or small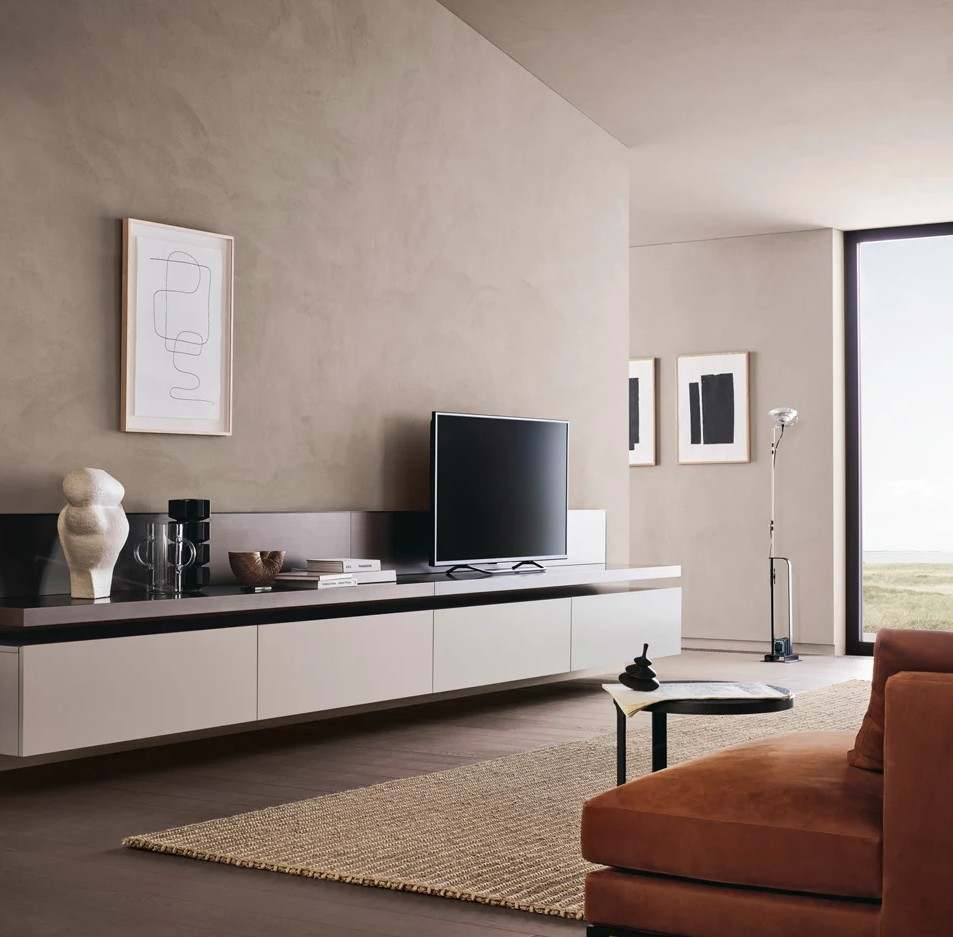 The lightness of suspended furniture, not only for the TV
The TV as a moment of shared relaxation with the family or as a chance to grow while watching programmes together that provide new insights. But where to place the screen, so that it also looks good in the living room and is not just a functional element but becomes an integral part of the living room, one of the most important rooms in the home? One interesting option is the hanging tv cabinet.
It is a conceptual variation on the furniture that was used years ago, which rests on the floor and is often imposing and important in size. The hanging tv cabinet is in fact, as the term itself says, suspended, i.e. hanging on the wall. Its main characteristic, as opposed to the floor-standing one, is the lightness it gives the room. It therefore fits perfectly into a minimalist and agile environment, where everything is functional, placed with intention and design at the same time.
The ideal hanging tv cabinet not only for modern furniture
With the passage of time, wall-hung solutions – think of kitchens, for example – have increased in popularity, so much so that if they were initially only designed for modern contexts, they are now also being declined for classic ones. The hanging tv cabinet is therefore not only adaptable to a modern interior design but also to a classic one.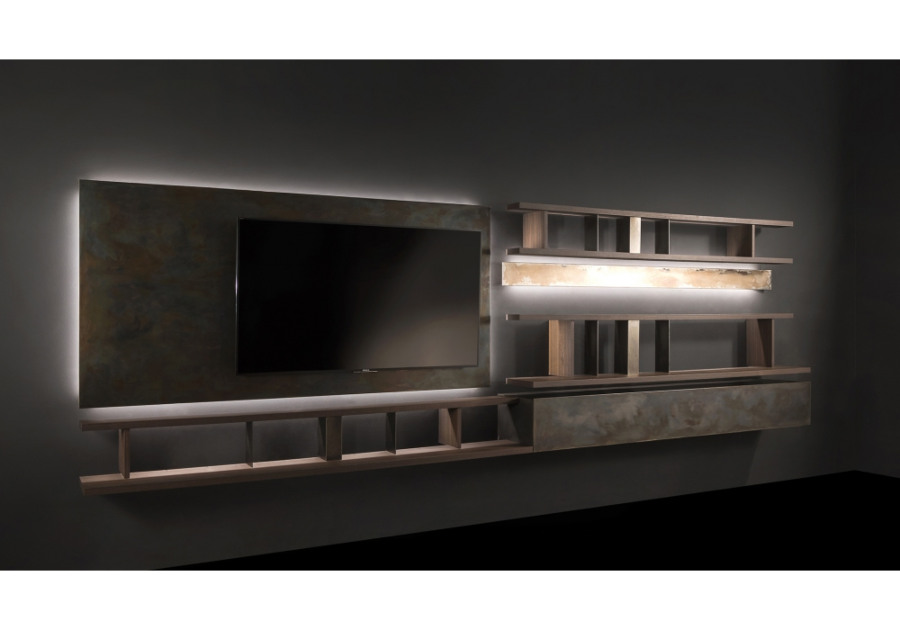 A great idea for small living rooms but also for large ones
Originally, wall-hung furniture was designed especially for rooms where space is at a premium. In fact, they take up much less space than classic furniture that touches the floor and perhaps rises up the full size of the living room: a hanging tv cabinet is therefore the winning idea where you cannot place a small table to support the screen. But as mentioned, the solution is so popular that it is now also being included in larger living rooms. Simply enrich it with extra shelves and shelves, making it larger and more complex: this will only make the furniture special, original and a true design element!
Pay attention, however, to height and distance
What should you take into account when deciding to place a hanging tv cabinetin your living room, or even in the bedroom if the TV is located there? Although it is a solution that lends itself to so many variations, it should be considered that it should be placed at a fairly fixed height. In fact, a distance of approximately 85-100 centimetres from the floor is recommended. This is not for aesthetic reasons, but rather so that the TV screen will be at an ideal viewing height, so as not to create annoying back or neck problems. Furthermore, the ideal distance from where the viewer sits should be 150 centimetres, although this is not always respected for reasons of space.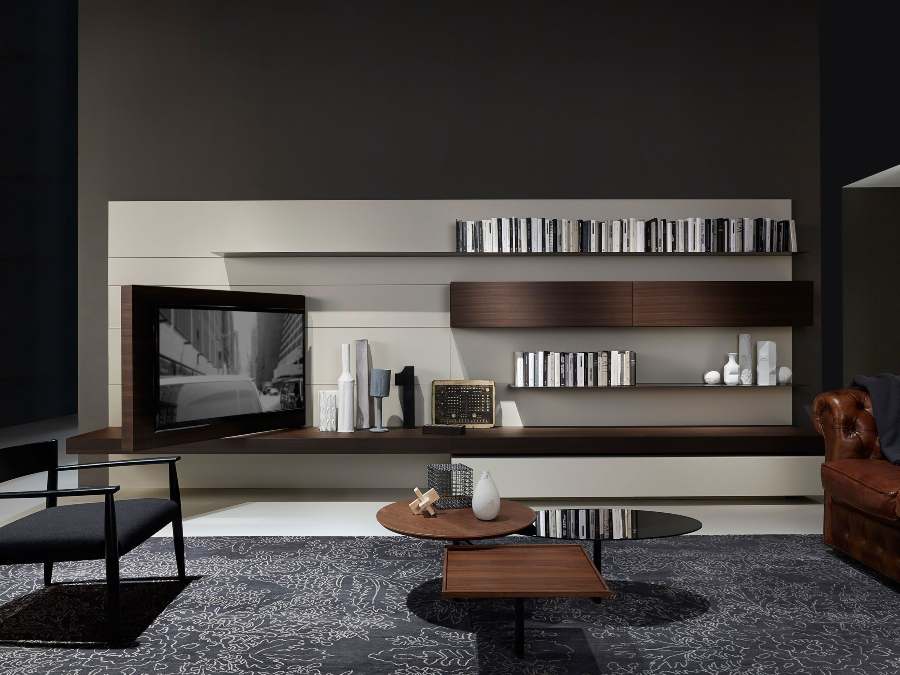 Shapes, materials and colours of a hanging tv cabinet, from classic to modern
For the rest, there are no fixed rules when it comes to a hanging tv cabinet. So, space to the imagination! When it is to be placed in a modern context, we usually opt for a very simple piece of furniture, composed of just a few pieces, perhaps a single drawer (always useful for storing something) or a linear structure. If, on the other hand, the living room is more modern, additional shelves or shelves are perfect, where objects can be placed that become design elements themselves.
Talking about materials and colours, wood is suitable for the classic, either in its natural colour or painted or lacquered, depending on the living room colours (which are usually pastel, light and bright). For the modern hanging tv cabinet, wood is fine, or metal or steel can be used. The colour? Linear and contemporary is a single colour, again black or white. But if the living room has other shades, you can also dare with a red, blue or other, perhaps bright colours.
Need to furnish your home or a single room?
Choose a top-notch woodworking shop.

We have over 50 years of experience!
Contact Us
Il Piccolo, a second generation family-run joinery, opens its own showroom in Lugano. With over 50 years of experience, Il Piccolo brings with it a wealth of technical and design knowledge of the highest level, thanks to the numerous interiors designed and furnished all over the world. In particular, Il Piccolo has a wealth of experience in the design and production of several corner wardrobe models. Finally, Il Piccolo represents the world's most prestigious furniture brands.
Our company designs, manufactures and sells the best of made-in-Italy interior design, following the customer from the design to the realisation, delivery and installation of the work, supplementing the process with a precise and professional assistance service. Looking for the ideal corner wardrobe for your room? CONTACT