Il Piccolo Blog
Horseshoe-shaped walk-in wardrobe, to be placed in the right space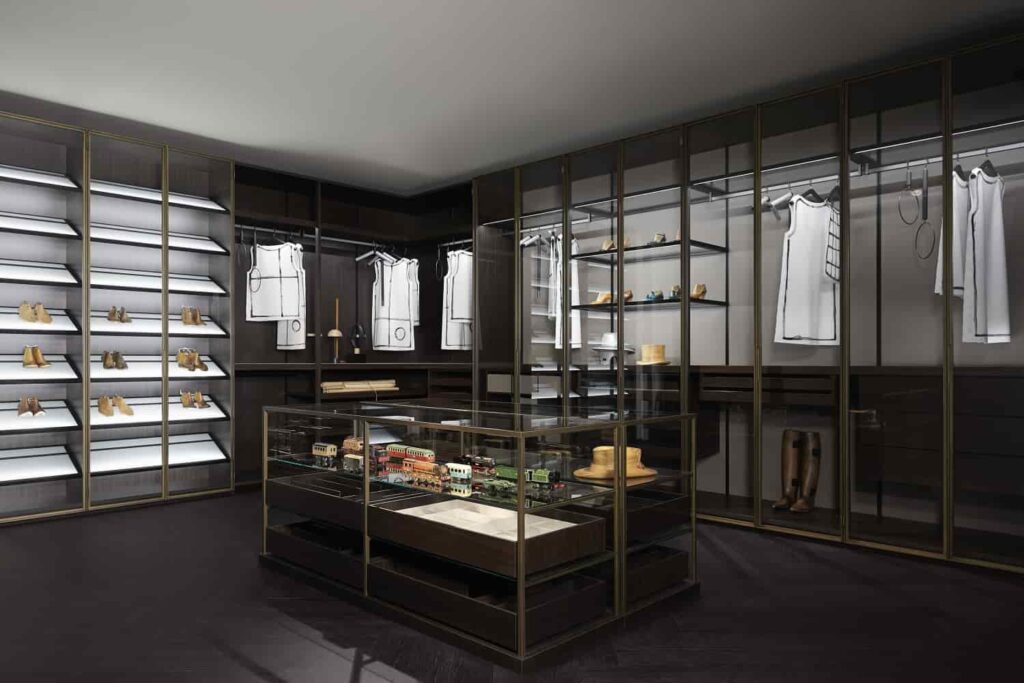 A horseshoe-shaped walk-in wardrobe is a three-wall variant of the classic walk-in wardrobe, an increasingly popular solution for keeping your clothes and shoes tidy in style. Usually a walk-in wardrobe represents a sort of room where clothes, jackets and accessories are stored and is located in the bedroom, where it is not simply used as a wardrobe but also enhanced.
The option of a horseshoe-shaped walk-in wardrobe is particular because it requires the right amount of space, but it certainly guarantees a fascinating and unique room, where the horseshoe-shaped walk-in wardrobe can become one of the protagonists. It is ideal for those who have enough space and want to highlight their clothes. And like any walk-in wardrobe it is an effective space-saving idea.
A horseshoe-shaped walk-in wardrobe requires…
A walk-in wardrobe can have various shapes: linear, which means that it usually rests on one wall, angular, which means that it takes up the space between two walls, resting on the corner (an ideal solution for those who do not have a lot of space), horseshoe-shaped, which means that it rests on three walls or even on four or more walls. Sometimes instead of using one or more walls as a support it can also be a division of several rooms, with a double-sided solution, especially in large lofts or open spaces.
To have a horseshoe-shaped walk-in wardrobe (excluding the double-sided walk-in option) it is therefore necessary to have three walls available. Keep in mind, when you decide to opt for this certainly charming solution, that the walls must be at least a couple of metres long, otherwise the space would be too little, and that you must have access to the room where you place it on the fourth wall (or, a very special option, a door that enters directly into the walk-in wardrobe).
Space for clothes and jackets, to be shared among family members: the advantages of a walk-in wardrobe (even a horseshoe-shaped one)
Apart from these features, a horseshoe-shaped walk-in wardrobe has the same characteristics as a linear or corner walk-in wardrobe, which are more common but give less of a design touch to the room. It allows you to have ample space for your clothes and clothing, including jackets, which you often struggle to hang up. It is usually large enough to allow space to be divided between several people, which makes it ideal for couples in double rooms or even children's rooms. For any walk-in wardrobe, it is essential to calculate at least 120 centimetres as an internal wardrobe area, where clothes will be placed, as well as the material surrounding it. As an indication, think of a walk-in wardrobe when you have a room of at least ten square metres, not less. And pay attention to the position of the windows: they must not be on the walls used for the walk-in wardrobe.
Needless to say, if you want a horseshoe-shaped walk-in wardrobe, the details to take into account are even more important. You could design the room right from the walk-in wardrobe and its horseshoe shape. In addition to the walk-in closet there is usually at least a bed in the room, which must necessarily fit in (or it could be part of a single piece of furniture, reducing the space in this case).
Wide choice of styles and materials for the horseshoe-shaped walk-in wardrobe
As far as materials and style are concerned, a horseshoe-shaped walk-in wardrobe has many possibilities. First of all in terms of materials, since you can opt for wood, which is warm and perfect for more modern rooms with a desire to give a sense of warmth, or metal which is ideal for a more modern and minimalist room. But it can be integrated with glass, for a breathtaking effect, or with technology thanks to high-tech ideas (with sliding doors, for example, that open at the touch of a button). And in terms of design, it can range from classic forms to more essential and contemporary ones.
Need to furnish your home or a single room?
Choose a top-notch woodworking shop.

We have over 50 years of experience!
Contact Us
Il Piccolo, a second-generation family-run joinery, opens its own showroom in Lugano. With over 50 years of experience, Il Piccolo brings with it a wealth of technical and design knowledge of the highest level, thanks to the numerous interiors designed and furnished throughout the world. In addition, Il Piccolo represents the most prestigious brands of furniture worldwide. Il Piccolo designs, produces and sells the best of the interior design made in Italy, following the customer from the design to the realization, delivery and installation of the work, integrating the process with a precise and professional assistance service. CONTACT US!