Il Piccolo Blog
King-size beds: when the comfort of a good night's sleep becomes a trend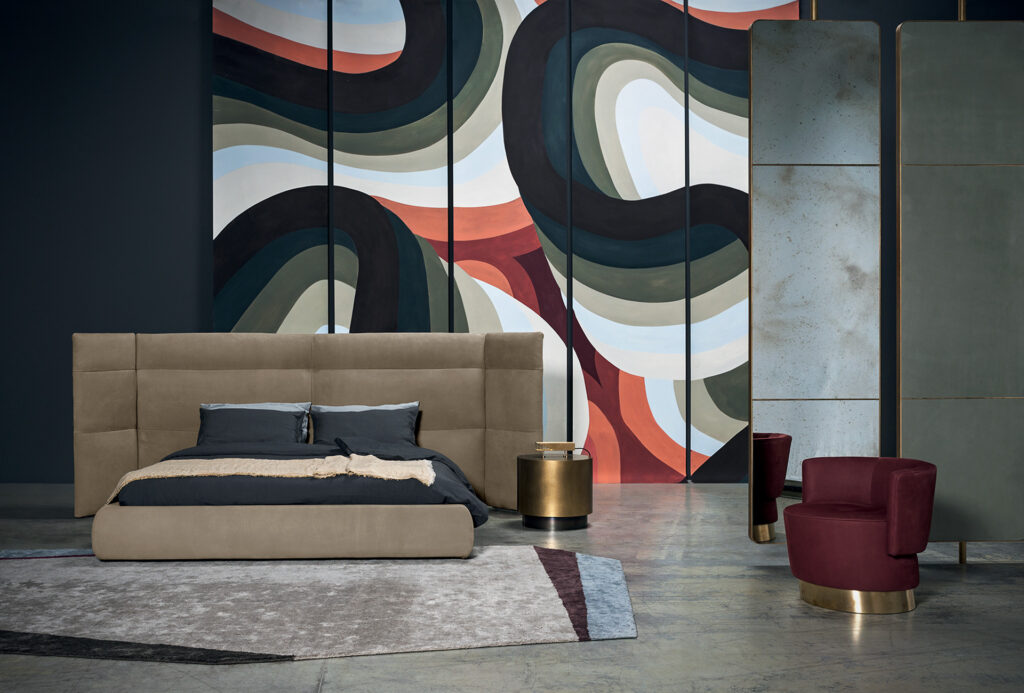 King size beds are among the interior design trends of 2021. Created for the American market, these extra-large beds are gaining admirers in Europe as well. This is due to their more generous dimensions compared to the classic double beds used in Italy.
In addition, in combination with a design structure, king-size beds make it possible to furnish any bedroom with undoubted taste.
The advantages of a king-size bed in the bedroom
We mentioned that the size of a king-size bed is larger than that of a traditional double mattress. What does this mean? While a standard size double mattress measures 160×190 centimetres, a king size mattress measures 180×200 centimetres, thus offering a larger sleeping surface.
In addition to the classic king size bed, there are other variants of this furniture with even more generous dimensions. The California king size mattress, for example, is longer and therefore ideal for tall people, measuring up to 210 centimetres.
Those who prefer to have more space in width can opt for an American king size bed, which is a good 190 centimetres wide. Those who want an even larger mattress can consider a Super king size or an Alaskan king size: starting from 195 centimetres wide and 200 centimetres long and going up to 220 centimetres in both length and width.
For the bed unit that will hold a king-size mattress, you can choose a basic structure or a design solution. The choice between one or the other solution depends essentially on the style with which you want to furnish the room and the amount of space available.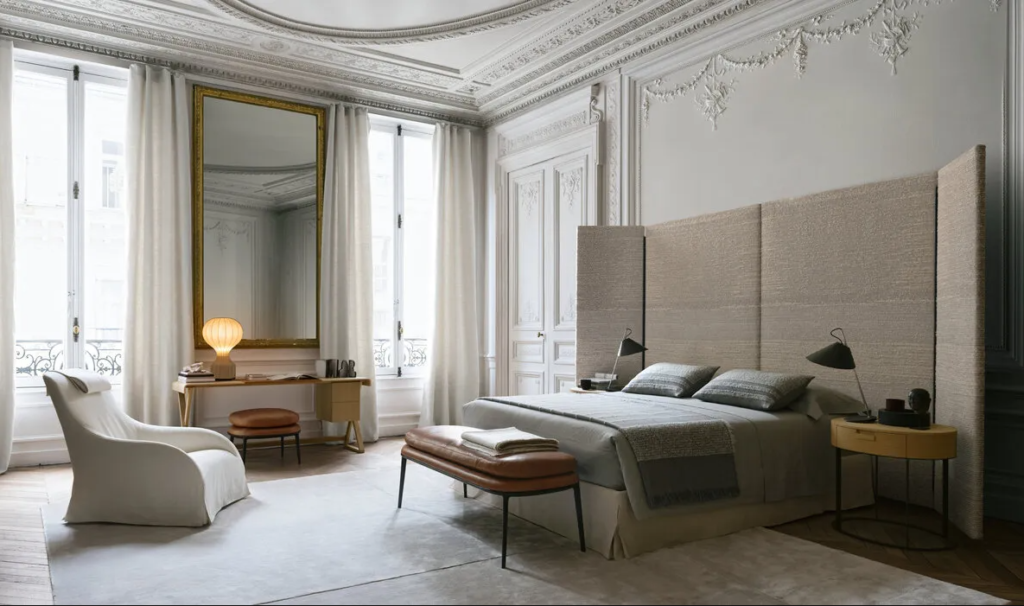 Modern king size beds
The king-size mattress is large and, when placed in small to medium-sized rooms, visually fills the space. In order to balance the mattress from an aesthetic point of view, you can choose a bed unit with a simple structure and essential lines.
A king-size bed in Nordic style, made of light wood and with clean and minimal lines, is perfect for a home furnished in a contemporary style. Another great alternative is a bed without a headboard. Here too, simplicity is the great protagonist of the design.
On the other hand, beds with an extra-large frame offer space for both the bed and bedside tables. The most modern design solutions offer integrated shelves at the sides of the headboard. Or you can opt for a multifunctional frame, which offers extra space on either side of the mattress.
If you like modern, clean lines, you can also consider a suspended frame for your king-size bed. This solution generally involves the use of a metal or wooden bed frame, which is light and has simple lines.
King size beds with storage are the ideal solution for a project that combines design and practicality. The bed becomes a space in which to store blankets and linen for the extra-large bed and allows you to recover space. Such a choice is particularly suitable for guest rooms or second homes and, more generally, in situations where the size of the rooms is reduced.
Classic king-size beds
If you want to breathe in a classic, romantic or even regal atmosphere in your bedroom, you can choose a king-size bed that recalls the design of the past.
A bed with a capitonné leather headboard is as classic as you could wish for. Leather in white or neutral tones makes the room cosy and bright, while the traditional workmanship conveys elegance and refinement.
Wrought-iron king-size beds can also add a touch of classicism to modern rooms. The versatility of wrought iron allows you to create your own highly original designs, ranging from the most basic to the most elaborate.
A king-size canopy bed is suitable for large rooms and for those who like a flashy style. More simple, but still faithful to classic furnishing styles, is the extra-large bed with upholstered headboard. The upholstery can be proposed in leather or fabric and can be limited to the headboard or extended to the rest of the structure.
The number of people who wish to furnish the sleeping area of their home with king size beds is constantly increasing. Fortunately, the offer of design proposals keeps pace with the evolution of people's tastes and allows you to customise your furniture, choosing the solution that best suits your style and sleeping needs. The choice is now among many different options.
Need to furnish your home or a single room?
Choose a top-notch woodworking shop.

We have over 50 years of experience!
Contact Us
Il Piccolo, second generation family-run carpentry shop, opens its showroom in Lugano. With over 50 years of experience, Il Piccolo brings with it a wealth of technical and design knowledge of the highest level, thanks to the many interiors designed and furnished all over the world. In addition, Il Piccolo represents the most prestigious brands of furniture worldwide. Il Piccolo designs, manufactures and sells the best of interior design made in Italy, following the customer from design to implementation, delivery and installation of the work, integrating the process with a precise and professional service. CONTACT US!