Il Piccolo Blog
Storage space? Consider a Kitchen corner pantry cabinet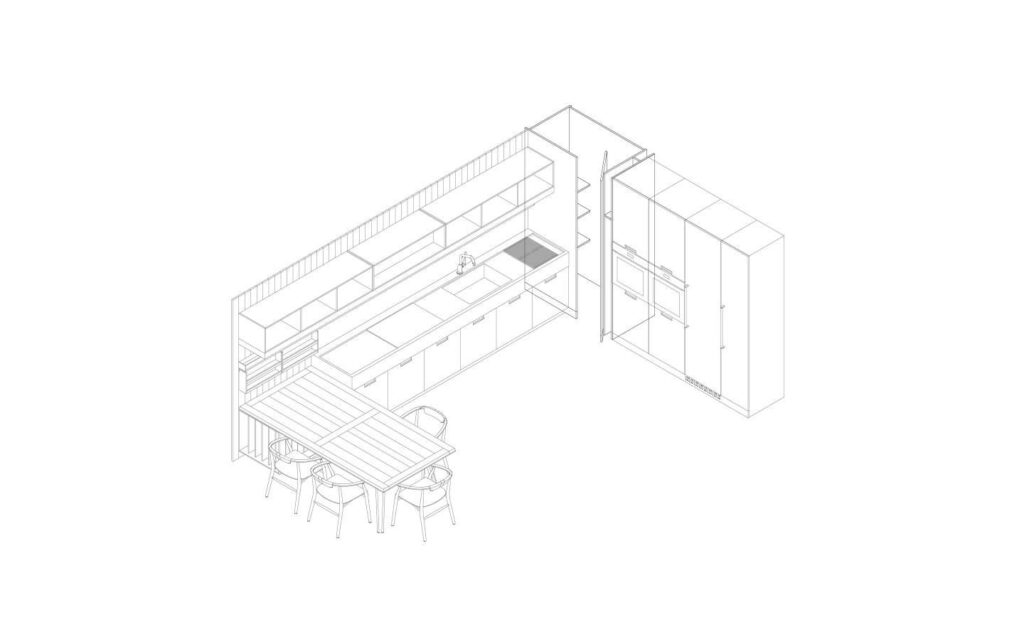 Supplies, somewhere, have to be put. Why not in a corner walk-in pantry?
A pantry is essential in every kitchen. Habits have changed, undeniably. One cannot do without having supplies on hand. Pressing schedules rarely allow for daily grocery shopping, in favor of large periodic or even online supplies. It is therefore necessary to have a corner where you can store everything, and a great idea, practical and functional, is a kitchen corner pantry cabinet.
Often we think of walk-in closets for bedrooms, for storing clothes, even prominently for those who want to show off their wardrobe. Why not also focus on a walk-in for the kitchen, for pasta, bread, cookies and drinks? A kitchen corner pantry cabinet is increasingly part of the modules offered in modular realities, a symptom of how much it is in demand and how much the idea appeals to those looking for an adaptable and practical solution.
In fact, it allows you to exploit an area of the room, the corners, which many times are not used instead, you do not know how to furnish and risk being in fact wasted. With the walk-in system, the supplies will be closed and not visible, unless you want to opt for a solution that highlights them and shows them off, think of those who want to highlight a wine collection.
Kitchen corner pantry cabinet, also multifunction. And it's good for every type of kitchen
A kitchen corner pantry cabinet does not always just hold one's supplies, but can also have a multifunction. If it is tall, you can fit appliances in it, such as an oven or refrigerator, for example.
What style should you choose for your corner kitchen pantry? It seems obvious, but it is necessary to start from what are the characteristics of the kitchen itself and the house. A cabin that contains supplies, "leaning" against two walls that form a corner, must blend in with the rest. It is a solution suitable for classic kitchens, modern kitchens, rustic kitchens, contemporary kitchens. It fits perfectly in small rooms, where space utilization is a sine qua non, as well as in larger ones, with open kitchens or integrated into open spaces.
For style there really is a wide choice. Consider that the cabin must "follow" the corner, so it is easier to envisage it with a fairly square shape, especially if you want to put the emphasis on using all the available space. But nothing prohibits placing elements that know how to give movement, starting with decorations, trim and paneling.
Materials, styles, colors for one's pantry (and kitchen)
Even on materials, the possibilities are really many. A kitchen corner pantry cabinets must follow the material of which the rest of the room is made, one of the most versatile in this respect. It starts with wood, which appeals to every style, whether classic or modern, because it brings to a feeling of home warmth and is durable and adaptable. For someone who wants something more modern, steel can be used in the kitchen, a material that is durable and easy to clean, as well as various types of metal. For the more modern, consider Fenix. For kitchens, a couple of materials combined are often used. The cabinet will have the same material as the rest.
A design choice for those who do not necessarily need all the available space is to have furniture in the kitchen, and therefore also a cabin, suspended.
If you fit into a minimalist kitchen that is very focused on essentialism, certainly the solution without handles is perfect for the kitchen corner pantry cabinets. On the other hand, if you want something more classic, you can highlight it with prominent knobs.
For colors, you can really choose what you want by focusing on the harmony of a single hue, maybe white or something light to give harmony, a tone on tone for some delicate contrast or even bold colors.
Devi realizzare un progetto di Interior Design?
Devi arredare casa o un singolo ambiente?

Scegli una falegnameria di alto livello.
Contattaci
Il Piccolo, a second-generation family-run joinery, opens its own showroom in Lugano. With over 50 years of experience, Il Piccolo brings with it a wealth of technical and design knowledge of the highest level, thanks to the numerous interiors designed and furnished throughout the world. In addition, Il Piccolo represents the most prestigious brands of furniture worldwide. Il Piccolo designs, produces and sells the best of the interior design made in Italy, following the customer from the design to the realization, delivery and installation of the work, integrating the process with a precise and professional assistance service. CONTACT US!