Il Piccolo Blog
When sociability combines with practicality, choose a kitchen island with cooker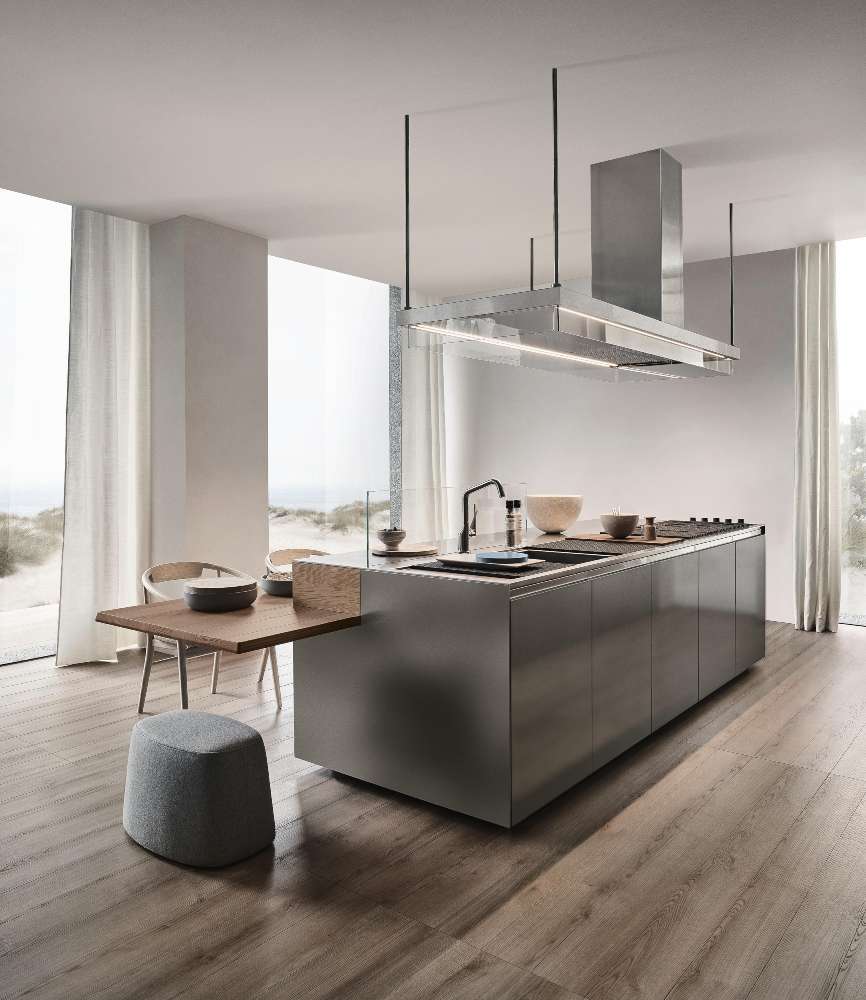 Everyone loves a kitchen island
Plenty of space to cook and move freely between the cookers, while being able to chat with your guests. Choosing a kitchen island with cooker leads to many advantages, both from the point of view of comfort and ergonomics and from that of the aesthetic beauty of the whole that is to be created: it is no coincidence that it is a very popular solution in both small and large flats, in both classical and modern environments.
As is well known, the island in itself adapts to different types of kitchens: both linear kitchens, i.e. with a development against one wall (in short, the classic form) and those that develop over several walls, therefore L-shaped or horseshoe-shaped. The functions can be different, from a simple snack top to a place that houses the cooker and even the oven: it obviously depends on the space you have available in the rest of the kitchen.
Kitchen island with cooker, for cooking and interacting with guests
Deciding to place the hob on the island, perhaps facing the living room in an open space, has an important social function. The kitchen in recent years is a place where one not only cooks but also lives. A kitchen island with a hob, facing the living room, is the ideal setting for convivial evenings: the host prepares dinner and at the same time entertains guests in the living room, perhaps sitting on comfortable double-sided sofas, in a dynamic use of space.
What to take into account when choosing a kitchen island with cooker
When deciding on a kitchen island with cooker, some technical details must also be taken into account. For example, the location of gas pipes and electrical cables. Obviously it is easier to provide this solution in a new house than to add it during a renovation, but even in the second case do not despair, the possibilities are there, such as the use of a platform for the passage of cables and pipes.
If a kitchen island with cooker is desired, attention must be paid to the hood, to suck in any odours while cooking (do not forget that you are often dealing with an open space, therefore connected to the living room). The advice is to provide one with a suction system that blends into the design of the island and the kitchen itself without becoming too bulky. There are various models that combine utility with a pleasant appearance, as well as concealed solutions or even with integrated shelves. The choice is therefore wide, also depending on the effect one wishes to give.
The risk is to get dirty but… it is worth it
One disadvantage of a kitchen island with cookeris that it is easier to get dirty. In fact, when it comes to traditional kitchens, where the hobs or hob are facing the wall, any splashes are absorbed by tiles or splashback panels. With the hob facing the living room, on the other hand, there is nothing and when cooking it is well known how easy it is for splashes, perhaps of oil, to go everywhere. And when you walk on it, it's a disaster! The solution? Nothing, just be careful! The benefits outweigh the discomfort.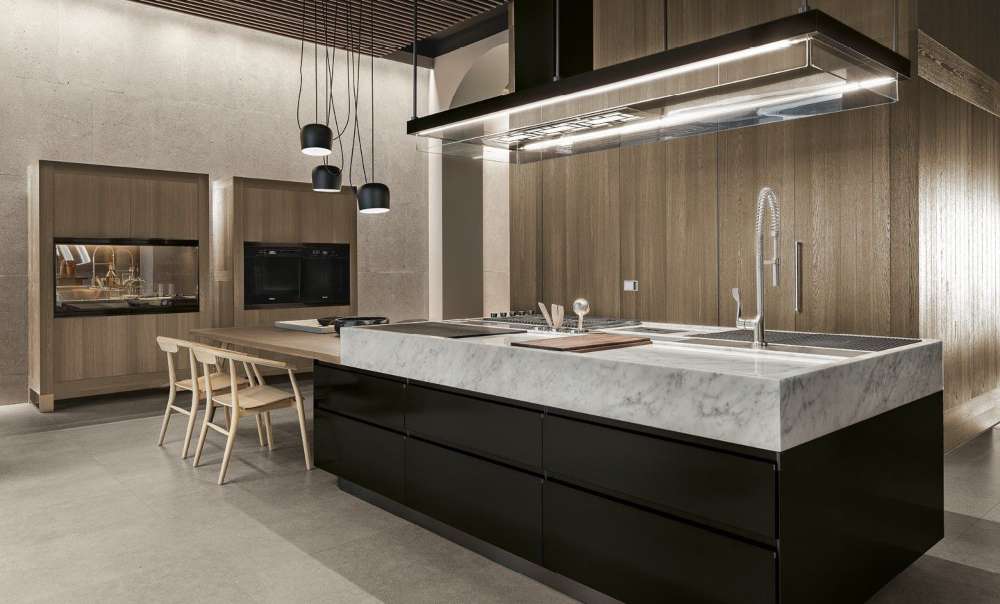 Materials and colours, wide choice for the kitchen island with cooker
As far as materials and colours are concerned, you really can choose any option for a kitchen island: from wood, natural or lacquered, to modern materials such as steel or Fenix. Even for the colouring you can follow your own taste, going for a single colour or a two-tone.
Of course, whether you are talking about a modern or a classic home, you will opt for a state-of-the-art hob, perhaps hi-tech, capable of integrating in terms of design with the island and reducing consumption when cooking, as well as preparing food quickly. For convenience and ergonomics, the island with a hob can also be fitted with an oven.
Need to furnish your home or a single room?
Choose a top-notch woodworking shop.

We have over 50 years of experience!
Contact Us
Il Piccolo, a second generation family-run joinery, opens its own showroom in Lugano. With over 50 years of experience, Il Piccolo brings with it a wealth of technical and design knowledge of the highest level, thanks to the numerous interiors designed and furnished all over the world. In particular, Il Piccolo has a wealth of experience in the design and production of several corner wardrobe models. Finally, Il Piccolo represents the world's most prestigious furniture brands.
Our company designs, manufactures and sells the best of made-in-Italy interior design, following the customer from the design to the realisation, delivery and installation of the work, supplementing the process with a precise and professional assistance service. Looking for the ideal corner wardrobe for your room? CONTACT US