Il Piccolo Blog
The intensity of a kitchen walnut , elegance for all styles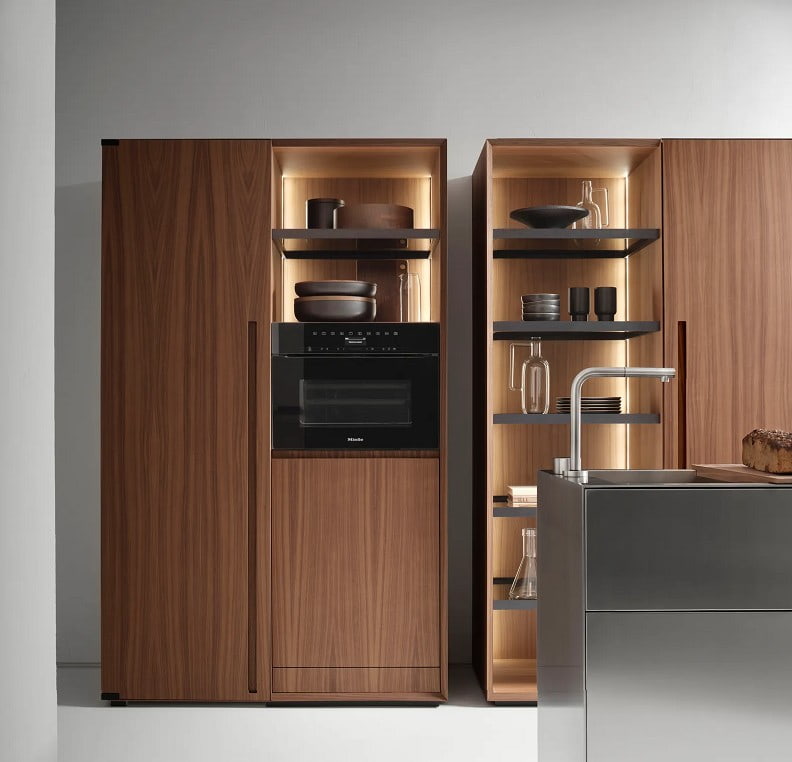 The kitchen walnutand the feeling of domestic warmth
Nothing like wood is capable of evoking domestic warmth. One thinks of the chalets one sees in the mountains, massive and completely made of this material. They bring an undeniable feeling of cosiness, even warmth in snowy environments. And the same is true when choosing furniture from this evergreen product, which suits modern and classic styles, more elegant homes and even minimalist ones. In short, an option that is never wrong. Evocative, elegant and at the same time classic is the kitchen walnut, for example.
The characteristics of Canaletto walnut
This is a type of wood characterised by a medium to coarse texture, which is often a homogeneous, warm chocolate colour when left untreated. It is able, with its unmistakable shade, to match perfectly with different tones such as grey or warmer colours. Depending on which type of wood is used, whether American or European, there is or is not the presence of lighter grains, which in turn are capable of conferring special effects: if desired, machining can be used to enhance the grains themselves, making them the protagonists.
A detail that gives Canaletto walnut its undoubted charm is its irregularity. Resistant over the years, it acquires an ever increasing lustre, especially if treated in the correct way and with due care. Widely used for parquet flooring, it is able to give life to kitchens that undoubtedly have something to say.
Where can a kitchen walnut be placed? Any, as long as…
A Canaletto walnut kitchen is therefore a choice that winks at tradition, while also being perfect for contemporary environments. The message it wants to convey, more than any other, is that in the kitchen we live, we are together, we warm ourselves both from the harsh temperatures of winter and from the bad weather of life. It brings an undeniable feeling of family, intimate but at the same time, if well designed and airy.
However, what characteristics must a house in which a kitchen created with this valuable type of wood will fit in, apart from the styles? Undoubtedly an innate idea of elegance. The desire to add an extra touch. canaletto is indeed an elegant wood in its own right.
In principle, a kitchen made of kitchen walnut is suitable for a classic home with important and imposing furniture. But there is nothing to prevent you from choosing this classy material for a more essential and modern environment. It is important to focus on domestic warmth as a central feature of the entire room. For example, it is perfect for rustic-style rooms, recalling the essence of kitchens that were once imposing and lived-in.
From island to table, Canaletto walnut is good for any kitchen
In fact, the material is well suited to any type of kitchen, from those with an island, perfect for an open space and for those who want to live the space dynamically, to those that make a classic table their fulcrum. Indeed, Canaletto walnut will be an excellent option for a table around which to sit in company!
The classic kitchen walnut and the modern kitchen
Those who would like to place their kitchen walnut in a more classic environment can play with thicker furniture, wall units and spaces that wind around the kitchen top, creating a feeling of harmony. Remember that a classic kitchen does not exclude the use of state-of-the-art appliances, quite the contrary. Wood can be combined with materials such as marble and stone, sometimes even laminate and quartz. Usually, this type of kitchen is fitted and characterised by sinuous shapes.
If, on the other hand, you choose a more modern kitchen walnut, you can play with essentiality. The thicknesses will inevitably decrease, but the special colour of the material will still be enhanced, giving an undeniably classy effect. Solutions without handles can be chosen, where the modernity of the appliances is enhanced.
Devi realizzare un progetto di Interior Design?
Devi arredare casa o un singolo ambiente?

Scegli una falegnameria di alto livello.
Contattaci
Il Piccolo, a second-generation family-run joinery, opens its own showroom in Lugano. With over 50 years of experience, Il Piccolo brings with it a wealth of technical and design knowledge of the highest level, thanks to the numerous interiors designed and furnished throughout the world. In addition, Il Piccolo represents the most prestigious brands of furniture worldwide. Il Piccolo designs, produces and sells the best of the interior design made in Italy, following the customer from the design to the realization, delivery and installation of the work, integrating the process with a precise and professional assistance service. CONTACT US!