Il Piccolo Blog
kitchen with handles, a guide to choosing the perfect one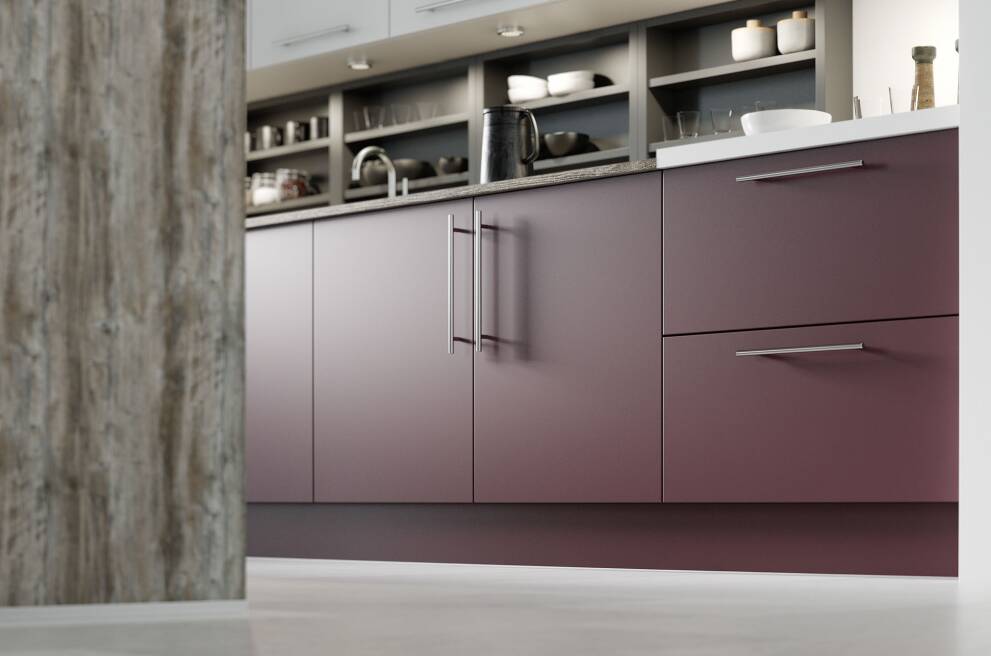 Kitchens for living: with or without handles!
kitchens have definitely changed: it is true, you cook there, but you also live there. Logically, this goes hand in hand with greater attention to design and style. Another issue to deal with when choosing room furnishings is whether you want a kitchen with handles or without. It may seem like a detail, but in truth it brings with it totally different ideas of kitchens, from classic to contemporary.
A kitchen with handles tends towards the classic. A modern one, on the other hand.
To put it simply, one could say that a classic kitchen is a kitchen with handles, indeed it makes it an important design element that contributes to the final effect the room wants to give. Conversely, when it comes to a contemporary kitchen, it often has no handles. In addition to design, people choose to furnish without handles for a question of ease of cleaning. It is indeed quicker to take care of cleaning a room whose furniture has no interruptions, without forgetting that dirt often lurks precisely on details such as handles. Not having them also increases the formal cleanliness of the furniture, which becomes more linear and simple in design.
Instead of handles, grooves (flat or hollow) are used, which are slots usually cut in one side of the door. Another very modern method is the push system, a mechanism that allows cabinets to be closed with a push.
For those who want handles, attention to detail
If, on the other hand, you want a kitchen with handles, perhaps because it is in the classic style, you are spoilt for choice. The handle is in fact a detail that must be studied carefully. In principle, it is ideal for large doors. But which ones should you choose? What colour, material, size? Long, round, vertical, hollow? Getting your bearings is not always easy.
For special cases, there are those that can be defined as artistic, as well as minimalist solutions, which, however, go more towards the concept of the handle-less kitchen than the kitchen with handles, such as the groove, the recessed, the integrated in the profile, and the one with protruding profiles.
The bracket solution
The classic bracket handle is the best known and most widely used. Very easy to open, it can nevertheless give an extra touch to the kitchen, if the aesthetics and finish are well cared for. It can be made of a variety of materials, from steel to aluminium and even wood, which is known to characterise many classic kitchens. The shape can be different: round or more elongated, you can indulge yourself.
 And the dimensions are also adaptable: do you want a small handle that is only functional or a larger one that stands out? The advice is to opt for something that is also visible and blends into the design of the entire kitchen, in terms of shape and colour, without neglecting the ease of cleaning and comfortable grip, as the various cupboards and drawers often have to be opened several times.
A kitchen with knob handles is very old style
The knob shape is somewhat reminiscent of kitchens of the past, making it a great vintage detail. Usually, for practicality, they are used for doors, while non-round handles are chosen for drawers. But it is not compulsory; on the contrary, using the knob everywhere will evoke an old style atmosphere perfect for a kitchen with handles that winks at the past. For those who love knobs no matter what, there are definitely contemporary style models.
For those who are not satisfied, specially designed artistic handles
And for those who want something truly unique, there are the artistic handles, created ad hoc by blacksmiths or craftsmen. Here there really is no limit to the imagination. The handles will become the stars of your kitchen!
Devi realizzare un progetto di Interior Design?
Devi arredare casa o un singolo ambiente?

Scegli una falegnameria di alto livello.
Contattaci
Il Piccolo, falegnameria a conduzione familiare di seconda generazione, apre il proprio showroom a Lugano. Con oltre 50 anni di esperienza, Il Piccolo porta con sé un bagaglio di conoscenze tecniche e progettuali di assoluto livello, grazie ai numerosi interni progettati e arredati in tutto il mondo. Inoltre, Il Piccolo rappresenta i brand più prestigiosi dell'arredamento mondiale.
Il Piccolo progetta, produce e vende il meglio dell'interior design made in Italy, seguendo il cliente dalla progettazione fino alla realizzazione, consegna e posa del lavoro, integrando il processo con un servizio di assistenza preciso e professionale. CONTATTACI