Il Piccolo Blog
A kitchen with an island has many advantages, but it must be well thought out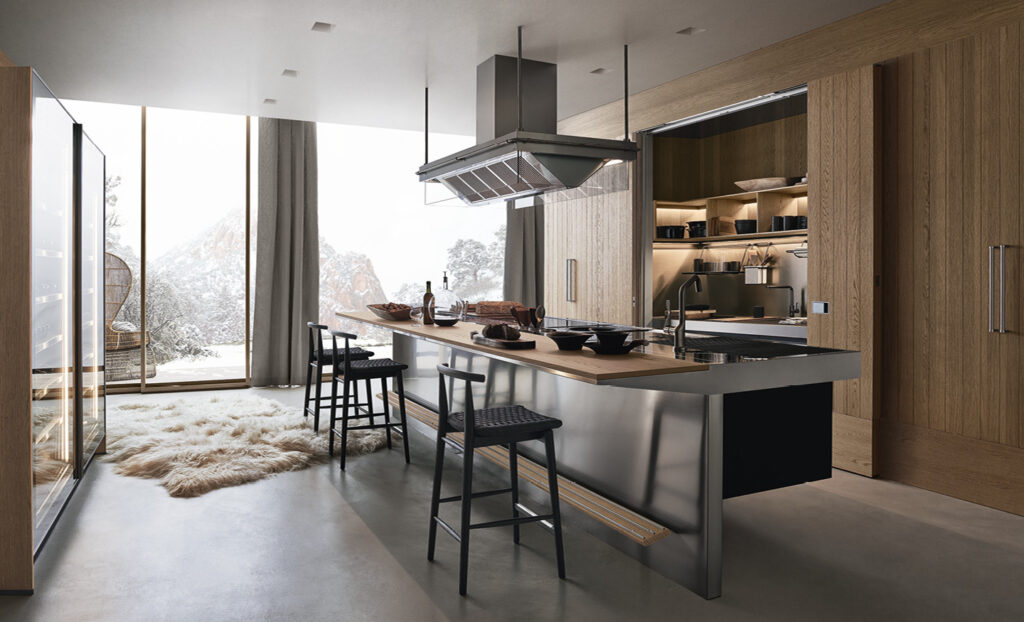 A kitchen with an island, so many advantages
Choosing a kitchen with an island means benefiting from numerous advantages such as order, cleanliness, space, conviviality and functionality. A kitchen with an island is an open and airy environment, easy to clean because it consists of a single surface, and at the same time, simple to keep tidy. We are talking about a type of kitchen that encourages the sharing of various moments, such as meals together with family or friends. Let's think, then, of the appliances, which are obviously indispensable, yet often unsightly. In kitchens with an island it is possible, for example, to insert the oven, dishwasher or microwave oven inside the island, so that they are not visible.
 Kitchens with an island promote a minimalist ambience as well as an extra worktop, perfect for cooking enthusiasts who plan to spend a lot of time in the room. There are numerous models to choose from, depending on the style of the house. The main ones are: kitchen with a table-mode island; kitchen with a central island; kitchen with an island and integrated snack.
Kitchen with island, there are three main models
The kitchen with a table-mode island, which winks at functionality, since the island replaces the actual table. This model is particularly suitable for kitchens that are not particularly spacious and therefore do not have enough space to accommodate a table and chairs. It would be advisable to insert stools in this type of kitchen island, so as to fully exploit the island as a table, in order to save a lot of space and make your kitchen, even if small in size, complete with everything, tidy and functional.
Those who wish to give maximum importance to the island can opt for the kitchen model with a central island. Here the key word is versatility because this type of kitchen is well suited to the most varied convivial occasions, from a family dinner to an aperitif with friends. Since this kitchen model has many space-saving features, it is also convenient from the point of view of space organisation. A versatile model that allows you to make the most of the kitchen, no longer just a place to prepare and eat meals, but also a place to work.
Finally, the island model with integrated snack becomes a space where you can have breakfast or a quick lunch. A space-saving typology that once again allows the aspect of conviviality to be accentuated around the cooker.  An option loved by the more numerous or often younger and more informal.
The kitchen with an island also has disadvantages
The disadvantages of kitchens with an island all have to do with space, or rather the scarcity of it. For example, when opting for a kitchen with an island, It is important to take into account the space that would be available for seating, especially if you plan to host a large number of people often, thus requiring a lot of seating, or if you want to include decorations.
Other disadvantages can be the spread of unpleasant odours, as it is a single room. Also to be taken into account is the fact that a kitchen with an island is, by necessity, rather bulky to house the cooking accessories, the sink and the appliances.
Returning to the subject of space, it is a good idea to make careful calculations to avoid placing a model that is too bulky in a room that is not large enough. It is also necessary to bring the pipes to the centre of the room. It is necessary to take into account where to place not only the pipes but also the electrical sockets for the functionality of household appliances, the gas system and the water system. The design phase can therefore be the most complex because of the need to add electrical outlets and various installations.
Need to furnish your home or a single room?
Choose a top-notch woodworking shop.

We have over 50 years of experience!
Contact Us
Il Piccolo, second generation family-run carpentry shop, opens its showroom in Lugano. With over 50 years of experience, Il Piccolo brings with it a wealth of technical and design knowledge of the highest level, thanks to the many interiors designed and furnished all over the world. In addition, Il Piccolo represents the most prestigious brands of furniture worldwide. Il Piccolo designs, manufactures and sells the best of interior design made in Italy, following the customer from design to implementation, delivery and installation of the work, integrating the process with a precise and professional service. CONTACT US!