Il Piccolo Blog
Always useful space but also design in kitchens with open shelves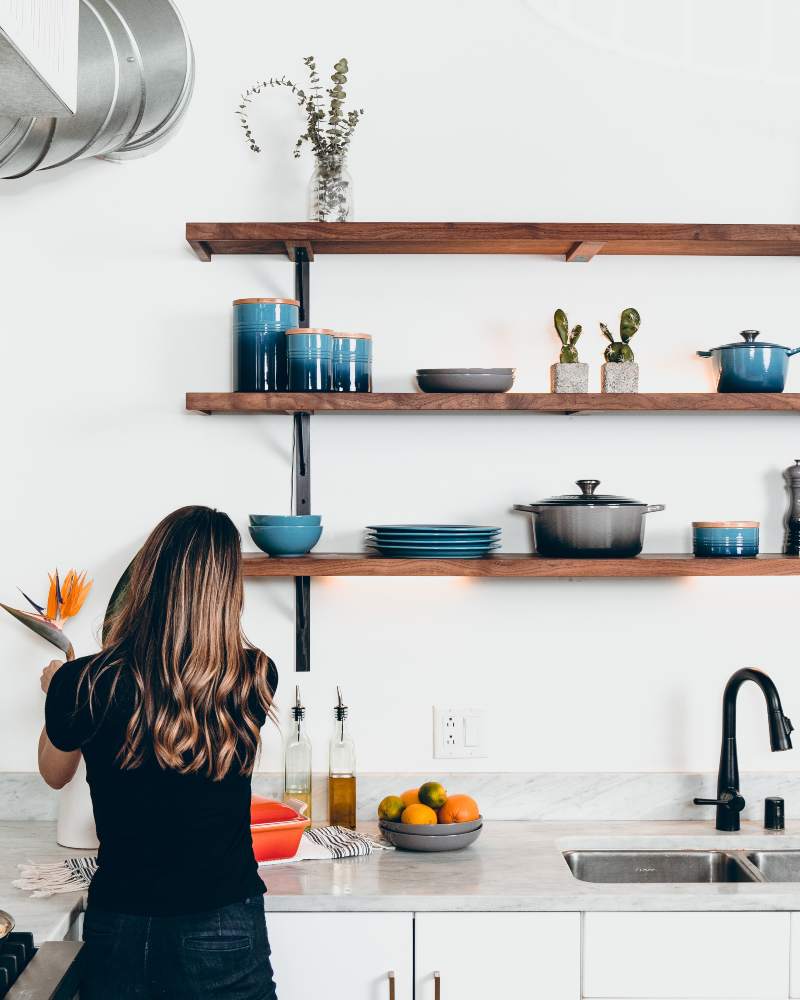 Open shelves combine utility and aesthetics
In a kitchen, needless to say, you need space. You don't always have to deal with large floor plans, so you resort to solutions such as foldaway kitchens and various space-saving devices such as corner pantries. But, as we know, there is always plenty of space in the kitchen, and kitchens with open shelves are designed to have sufficient space: they are so useful that they are integrated into the hoods. Shelves are not only a practical expedient but are also used as a design feature.
It is therefore easy to understand how important their choice is in terms of the aesthetics of the entire kitchen. Those who love this type of furniture often want kitchens with open shelves to support not only what is useful for cooking but also cups, mugs, objects, even plants, using them as a decorative element.
Shelves or wall units? Advantages and disadvantages
An alternative to shelves are wall units, although nothing precludes having both. Certainly kitchens that use open shelves and not wall units have a more airy look, especially if you do not have an infinite number of objects to store.
Of course, it is up to each person's taste to decide for shelves or wall units. The former give the possibility of having everything at hand without having to open and close doors and drawers often, while the latter protect stored objects from dust more.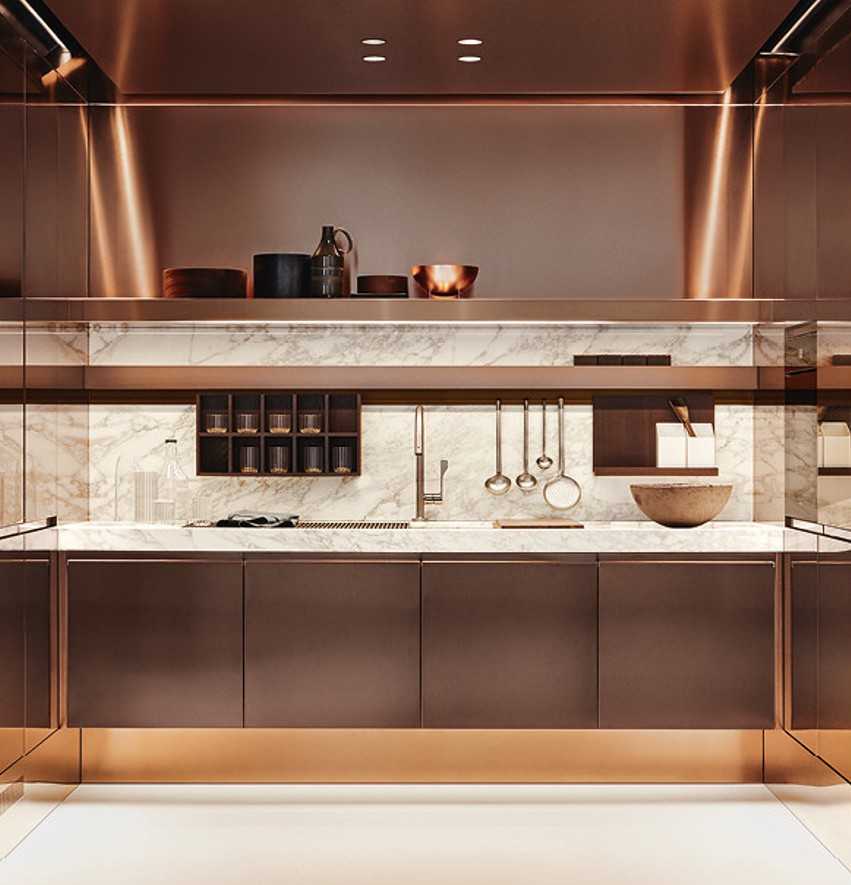 Kitchens with open shelves suit every style. But be careful when choosing
Depending on the style, open shelves are different. There are those who want to highlight them as a furnishing accessory and will therefore choose them more conspicuous and sophisticated, and those who, on the other hand, want only a utilitarian role and will therefore tend to want them less visible. As a general rule, in Kitchens with open shelves they are very thin, while they are thicker and more conspicuous in classic kitchens (consider that the same example also applies to handles, which in one case are a design detail while in very modern furniture they are not even present).
Materials and colours of kitchen shelves
As far as material is concerned, it is essential to start with the kitchen when deciding on the characteristics of one's shelves. At least for the material, it would be desirable to continue using the same one used in most furniture. If we are talking about a classic house, the kitchen itself will probably be made of wood and the choice of this material, which is also durable and eco-friendly, will be perfect. Usually, kitchens with classic open shelves have shelves with a definite thickness. In more contemporary cases, you have kitchens with metal or steel and therefore can add shelves of the same material. Especially if you have embraced a minimalist style, it is good to opt for very fine shelves, as permitted by the new materials. To be combined with both wood and other materials are glass shelves, which are in themselves very spectacular.
For colours the possibilities are continuity with those of the kitchen or contrast.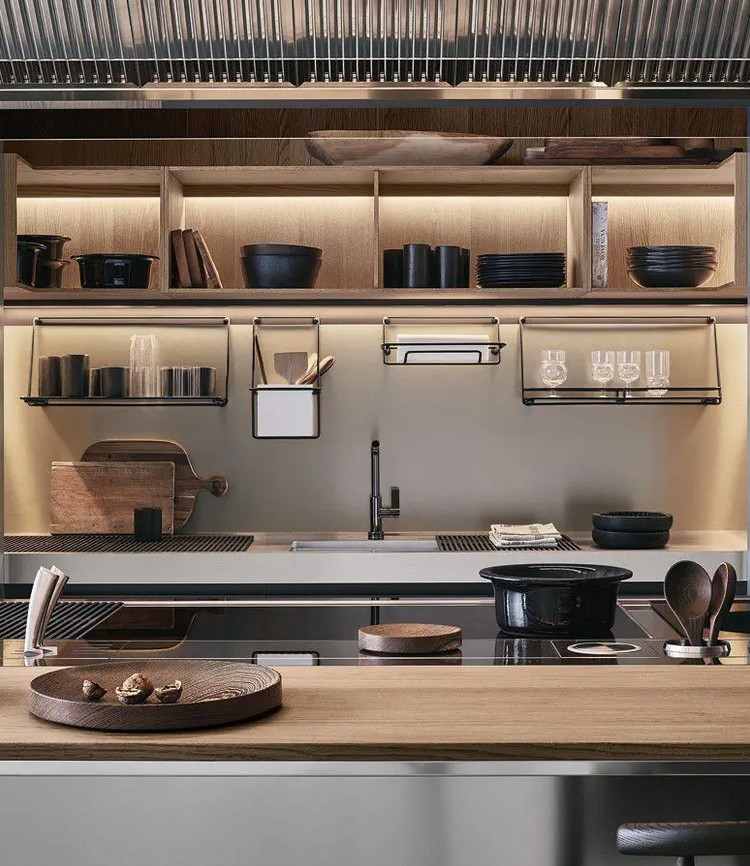 Kitchens with open shelves, special shapes as design complements
You can install shelves that are only useful and therefore designed to place objects on, or you can make them into real details added to the kitchen. In that case, the options are different. When the kitchen is modern, one usually opts for shelves that are quite simple in shape, whereas if it is contemporary, one can indulge oneself: one can place them, for example, so that they form a precise line, perhaps an 'S'. Those who want to be daring can choose shelf structures enclosed within a round, oval, square or hexagonal shape. This will become a highlight of kitchens with open shelves. When the kitchen is open to the living room, placing similar shelves acts as a trait d'union, unifying the two spaces.
Need to furnish your home or a single room?
Choose a top-notch woodworking shop.

We have over 50 years of experience!
Contact Us
Il Piccolo, a second generation family-run joinery, opens its own showroom in Lugano. With over 50 years of experience, Il Piccolo brings with it a wealth of technical and design knowledge of the highest level, thanks to the numerous interiors designed and furnished all over the world. In particular, Il Piccolo has a wealth of experience in the design and production of several corner wardrobe models. Finally, Il Piccolo represents the world's most prestigious furniture brands.
Our company designs, manufactures and sells the best of made-in-Italy interior design, following the customer from the design to the realisation, delivery and installation of the work, supplementing the process with a precise and professional assistance service. Looking for the ideal corner wardrobe for your room? CONTACT US!