Il Piccolo Blog
Knoll Saarinen Womb chair, a chair to pamper and amaze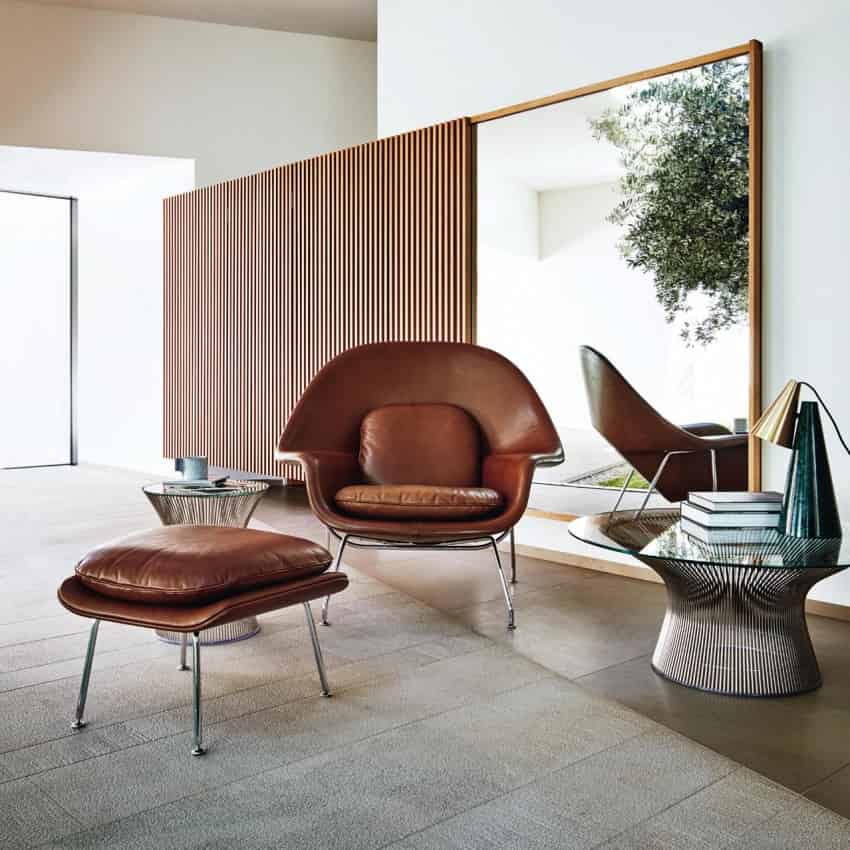 A creation by Eero Saarinen
The Knoll Saarinen Womb chair belongs to the collection created by Finnish designer Eero Sarinen for the Knoll company. Synonymous with elegance and innovation, a high design chair that will not disfigure any type of environment. It can be placed either in a separate area of the room or in the company of other chairs, preferably of equal quality and refinement, this type of chair defies the rules of design, proving to be a unique piece of furniture.
The Knoll Saarinen Womb chair, synonymous with innovation
Discerning customers will find great satisfaction with this type of chair, made with a polished chrome-plated steel frame and a fibreglass shell with foam and fabric upholstery. A nonchalant style, this is what characterises Womb, a chair capable of breaking traditional patterns to create new canons by which to define modern design and also represent a new concept, capable of starting from the profound meaning of "womb".
Cosiness and comfort
The English term "womb" in fact means "uterus" and the purpose of the Knoll Saarinen Womb chair is precisely that of making the person feel cuddled, enveloped and protected, like a foetus in the womb. Welcoming, therefore, is the key word: a chair with a comfortable shape and casual style, in which to abandon oneself for a little relaxation after a stressful day or to curl up and read a book. A chair dedicated to the person, waiting for you and holding you close like a caring mother or an attentive lover. The surfaces are large and enveloping, making the Knoll Saarinen Womb chair the perfect place to take refuge.
A revolution in the world of design
Designed in 1948 by the aforementioned Eero Sarinen, the Knoll Saarinen Womb chair represented a revolution in the world of design from the very beginning. The chair came about as a result of a request from Florence Knoll, for a chair as cosy as 'a basket of cushions' could have been. The concept from which this high design complement was born, therefore, was the need, according to Sarinen himself, to relax and if this was true at the end of the 1940s, it is even more true today. Saarinen, in order to meet Florence Knoll's request, mainly considered the form and thus worked on a chair made of a single piece of material capable of supporting the person who would sit on it.
The Knoll Saarinen Womb chair in detail
The seat legs are made of tubular steel, seamless, while the seat shell is made of moulded fibreglass with foam upholstery. The legs are finished in polished chrome with black or gold paint plating. The upholstery, on the other hand, is in leather or fabric and in each case it is possible to choose from a wide range of colours and types. This type of seat fits well in any type of home, even if, due to its shape, it seems to stand out best in minimalist or high-design environments. It is often chosen by discerning customers who understand and appreciate its special characteristics and extraordinary uniqueness.
Is a chair just a chair? No!
Many people think that 'a chair is just a chair' but this is actually not the case and this very special chair proves it. Given its high level of comfort, there is no need to enrich it with a series of cushions or have to take who knows what precautions, precisely because it has already been designed to welcome and pamper those who sit on it. Comfort, innovation and aesthetic taste are all factors that make the Knoll Saarinen Womb chair a piece of furniture where modernity and comfort take each other by the hand, capable of emphasising any type of environment and bringing an unprecedented touch of innovation.
Devi realizzare un progetto di Interior Design?
Devi arredare casa o un singolo ambiente?

Scegli una falegnameria di alto livello.
Contattaci
Il Piccolo, a second-generation family-run joinery, opens its own showroom in Lugano. With over 50 years of experience, Il Piccolo brings with it a wealth of technical and design knowledge of the highest level, thanks to the numerous interiors designed and furnished throughout the world. In addition, Il Piccolo represents the most prestigious brands of furniture worldwide. Il Piccolo designs, produces and sells the best of the interior design made in Italy, following the customer from the design to the realization, delivery and installation of the work, integrating the process with a precise and professional assistance service. CONTACT US!