Il Piccolo Blog
La Cornue: when design and luxury come together to create inimitable kitchens  
In today's article, we discuss one of the world's most famous kitchen brands: La Cornue. We will explain what the reasons for such widespread success are and what the strengths of these delightful pieces of furniture with such a luxurious design are.
Let's start with a little history. Cornue is a French company that has been producing luxury kitchens since 1908. Thanks to their innovative design and the use of high quality materials, this brand's kitchens are now famous worldwide for their beauty, functionality and high performance.
Looking for a luxury kitchen?
Choose a La Cornue model.
CONTACT US!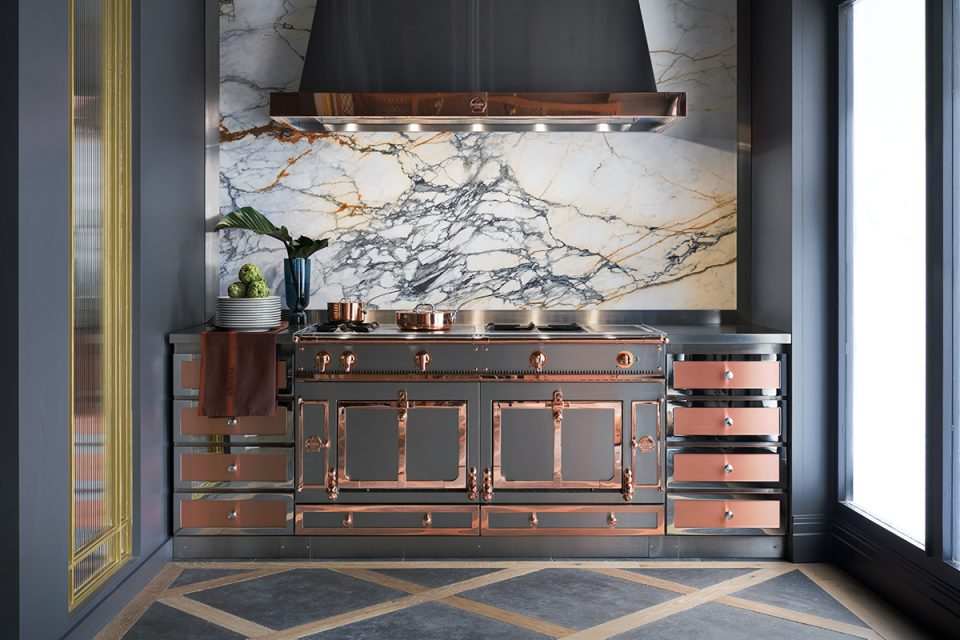 La Cornue has become an example of inimitable luxury among kitchen manufacturers
The story of La Cornue began in Paris at the beginning of the 20th century. It was designer Albert Dupuy who started what is now one of the most highly regarded design companies in Europe and the world. From the very beginning, this company put the quality of its furniture first. This has enabled the company to attract the attention of discerning consumers, mainly due to the original design and functionality of its kitchens.
While Cornue initially specialised exclusively in the production of cookers, it soon became one of Europe's leading manufacturers of complete kitchens, always maintaining its high quality proposition. In the 1970s, the Dupuy family sold the company to André Blum, who introduced new technologies and materials into production. Even today, it is the Blum family that guides the company and allows it to continue to renew itself over time, without losing its specific identity.
Handcrafted kitchen of high design?
Choose a La Cornue model.
CONTACT US!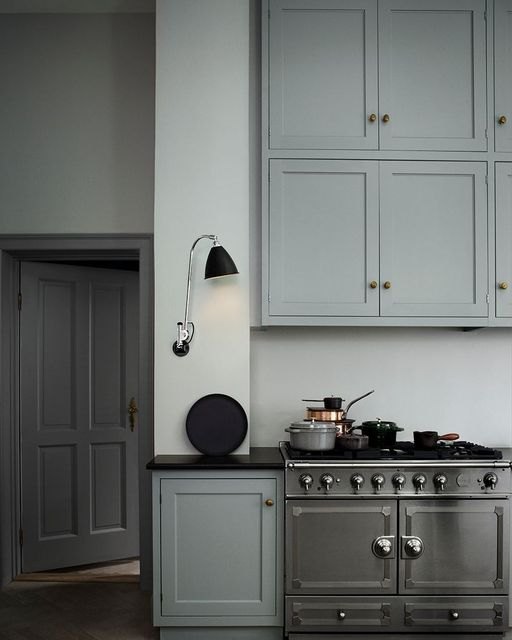 What are the reasons for such great international success?
The success of these kitchens is largely due to the fact that, over the decades, the company's top management has always been able to combine design, quality and exceptional performance, synthesising all this into high-end products.
Attention to detail and the use of materials of the highest possible quality, combined with attractive design, have made the French brand's kitchens benchmark products in the luxury kitchen segment . And this leadership has remained unchanged to this day.
La Cornue's philosophy is based on the firm conviction that kitchens are not simply workplaces, but real living spaces, which must reflect the taste and style of those who inhabit them. Precisely for this reason, each kitchen is unique, because it can be customised according to the needs of the particular customer.
Looking for a luxury kitchen?
Choose a La Cornue model.
CONTACT US!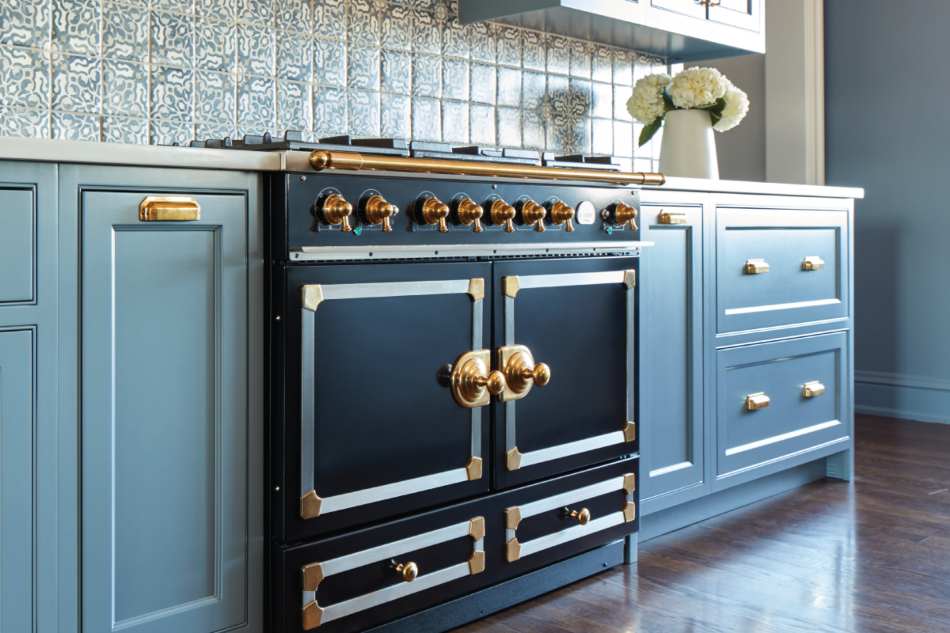 What makes La Cornue kitchens unique?
The refined and unique design is one of the main strengths of these kitchens. Specifically, La Cornue brand furniture is produced entirely by hand, following the dictates of traditional French craftsmanship.
Every single element of the furniture is carefully selected and worked with great precision, from the design of the doors to the finish of the hobs. As mentioned earlier, the materials used are always of the highest quality. For example, stainless steel, copper and cast iron, among others, are chosen to ensure exceptional performance and durability.
Certainly, the design of Cornue kitchens does not go unnoticed. The shapes are elegant and sinuous, characterised by careful details and refined finishes. The combination of traditional lines and modern technology gives the kitchens a timeless look that fits perfectly in any type of environment. What's more, being able to choose from a wide range of finishes and colours, each person has the possibility of creating a completely customised kitchen.
On this basis, it is not surprising that these kitchens are considered among the most beautiful and functional in the world. It is therefore no coincidence that they have been chosen by some of the greatest chefs and some of the most globally renowned restaurants.
In other words, this is a company that represents excellence in design and craftsmanship, offering customers high-quality, high-performance custom-made kitchens. On the other hand, the company was founded on a passion for beauty and functionality and continues to represent these values in its production of unique and exclusive kitchens.
A La Cornue kitchen is therefore a perfect choice for anyone wishing to have a room in which to cook food that reflects a unique lifestyle. Consequently, for all those who want a room that shows their passion for high-quality cooking.
A kitchen with a unique design?
Choose a La Cornue model.
CONTACT US!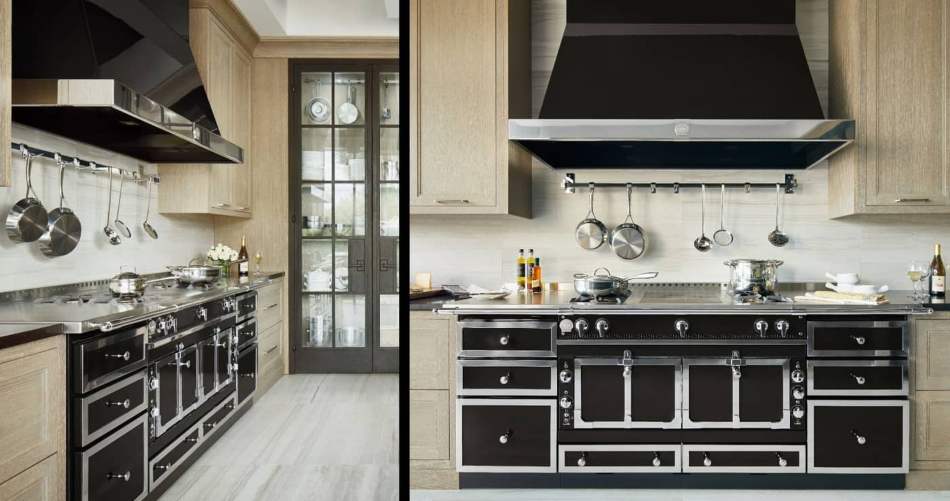 Not only kitchens: enhance your interior design by choosing from La Cornue's many proposals
La Cornue offers a wide range of products to meet the most specific customer requirements. Kitchens are undoubtedly the flagship product of the French brand's collections. However, it is also possible to furnish the spaces of one's home with cookers, electric barbecues, electric ovens, electric hobs and much more.
All the products of this prestigious brand are handmade and constructed from high quality materials to guarantee exceptional performance and long life. Thanks to their focus on design and attention to functionality, La Cornue's items are considered among the world's best design products. As a result, they are sought after by anyone who loves beautiful and distinctive creations.
Interior design experts agree: these furnishings exemplify excellent craftsmanship and sustainability. As a result, the range of customised products and cooking accessories makes it possible to create exclusive, premium environments that are perfect for meeting the expectations of those seeking a unique, high-quality experience. All without negative consequences for the natural environment.
Specifically, the French company has adopted several strategies to make its furniture more sustainable. Among the most significant initiatives are the use of sustainable materials and technologies, used in the production of kitchens and accessories, and the commitment to use special recycling and disposal programmes for its products.
La Cornue kitchens are among the greatest examples of luxury furniture that have made the school of world craftsmanship and design. Furnishing one's home with this furniture means making it an inimitable environment, capable of impressing any guest. And transform it into a room where cooking, eating and conviviality become moments of pure happiness.
Looking for a high quality kitchen?
Choose a La Cornue model.
CONTACT US!
Il Piccolo, a second generation family business, opens its showroom in Lugano. With over 50 years of experience, Il Piccolo brings with it a wealth of technical and design knowledge of the highest level, thanks to the many interiors designed and furnished around the world. In addition, Il Piccolo represents many of the best international luxury furniture brands. We design, manufacture and sell the best in design.
Also with regard to La Cornue kitchens, we follow the customer from the design to the realisation of the project, integrating the whole process with a precise and professional service.