Il Piccolo Blog
Large designer chandelier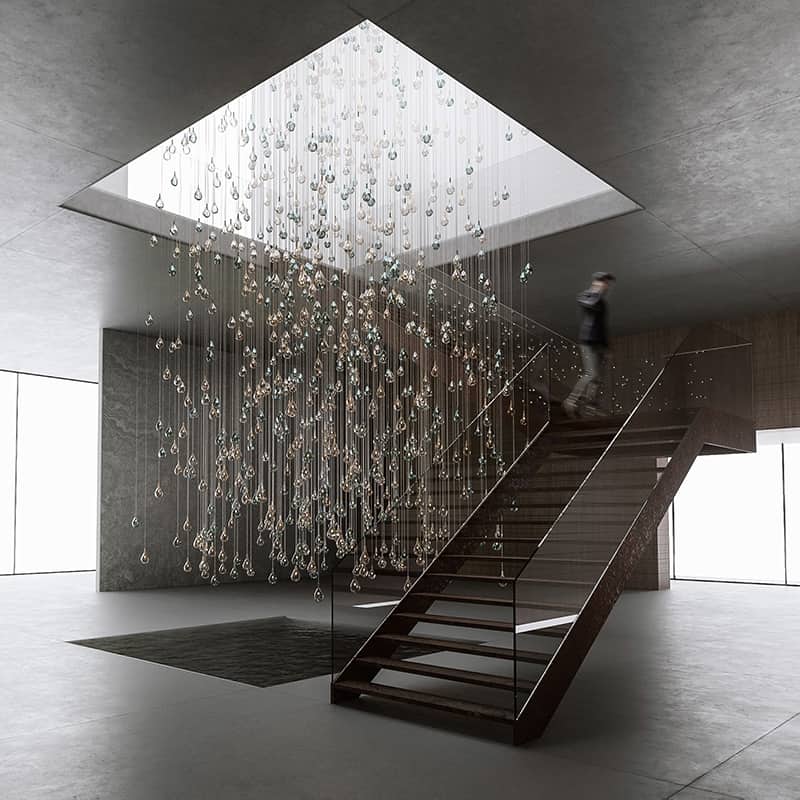 Choosing to furnish with a large designer chandelier helps to give any room a strong personality. In fact, this type of solution is just as suitable for domestic contexts – especially large, open-plan rooms – as it is for shops or hotels.
Specifically, when we talk about large chandeliers, what are we referring to? In a nutshell, we are talking about models with a great decorative capacity, which catch the eye and end up being the centre of attention. Let's try to better understand what we mean by our words and how to make the most appropriate furnishing choices.
How to choose a large designer chandelier?
Large chandeliers often have an imposing size and appearance. When choosing, these characteristics must therefore be taken into account so that, once installed, the chandelier looks harmonious with the rest of the room.
In general, when choosing the chandelier, one should decide from the outset at what height it will be fixed. And then the temperature and intensity of the lights needed to illuminate the room and give it a cosy atmosphere. These are no small details.
Often, designer chandeliers make use of several light sources, sometimes placed at different levels. Examples are cascading chandeliers or models with crystal balls. In these cases, it must be carefully considered how many lights are present to make sure that the room is adequately lit and that the chandelier does not look too conspicuous or, on the contrary, get lost in the whole.
What are the merits of a large designer chandelier?
There are many reasons why one might decide to furnish with a large designer chandelier. There are those who choose these models mainly for their aesthetics and those who are looking for an element that can become the centrepiece of their décor.
With a large chandelier, you can also reimagine a space and give it a new look. This is often the case when renovating a house: introducing a designer chandelier can change the face of the room and give it a special identity. The game is all about the style of the chosen model. For example, you can give the room a traditional and refined look by choosing a chandelier with a retro design. Or you can give it a futuristic touch with original and unusual chandeliers.
Especially large chandeliers with a contemporary design can be described as works of art. In other words: they are not only functional, but also have a certain artistic value. This is because designers are true artists, who create unique products often from a few simple materials, such as metal, glass and wood. In the hands of designers, these elements take on unpredictable and ever new forms. The end result is akin to sculptures, which embellish our homes, shops, offices and hotels.
The variety of shapes is such that everyone can choose the type of large designer chandelier they prefer. One can go for models that reproduce traditional shapes or move towards more original solutions. Among the former, there are those inspired by classic spheres, crystals or candelabras, but also those that reproduce existing shapes and objects, such as leaves, flowers or even books. On the other hand, all models with abstract and unusual shapes fall into the second category, from chandeliers composed of rings – which can always be configured in new ways – to chandeliers consisting of several light points, distributed in various parts of the room.
What materials and styles to choose for a large designer chandelier?
When choosing the style of a large chandelier, one must naturally start with the style in which one has furnished the home, office, shop or hotel. You can decide to place a chandelier in the space that is consistent with the overall furnishing style, or you can break the mould and choose a designer chandelier that contrasts with the furniture already present. Both options make sense in interior architecture.
A designer chandelier is the most natural choice to complete the décor of a contemporary style room, but it can also be used to give a modern touch to a traditional décor or to liven up the look of a room furnished in a minimal style.
As for materials, if the objective is to illuminate and also use the chandelier as a decorative object during daylight hours, crystal and glass are the ideal solution. Chandelier designers exploit the versatility of glass and the many possible finishes to create striking designs. Transparent and coloured glass can therefore be combined. Or elements in opaque, smoked or frosted glass can be provided. Here too, the choice is wide.
The search for sustainable furnishing solutions also involves large designer chandeliers. In this respect, wooden and bamboo chandeliers are excellent options. In addition to being models with a low environmental impact, the wood carvings provide very original plays of light and shadow that can be used indoors and outdoors. The important thing is to be guided by the experience of a good interior designer to create a truly unique and well-balanced ambience.
Devi realizzare un progetto di Interior Design?
Devi arredare casa o un singolo ambiente?

Scegli una falegnameria di alto livello.
Contattaci
Il Piccolo, a second-generation family-run joinery, opens its own showroom in Lugano. With over 50 years of experience, Il Piccolo brings with it a wealth of technical and design knowledge of the highest level, thanks to the numerous interiors designed and furnished throughout the world. In addition, Il Piccolo represents the most prestigious brands of furniture worldwide. Il Piccolo designs, produces and sells the best of the interior design made in Italy, following the customer from the design to the realization, delivery and installation of the work, integrating the process with a precise and professional assistance service. CONTACT US!