Il Piccolo Blog
Best leather sofa of ever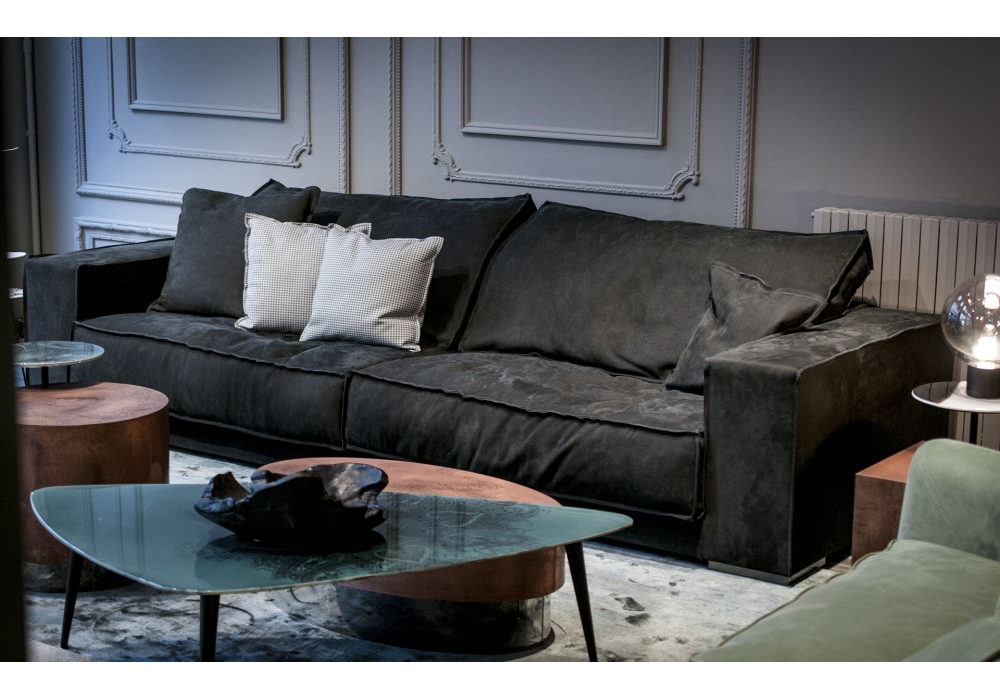 The leather sofa is very trendy. After years of preference for fabric, it seems that the leather sofa has regained its rightful importance.
Leather sofas are eternal sofas that age with the person who owns them and the space where they are placed.
A few years ago this type of sofa it had been somewhat replaced by fabric for the invention of the sofa with removable covers, but now things have changed.
The modern leather sofa no longer has a fixed cover and can also be removable as much as those in fabric.
The leathers have changed, in Italy, home of the tannery of excellence, we find upholstery leathers of every type and thickness. printed, natural, aniline, aged, shiny and matt or nabuck, a whole world on which some companies, doing research, have made their signature, such as Baxter sofas.
Below we would like to present the leather sofas that we consider to be the must, the masterpieces of design.
Let's start with Baxter and two of its incredible models, very soft and very comfortable.
Budapest Modular sofa in squared shapes really contemporary and Feet in brushed unfinished metal or matte gunmetal grey-coloured. Seat cushions in washed and sterilized goose down with pad in differentiated density polyurethane foam insert. Leather upholstery with sharp edge stitching.
Piaf Modular leather sofa with Seat and back cushions in differentiatedì. Base beneath body with leather upholstery. Available in soft leathers only. Super fashion at the modern with rounded shape instead of traditional corner, we love it .
Chestermoon
the new classic reinvented fro leather sofa . Quilted button back model nothing to say , just icon and strong design with Hand-made capitonné work.
Only great master craftsmen can manufcature leather sofa with this technique and results.
From Poltrona Frau Chester Line.
Frau re edited a classic to add a bit a contemporary design and mood to a classic leather sofa .
Chester Line is its natural evolution, lightened and updated to reflect the new requirements of contemporary living.
The classic sofa with its sculpted design is deconstructed and multiplied, becoming a genuine system of modular sofas with various different elements. The collection is now completed with two curved sofas that are trendy
Dream On Classic elegance with a contemporary touch- a leather sofa with light proportions and forms in line with the modern requirements.
A sofa of great quality with the supporting structure in solid seasoned beech and poplar. The seat is padded with rubberised horsehair and polyurethane foam. The armrests are in moulded polyurethane foam and lined with soft quilt.
Extrasof Design by Piero Lissoni.
Modular sofa with a casual aspect and a soft, more yielding and malleable comfort. Cosy and restful seats which can be placed next to each other in a geometrical configuration, but with irregular contours.
Dumas Design Piero Lissoni.
With its bourgeoisie inspiration, the sofa Dumas reproduces, in a renewed way, a form that in the memory is the ultimate comfort thanks to generous and liveable padded forms. Simply and timeless it can fit in any living room .
With Cassina and we arrive at the history of design with Maralunga Year of design 1973.
Forty-five years after the launch of the original, the Maralunga sofa takes the stage once more.
Its proportions updated, and its look restyled, becoming even more elegant and comfortable than before.
TOOT is Light, comfortable and extremely versatile letaher sofa . Toot is designed for a wide array of settings and applications. To quote Piero Lissoni: "Toot can be used however one chooses: with or without the arm-rests, with or without the back-rest, but also as a nest, completely surrounded by the cushions".
Knoll and its sofas. Avio Piero Lissoni
With a visually light structure that blends into any setting, Avio skillfully balances spatial relationships and proportions. The three seat sofa combines functional and aesthetic poise by contrasting the slim structural framework with the substantial volume of the upholstery.
Absolutely elegant leather sofa always modern as Knoll say.
Then we have Florence Knoll Relaxed Sofa.
Florence Knoll's classic lounge collection is now available in a soft version, with deeper proportions for a more relaxed sit. Consistent with all of Knoll's designs, it has a spare, angular profile that reflects the objective perfectionism of modern design in the early 1960s.
Another great company of sofas in Zanotta is Bruce Elegant and comfortable leather sofa . The seat consists of a single cushion characterized by a stitching that divides it into several parts. Another distinctive element are the aluminium support feet which, being retracted with respect to the edge, give a "suspended" effect to the entire structure of the sofa, emphasizing its light aesthetics. a sofa that had big modularity and was synonymous of relax and lightness.
Wilaimson as well form Zanotta . Perfect as leather sofa The William is series of sofas, with its unmistakable thin-layer upholstered lines for the base structure and aluminium feet, is now even more complete, thanks to the chaise longue module and shelves in solid oak or canaletto walnut.
Diesis 40 represents an icon of contemporary design. The characteristic backrest preserves its essential and technical nature thanks to its harmonic steel core, composed of metal crossbows that give strength and flexibility. We want also to underline the die-cast lenticular elements of the polished brushed aluminium structure, as well as the seat structure further thinned thanks to the coupling of two sheets.
Coronado by Afra e Tobia Scarpa.
the design of the product, or rather its aesthetics, is the factor that actually decreed its success: the proportionate dimensions, the anti-traditional image, devoid of those heavy lines then in vogue. Coronado was born as a trait-d'union between stylish furniture and the growing desire for modernity, thus meeting the expectations of the bourgeoisie of the time.
Coronado is still today the sofa of tradition and evergreen design, the very image of relaxation. Its comfort is guaranteed by the springing that is achieved thanks to the presence of harmonic steel strips inserted in the structure of the backrest.
From another big company , Minotti dibvani we have Lawrence clan, leather sofa .
The great versatility of the Lawrence leather sofa is expressed in the possibility of creating compositions with a particularly dynamic character thanks to the combination of different elements.
The "Clan" elements with their well-defined volumes lend themselves to creating compositions that respond to a more dynamic and informal interpretation of the living space.The monobloc seats are characterized by seams that draw squares of graphic and modern taste. This refined packaging demonstrates how the company knows how to draw from tradition, giving back to an ancient technique such as embroidery a new vitality through an absolutely contemporary interpretation of style.
Chelsea from Molteni &C .
With the Chelsea sofa, Rodolfo Dordoni extends his idea of comfort from the table to the living room.
Structure in solid wood, enveloping seat, large goose down cushions, it is a contemporary reinterpretation of the most elegant bergèr for reading or meditation.
Bellport design Jean-Marie Massaud for Poliforrm
Bellport, designed by Jean-Marie Massaud, is a collection of sofas with a lively and sparkling atmosphere typical of the area from which it draws inspiration. Extremely versatile as can be a wide or narrow dress, ideal for the city and for a holiday, warm or light, suitable for any situation, winter or summer.
DS 600 by Desede
DS-600 leather sofa With its modular elements that can be expanded to suit every individual taste, has exceptional design, unlimited configuration options, maximum functionality and distinctive seating comfort. Any number of upholstered segments can be zipped together, allowing free-flowing mobile concepts as well as conventional furniture arrangements.
I hope you enjoy these choices . we wait to show you the sofa by realin Lugano, Swiss.